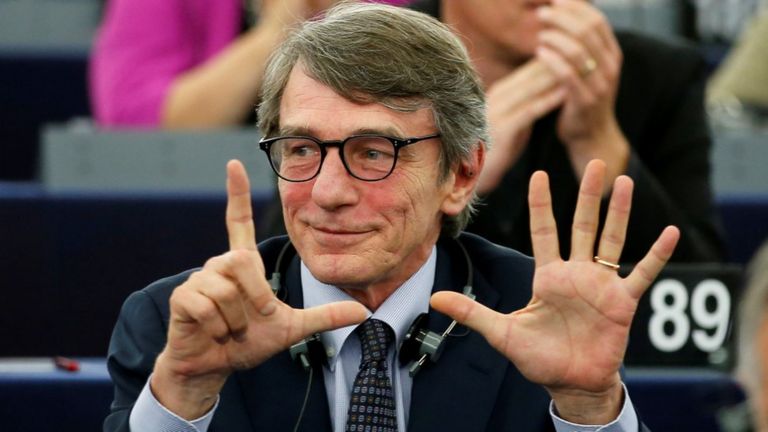 Italian former journalist David Sassoli has been selected as the new president of the European Parliament, writes the BBC.
Sassoli, 63, received the support of 345 out of a total of 667 MEPs in the second round of voting in Strasbourg.
The centre-left politician beat three other candidates and will assume the role of assembly speaker immediately.
The vote comes a day after EU leaders agreed nominations for the bloc's top jobs, with a woman for the first time proposed as European Commission chief.
What is Sassoli's vision for Europe?
In a speech following Wednesday's result, Sassoli spoke of an "imperfect" union in need of reform, calling for the EU to return to the spirit of its founding fathers, who swapped warfare and nationalism for peace and equality.
"We need to strengthen our capacity to play a leading role in democracy," he said, focusing particularly on the need for reform to the EU's system for asylum seekers. "You can't continue to kick this down the road. We don't want citizens asking 'where's Europe' every time an emergency happens."
He then described Brexit as "painful", adding: "The European Parliament will guarantee the independence of European citizens – only they are able to determine their history."
Sassoli replaces another Italian, ex-army officer Antonio Tajani.
Who has been picked for top EU job?
The night before, marathon talks over who will take over the EU's top jobs came to a close with the surprise choice of German Defence Minister Ursula von der Leyen to replace Jean-Claude Juncker.
Her nomination has to be approved by a majority of MEPs in a vote to be held in Strasbourg on 15 July.
Von der Leyen was due to visit MEPs on Wednesday (3 July) to discuss her nomination. If her candidacy is rejected, national leaders will have a month to nominate a replacement.
Comments
Facebook comments
Category: A Frontpage, EU, European elections, European Parliament