Best countries to relocate to after #Brexit
Brexit. The word that everybody is tired of hearing. With Brexit looming over us, it's no surprise that Britons are left feeling uncertain about their future. If you're looking to take matters into your own hands head for pastures new, this article looks at some of the best countries to relocate to after Brexit – with the help of HSBC's most recent Expat Explorer Survey which ranked Sweden first for 'Family', New Zealand first for 'Experience' and Switzerland first for 'Economics'.
Whether you're looking for a place you and your family will happily call home, a country where career opportunities are endless or a destination which offers a high quality of life, this article explores why each top location is held in such high regard by expats across the globe.
Sweden
Whether it's due to the country's generous approach to paid parental leave or its stance on high-quality education, it's not difficult to see why Sweden steals top spot in the family category.
Paid parental leave
Parents living in Sweden are entitled to a whopping 480 days of paid parental leave once a child is born or adopted, emphasising the country's family-centered system. For 390 days, parents should expect to receive around 80% of their salary. For the remaining 90 days, parents will receive a flat rate of SEK 180 per day. With that said, parents are only eligible for this if they have been working legally in Sweden for at least 240 days and paid taxes.
Education
Families moving there will also benefit from an outstanding education system – and the best part is, schooling is free for all children attending public schools between the ages of 6 and 16. Once they've completed 'compulsory school', children aged 16 and above then have the option to attend 'upper secondary school' which is also free of charge.
International schools are also a popular option for expats, not only due to the high-quality of education that your children receive but also because lessons are usually taught in English, and follow the American or British curriculum.
One thing to note though, is that homeschooling is illegal in Sweden except in very rare or unusual circumstances. It is compulsory for children to attend a recognised school from the age of 6 to 16.
Healthcare
The healthcare system in Sweden is considered to be of a very high-quality – something expat families are sure to appreciate. In fact, patients often reflect on the high standard of care received, with 90% of people using primary care in Sweden saying they were treated with respect and consideration by staff.
The Swedish healthcare system is decentralised, which means that responsibility for it lies with county councils and, in some cases, local councils or municipal governments. Patients only cover a small percentage of costs.
While the healthcare system in Sweden is universal, there are some costs patients will incur, which is why families may still need to invest in a global healthcare policy to ensure they're appropriately covered incase of a medical emergency.
Environment
Sweden is also very well known for its eco-friendly infrastructure. For example,the country aims to be completely free from fossil fuels by 2040, with Stockholm already supplying a biofuel alternative at petrol stations across the city.
You and your family are sure to enjoy the wide range of green spaces Sweden has to offer, as well as a superb public transport system and selection of eco-eating restaurants and stores.
New Zealand
Known for its breathtakingly beautiful landscapes, inclusive culture and relaxing, outdoor-oriented lifestyle, New Zealand leaves no confusion as to why it was awarded first place in the Expat Explorer survey for 'Experience'.
Culture
New Zealand's diversity is partially reflected in the country's three official languages, which include Māori, English and New Zealand Sign Language. Māori culture in particular, is actively intertwined with everyday life, including work. So don't be surprised if you see a few job descriptions or performance objectives that cite 'understanding Māori culture' as part of the role requirements. Efforts are made across the board to ensure that new arrivals to New Zealand understand and appreciate the indigenous culture.
New Zealanders often refer to themselves as 'Kiwis' and describe themselves as 'friendly but reserved' and 'open but respectful'. This may sound confusing at first – it is – but the more you get to know the local people, the more you'll begin to understand this description. There are plenty of ways you can get to know the local culture when you're there, so take advantage of each and every opportunity, whether it's a hāngi (traditional Māori method of cooking food in an earth oven) at your neighbours, a barbeque or a few drinks at the local bar.
One respondent from HSBC's Expat Explorer Survey also emphasises the country's beautifully diverse culture:
"New Zealand's cities, especially the northern ones, are a mixture of European, Polynesian and Antipodean cultures. It a fascinating mix you wouldn't find anywhere else."
New Zealand's culture is as beautiful as its scenery – so be sure to experience and immerse yourself in it as much as possible.
Lifestyle
Home to an array of open, green spaces, and a temperate climate throughout the year there's plenty of opportunity to enjoy a healthy, outdoor lifestyle as a newcomer to New Zealand. Whether you want to scope out one of the many hiking and cycling routes dotted across the country, or ski on the smooth, white slopes of New Zealand's only skiable volcano, Mt Ruapehu, the opportunities for some outdoor adventuring are endless.
With thousands of kilometres of coastline, lakes and rivers, New Zealand is a hotspot for watersports and activities. If you've never visited New Zealand before, all you'll need to do is Google a few photos from stunning locations like Mount Taranaki or the Milford Sound waterfall and you'll be convinced. If those stunning vistas don't convince you, then what will?
Perhaps the fact that New Zealand also offers an extremely attractive work/life balance will persuade you. With generally short commuting times and an emphasis on flexible working hours, there's plenty of benefits of living and working in New Zealand.
Another respondent from HSBC's Expat Explorer Survey adds that "there are more opportunities to be creative in business, and it's less bound by social niceties, friendlier, with more supportive communities".
So for those seeking an improved quality of life, a better work/life balance and an exciting expat experience, you may want to keep New Zealand in mind.
Switzerland
Being voted in the top five for disposable income, wage growth, career progression and job security, it's no surprise that Switzerland came out on top for economics.
Disposable income
Many residents of Switzerland are able to benefit from a high standard of living, thanks to an increased disposable income. According to the OECD's most recent 'Better Life Index', in Switzerland, the average household net-adjusted disposable income per capita is $36,378(USD) each year, which is higher than the OECD average of $30,563(USD) a year.
With that said, a person's disposable income does need to cover the cost of living, and while it does in most cases, this doesn't dismiss the fact that the cost of living in Switzerland is unsurprisingly high. For example, the overall cost of living in London, UK, is substantially lower than it is in Zurich, Switzerland. This means that in order to comfortably live in Switzerland, you'll need a well-paid job so you can benefit from the increased disposable income.
Career Opportunities
Luckily, Switzerland has a lot to offer in terms of career opportunities. In fact, 80% of people aged 15 to 64 in Switzerland have a paid job, which is higher than the OECD's employment average of 67%. It is also one of the highest rates in the OECD.
Switzerland's economy is made up of the three main sectors: the tertiary sector, the industry sector and the agricultural sector.
The tertiary sector contributes the most to the Swiss economy, encompassing industries like banking, insurance and tourism. This sector employs more than 75% of Switzerland's overall working population.
The industry sector relies heavily on relies heavily on imports and exports, and consists of the machine, metal and textile industries as well as the chemical and pharmaceutical industries. More than a fifth of the working population makes up this sector.
Finally, the agriculture sector, which makes up about 3% of Switzerland's overall working population, is heavily supported by the government. Expats will most likely find opportunities in the tertiary and industry sectors.
While the world of work is competitive in Switzerland, there are industries where shortages mean more opportunity. The engineering industry in particular comprises of almost 40% of foreign workers and is constantly seeking more skilled workers. Jobs in the technology, pharmaceuticals, consulting, banking, insurance and IT industries are also in great demand.
So if you're a business-minded expat looking to expand your horizons and enjoy a higher disposable income, Switzerland may be the place for you. Yet, no matter where you choose to relocate to after Brexit happens (if it happens), there are plenty of diverse destinations to suit you and your circumstance, whether you're career driven, family-oriented, or all of the above!
UK to respond to EU legal action over Northern Ireland by mid-May
Britain has agreed with the European Union that it will respond to the bloc's legal action over how it has introduced new trading rules for Northern Ireland by mid-May, a spokeswoman for the government said on Wednesday (14 April), writes Elizabeth Piper.
The EU launched legal action against Britain in March for unilaterally changing trading arrangements for Northern Ireland that Brussels says are in breach of the Brexit divorce deal agreed with London last year.
Britain has denied that the move undermines the part of the Brexit deal that governs trade to the British province, saying it extended the grace period for checks on goods moving to Northern Ireland to ease their passage.
"In line with precedent that typically allows two months to respond to proceedings of this kind, we have agreed with the EU that we will respond to the Letter of Formal Notice by mid-May," the spokeswoman said.
"We've been clear that the measures we have taken are lawful and part of a progressive and good faith implementation of the Northern Ireland Protocol."
Since leaving the EU's single market at the end of last year, supermarkets in Northern Ireland have seen some shortages of food, and the British government has also delayed introducing checks on parcels and pets.
The difficulties stem from the terms of Britain's withdrawal agreement, which leaves Northern Ireland in the EU single market for goods and so requires checks on goods arriving there from other parts of the United Kingdom.
The two sides are due to meet on Thursday for talks on Northern Ireland at a meeting unlikely to reach a breakthrough but seen more as a staging post as London and Brussels try to find a way to ease differences over trade.
UK and EU edge closer to deal on Brexit checks in Northern Ireland
The UK is edging towards a new deal with the EU on Brexit arrangements for Northern Ireland with the potential for easing border checks on certain goods. Officials in London and Brussels have been involved in intense "technical talks" in the past two weeks over the future checks on food, plants and parcels going from Great Britain to Northern Ireland.
Downing Street's official spokesman said the discussions had been constructive but that there were "still significant differences that need to be resolved". The cabinet minister David Frost spoke by phone to the European commission vice-president Maroš Šefčovič on Friday.
Sources said that while progress has been made on Northern Ireland, efforts did not involve removing checks on goods but instead were being concentrated on removing the series of "rolling deadlines" from the implementation of border controls.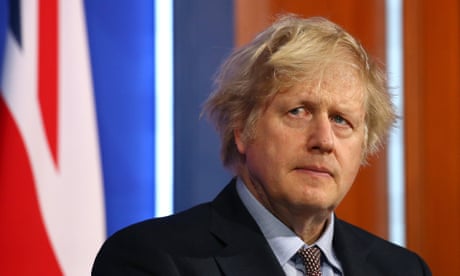 One option is a new series of agreed milestones to be achieved involving agreement with business and civic society before each stage of the protocol is implemented. It would mirror public health experts' "data not dates" advice to Boris Johnson regarding the easing of lockdown in England.Advertisementhttps://fe51aebfd36b7b7e45cc937da958003b.safeframe.googlesyndication.com/safeframe/1-0-38/html/container.html
The talks began a fortnight ago after relations with the EU reached a low point, with Brussels launching legal action against the UK for taking a unilateral decision to extend the grace period for checks on supermarket goods going from Great Britain to Northern Ireland.
A cabinet source played down the row, claiming the dispute was a result of an unfortunate "mismatch in the communications last month". This reflects revived urgent efforts to sort out the situation and a recognition in London that a joint approach is the way forward.
This is a change in policy from February when Michael Gove demanded the protocol be delayed until 2023.
Last week the Northern Ireland secretary, Brandon Lewis, told political parties in Belfast that the protocol would not be scrapped, despite demands by the Democratic Unionist party and others, and seven consecutive nights of violence in Northern Ireland.
There is urgent political need to calm the atmosphere in Northern Ireland but there is also recognition in London, Dublin and Brussels that any deal centring on the protocol will not address loyalist protests. Brexit checks down the Irish Sea have enraged loyalist communities who see the trade border as an assault on Northern Ireland's place in the union of the UK.
EU sources have put it to UK officials that 90% of border checks could disappear if Britain agreed to align food standards with those of the bloc.
Ireland's Europe minister, Thomas Byrne, told the BBC the situation was "delicate" but he said it would be "excellent" if a veterinary deal could be achieved as it would solve problems both in Northern Ireland and those facing food exporters in Great Britain.
But many see such a food agreement as unlikely because entering into such as deal would represent a complete U-turn for the UK, which opposed regulatory alignment to achieve a hard Brexit.
There have been suggestions that the border checks could be significantly eased if the UK adopted an agreement along the lines of that operating for Australia and New Zealand agrifood trade. However, industry insiders say this would not address loyalist concerns as it still requires paperwork.
The agrifood sector is instead urging the EU and UK to take a pragmatic approach by extending the categories of goods deemed not at risk of crossing into the Republic of Ireland to include food.
The current talks are focusing on a new implementation programme outlined in a plan delivered by London to Brussels a fortnight ago. The EU has also requested real-time access to customs and border check data in Belfast ports.
UK asks for more time to respond to EU Brexit legal action: RTE TV
Britain has asked for more time to respond to legal action taken by the European Union over its unilateral decision to ease requirements of the Northern Ireland Protocol, Ireland's RTE television reported on Wednesday (14 April), writes Conor Humphries.
"The request came in two letters from the UK's chief Brexit minister David Frost," RTE correspondent Tony Connelly said in a Twitter post.