#EAPM heads for grand depart with newsletter and imminent ESMO round table
Welcome, one and all, to the final European Alliance for Personalised Medicine (EAPM) update before le grand depart– before you go, do be sure to check out the EAPM newsletter, which is available here. And be sure to register in good time for the ESMO Virtual Congress 2020, at which EAPM will be organizing a round table on 18 September, bringing its stellar cast of specialists from the patients network, as well as experts from the oncology community and the European Medicine Agency (EMA) and European Parliament, writes EAPM Executive Director Denis Horgan. 
The agenda is available here, and you can register already here.
Bringing innovation to patients – choosing the right time to investigate transparency
A major pillar in bringing new, targeted medicines to patients is, of course, innovation. This, in the realm of health, means the translation of knowledge and insight into what we can call 'value'. And that value covers the value to patients but also has to take into account value to healthcare systems, society and, of course, the manufacturers.  
Transparency and good governance is of course essential, but it must be asked whether, with all resources stretched to near breaking point, now is a good time for European Ombudsman Emily O' Reilly to be requesting the European Centre for Disease Prevention and Control (ECDC) to provide a number of documents to evaluate its performance during the coronavirus pandemic. 
A request was made during the summer of 2017 when, again, in a similarly unpopular move, the European Ombudsman asked the European Medicines Agency to provide more information about its early dialogue procedures. O'Reilly's  raises the issue of what the EU is trying to do with its own health regulation in bringing innovation to the patient, but is now really the right time? On verras… O'Reilly suggested a meeting between her inquiry team and the ECDC staff to further clarify and discuss any outstanding issues.
Surviving the pandemic – how different countries have fared
The latest statistics now available have provided one of the clearest pictures yet of how different countries have fared during the pandemic. It demonstrates that while the most devastating short-term and localized spikes in COVID-19 and other deaths were seen in Spain and Italy, England and the rest of the UK endured a longer period of convalescence, with significantly increased excess mortality – England had the highest levels of excess deaths of any country in Europe from January to June, according to a new analysis by the European Office for National Statistics (ONS). 
While Spain saw the worst weekly spike in deaths from all causes during the coronavirus pandemic, England had the "longest continuous period of excess mortality," the ONS said. By the end of May, England had the highest cumulative mortality rate of any of the 23 countries for which data was available, followed by Spain, Scotland and Belgium. The worst local spike in Europe was in Bergamo, Italy in the week ending 20 March, where an excess mortality rate of 847% — or more than nine times the 2015 to 2019 average — was seen. The major city with the worst spike was Madrid, with excess mortality of 432% in the week ending 27 March.
Dancing, with tears in their eyes
Initially, sad news for everyone planning to put their cares aside with a good boogie – the Romanian government was supposedly planning to ban dancing on public terraces. But, according to Digi24, the powers that be pulled back from this potentially unpopular decision, choosing instead to announce new measures this past week to make wearing a mask mandatory in certain outdoor spaces, such as markets and boardwalks. Local authorities were mandated to decide the spaces and the time slots when people will be required to wear a mask.
France sets out COVID-19 vaccination planning
As the coronavirus pandemic continues, there is hope that one or more of the vaccines in development will be successful. France has revealed its early planning for implementation of a vaccine.  The Haute Autorité de Santé (HAS – High Authority for Health) said: "At the request of the Ministry of Solidarity and Health, the High Authority for Health is making preliminary recommendations to anticipate the development of the vaccine strategy against COVID-19 with a view to the future arrival of one or more vaccines.
Who to vaccinate? According to what scheme? By which professionals? To inform the public decision, the HAS draws the different possible vaccination strategies through four scenarios based on the level of circulation of the virus in the territory."  
The strategy will be updated as the pandemic continues, ensuring the latest information is incorporated into the plan. In particular, the status and spread of the virus will be monitored.  What is clear now, however, is the need to prioritise medical and health professionals so that the risk of catching and passing on COVID-19 is reduced while essential work continues.
Dutch government not advising public to wear masks
On Wednesday (29 July) this week, the Dutch government said it will not advise the public to wear masks to slow the spread of coronavirus, asserting that their effectiveness has not been proven.The decision was announced by Medical Care Minister Tamara van Ark after a review by the country's National Institute for Health (RIVM). The government will instead seek better adherence to social distancing rules after a surge in coronavirus cases in the country this week, Van Ark said at a press conference in The Hague. The decision bucks the current trend as many European countries have made masks mandatory in stores or crowded outdoor areas. Masks are currently required only on public transportation in the Netherlands and in airports.
WHO blames youth 'letting their guard down' 
Young people are relaxing on social distancing and other ant-coronavirus measures, and are part of the reason for the summer spikes in coronavirus, according to World Health Organization Director General Tedros Adhanom Ghebreyesus: "We have said it before and we'll say it again: Young people are not invincible," said Tedros. Countries across Europe are seeing increases in case numbers, with many fearing it's the start of a second wave.
Coronavirus vaccine 'not available this year', WHO warns 
Hopes of a coronavirus vaccine before Christmas have been dashed by a World Health Organization (WHO) expert.   Mike Ryan, head of WHO's emergencies programme, said the first use of a COVID-19 vaccine cannot be expected until early 2021. He noted that several vaccines are now in phase three trials and none have failed so far in terms of safety or ability to generate an immune response. His comments come after Oxford University — one of the frontrunners in a race for a vaccine —  claimed there was still a chance it could deliver its experimental jab by Christmas if tests keep going according to plan.     One of the researchers working on the project had said that people in the most at-risk groups could get the first jabs in the winter. 
A vaccine is considered crucial for getting out of the coronavirus pandemic because it would be the only way to secure protection against catching it. It would work by injecting either a tiny piece of the virus into the body –  which would not make someone sick – or a clone of its DNA. This triggers an immune response which has long-term memory, so if a person is exposed to the coronavirus in real life, their body knows how to fight it quickly.  
Here is the link the newsletter again for the ESMO Agenda and to register. 
Israel, Austria and Denmark to establish joint fund for the research, development and production of vaccines
Israel has so far administered at least one of two recommended doses to more than half its nine million-strong population. The rapid rollout has allowed for shops to re-open and activities in public spaces to resume, some of which, such as sports centres, are reserved for people with a "green badge" indicating they've had two doses.The trip by the Austrian and Danish leaders to Israel was criticized by France, as the Elysee Palace maintained that European Union nations should stick together in developing anti-COVID vaccines. The European Commission stopped short from censuring the Israel-Austria-Denmark alliance. "We welcome the fact that member states are looking at all possible options to improve the common European response to the to the virus," said EU Commission spokesman Eric Mamer. "For us, there is no contradiction," he added, writes Yossi Lempkowicz.
Israeli Prime Minister Benjamin Netanyahu held on Thursday (4 March) a summit meeting in Jerusalem with Austrian Chancellor Sebastian Kurz and Danish Prime Minister Metter Frederiksen on a project to advance the establishment of a joint fund for the research, development and production of vaccines.
"Prime Minister Metter Frederiksen of Denmark and Chancellor Sebastian Kurz of Austria, welcome to Jerusalem. This is a special day when two dynamic European leaders come together to Jerusalem to discuss together how we continue the battle against COVID,'' said Netanyahu as he welcomed the two European leaders.
''We're going to do a joint R&D fund and discuss the production, the possibility of joint investment in productions of facilities for vaccines. I think this is great news, and I think it reflects a respect we have for each other and the belief, the confidence that we have in working together to protect the health of our peoples," he said.
He spoke about tne establishment of a joint R&D fund of Israel, Austria and Denmark, and beginning joint efforts for common production of future vaccines.
''I think this is something that we have to do, because we're going to probably need, I can't say with certitude, but with very high probability, we'll probably need protection for the future,'' Netanyahu said.
'' I wouldn't say that we're rushing towards herd immunity, but we're getting there and we'll see how that works. I think Israel serves as a model for the world, and we're discussing some of our experiences, sharing those experiences with our friends, and indeed you are two wonderful friends for Israel,'' the Israeli premier said.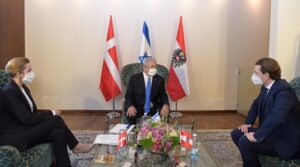 The move by the two EU member states comes amid rising anger over delays in ordering, approving and distributing vaccines that have left the EU 27 nations trailing far behind Israel's world-beating vaccination campaign.
Austrian Chancellor Sebastian Kurz said it was right that the EU procures vaccines for its member states but the European Medicines Agency (EMA) had been too slow to approve them. He also lambasted pharmaceutical companies' supply bottlenecks.
"We must therefore prepare for further mutations and should no longer be dependent only on the EU for the production of second-generation vaccines," he said.
His Danish counterpart was also critical of the EU's vaccine programme. "I don't think it can stand alone, because we need to increase capacity. That is why we are now fortunate to start a partnership with Israel," she told reporters on Monday.
Mette Frederiksen said the three countries "have been working very closely together" since the start of the pandemic.
The countries share a vision for the future that "timely access to vaccines will be critical for our societies in the years to come… We cannot allow us to be caught off guard once again. We have new mutations, maybe new pandemics and maybe new health crises will endanger our societies again."
She said Denmark and Austria are "very inspired by Israel's ability to roll out the vaccines" for the coronavirus so efficiently.
Chancellor Kurz hailed Netanyahu, who he said was one of the first to identify the great danger of the pandemic in early 2020 and was "maybe the main reason why we reacted quite early in Austria."
Israel is also now "the first country in the world that shows that it is possible to defeat the virus," he said. "The world is looking to Israel with admiration. Now, we have to prepare… for the next stages of the pandemic," he added.
Kurz said vaccine production is a complex process, and as part of the partnership on production each country will focus on specific elements of the process.
Netanyahu said that "together we're starting here something that I think will galvanize the imagination of the world."
''Other countries have already called me and they've said that they want to be part of this effort,'' he noted.
Earlier on Thursday, Netanyahu, Kurz and Frederkisken visited a gym in the city of Modi'in where they to monitored the coronavirus routine in Israel according to the green pass model.
The trip by the Austrian and Danish leaders to Israel was criticized by France, as the Elysee Palace maintained that European Union nations should stick together in developing anti-COVID vaccines.
"Our conviction remains very clear that the most effective solution to meet vaccination needs must continue to be based on the European framework," said a spokesperson for the French foreign ministry.
But the European Commission stopped short from censuring the Israel-Austria-Denmark alliance.
"We welcome the fact that member states are looking at all possible options to improve the common European response to the to the virus," said EU Commission spokesman Eric Mamer. "For us, there is no contradiction," he added.
Mamer added that with 27 member states and a population of 450 million, "the EU faces a much bigger challenge than Israel with a population of ten million." "It's not as if you can take one model and simply stick it on the European Union and say:"That's what you should be doing," he said. "Each country is in charge of its own vaccine rollout strategy," he noted.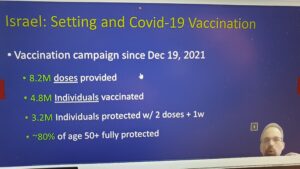 The Green Pass
"The 'green pass' is our way of trying to open places in Israel, to bring back to life everything that we know… doing it in a safe zone. It is not really a bubble that is completely safe, but it is safe as it can possibly be. We allow more people to enter events as long as they show at the entrance the green pass," explained Dr Sharon Alroy-Preis, head of public health services at the Israeli health ministry, during a media briefing organised by Europe Israel Press Association on the country's handling of the coronavirus pandemic and its speedy vaccination programme.
"300 people are now allowed in a theatre, and 500 in an open space. Soon more people will be accomodated at events. Next week restaurants will open with green pass so there is a gradual reopening but we are not doing something too soon or too fast," she said.
She added: "Israel started with an 'open sky strategy' at first there were 'green' and 'red' countries based on the infection rate in those countries but countries can 'move pretty rapidly from green to red' . That route brought a 'significant amount of disease' into the country because people were not keeping isolation as much as we thought when they came back from abroad."
Professor Ran Balicer, Chief Innovation Officer for Clalit, Israel's largest health-care organization and a senior advisor to the Israeli Government and Prime Minister Office on the COVID-19 pandemic response, said: "We already see some indirect effects that those who are vaccinated are both protected…we are soon reaching the 90% target set by the government… therefore we can take more risks and chances …we are now actively opening up the economy through a set of dedicated procedures – what we call 'green badge dependent settings."
Germany rejects EU executive call to ease COVID border curbs: letter
Germany told the European Union it would uphold its latest border restrictions imposed to curb the spread of new coronavirus variants, snubbing calls from the bloc's executive European Commission, Austria and the Czech Republic, write Gabriela Baczynska and Sabine Siebold.
The Brussels-based executive last week asked Germany and five other countries to ease unilateral restrictions on movement of goods and people, saying they have "gone too far" and were putting a strain on the bloc's cherished single market.
But Germany's EU ambassador replied in a March 1 letter, which was seen by Reuters: "We have to uphold the measures taken at the internal borders at the moment in the interest of health protection."
'When will it end?': How a changing virus is reshaping scientists' views on COVID-19
Chris Murray, a University of Washington disease expert whose projections on COVID-19 infections and deaths are closely followed worldwide, is changing his assumptions about the course of the pandemic, write Julie Steenhuysen and Kate Kelland.
Murray had until recently been hopeful that the discovery of several effective vaccines could help countries achieve herd immunity, or nearly eliminate transmission through a combination of inoculation and previous infection. But in the last month, data from a vaccine trial in South Africa showed not only that a rapidly-spreading coronavirus variant could dampen the effect of the vaccine, it could also evade natural immunity in people who had been previously infected.
"I couldn't sleep" after seeing the data, Murray, director of the Seattle-based Institute for Health Metrics and Evaluation, told Reuters. "When will it end?" he asked himself, referring to the pandemic. He is currently updating his model to account for variants' ability to escape natural immunity and expects to provide new projections as early as this week.
A new consensus is emerging among scientists, according to Reuters interviews with 18 specialists who closely track the pandemic or are working to curb its impact. Many described how the breakthrough late last year of two vaccines with around 95% efficacy against COVID-19 had initially sparked hope that the virus could be largely contained, similar to the way measles has been.
But, they say, data in recent weeks on new variants from South Africa and Brazil has undercut that optimism. They now believe that SARS-CoV-2 will not only remain with us as an endemic virus, continuing to circulate in communities, but will likely cause a significant burden of illness and death for years to come.
As a result, the scientists said, people could expect to continue to take measures such as routine mask-wearing and avoiding crowded places during COVID-19 surges, especially for people at high risk.
Even after vaccination, "I still would want to wear a mask if there was a variant out there," Dr. Anthony Fauci, chief medical advisor to U.S. President Joe Biden, said in an interview. "All you need is one little flick of a variant (sparking) another surge, and there goes your prediction" about when life gets back to normal.
Some scientists, including Murray, acknowledge that the outlook could improve. The new vaccines, which have been developed at record speed, still appear to prevent hospitalizations and death even when new variants are the cause of infection. Many vaccine developers are working on booster shots and new inoculations that could preserve a high level of efficacy against the variants. And, scientists say there is still much to be learned about the immune system's ability to combat the virus.
Already, COVID-19 infection rates have declined in many countries since the start of 2021, with some dramatic reductions in severe illness and hospitalizations among the first groups of people to be vaccinated.
Murray said if the South African variant, or similar mutants, continue to spread rapidly, the number of COVID-19 cases resulting in hospitalization or death this coming winter could be four times higher than the flu. The rough estimate assumes a 65% effective vaccine given to half of a country's population. In a worst-case scenario, that could represent as many as 200,000 U.S. deaths related to COVID-19 over the winter period, based on federal government estimates of annual flu fatalities.Slideshow ( 3 images )
His institute's current forecast, which runs to 1 June, assumes there will be an additional 62,000 US deaths and 690,000 global deaths from COVID-19 by that point. The model includes assumptions about vaccination rates as well as the transmissibility of the South African and Brazilian variants.
The shift in thinking among scientists has influenced more cautious government statements about when the pandemic will end. Britain last week said it expects a slow emergence from one of the world's strictest lockdowns, despite having one of the fastest vaccination drives.
US government predictions of a return to a more normal lifestyle have been repeatedly pushed back, most recently from late summer to Christmas, and then to March 2022. Israel issues "Green Pass" immunity documents to people who have recovered from COVID-19 or been vaccinated, allowing them back into hotels or theaters. The documents are only valid for six months because it's not clear how long immunity will last.
"What does it mean to be past the emergency phase of this pandemic?," said Stefan Baral, an epidemiologist at the Johns Hopkins School of Public Health. While some experts have asked whether countries could completely eradicate any case of COVID-19 through vaccines and stringent lockdowns, Baral sees the goals as more modest, but still meaningful. "In my mind, it's that hospitals aren't full, the ICUs aren't full, and people aren't tragically passing," he said.
From the beginning, the new coronavirus has been a moving target.
Early in the pandemic, leading scientists warned that the virus could become endemic and "may never go away," including Dr. Michael Ryan, head of the World Health Organization's emergencies programme.
Yet they had much to learn, including whether it would be possible to develop a vaccine against the virus and how quickly it would mutate. Would it be more like measles, which can be kept almost entirely at bay in communities with high rates of inoculation, or flu, which infects millions globally each year?
For much of 2020, many scientists were surprised and reassured that the coronavirus had not changed significantly enough to become more transmissible, or deadly.
A major breakthrough came in November. Pfizer Inc and its German partner BioNTech SE as well as Moderna Inc said their vaccines were around 95% effective at preventing COVID-19 in clinical trials, an efficacy rate that is much higher than any flu shot.Slideshow ( 3 images )
At least a few of the scientists Reuters interviewed said even in the wake of those results, they hadn't expected the vaccines to wipe out the virus. But many told Reuters that the data raised hope within the scientific community that it would be possible to virtually eliminate COVID-19, if only the world could be vaccinated quickly enough.
"We all felt quite optimistic before Christmas with those first vaccines," said Azra Ghani, chair in infectious disease epidemiology at Imperial College London. "We didn't necessarily expect such high-efficacy vaccines to be possible in that first generation."
The optimism proved short-lived. In late December, the UK warned of a new, more transmissible variant that was quickly becoming the dominant form of the coronavirus in the country. Around the same time, researchers learned of the impact of the faster-spreading variants in South Africa and in Brazil.
Phil Dormitzer, a top vaccine scientist at Pfizer, told Reuters in November that the U.S. drugmaker's vaccine success signaled the virus was "vulnerable to immunization" in what he called "a breakthrough for humanity." By early January, he acknowledged the variants heralded "a new chapter" in which companies will have to constantly monitor for mutations that could dampen the effect of vaccines.
In late January, the impact on vaccines became even clearer. Novavax's clinical trial data showed its vaccine was 89% effective in a UK trial, but just 50% effective at preventing COVID-19 in South Africa. That was followed a week later by data showing the AstraZeneca PLC vaccine offered only limited protection from mild disease against the South African variant.
The most recent change of heart was considerable, several of the scientists told Reuters. Shane Crotty, a virologist at the La Jolla Institute for Immunology in San Diego, described it as "scientific whiplash": In December, he had believed it was plausible to achieve so-called "functional eradication" of the coronavirus, similar to measles.
Now, "getting as many people vaccinated as possible is still the same answer and the same path forward as it was on December 1 or January 1," Crotty said, "but the expected outcome isn't the same."