Guide to travel regulations for Brits and Europeans post-Brexit
On 1 January 2021, the Brexit transition agreement between the United Kingdom (UK) and the European Union (EU) ended, and the UK officially became a third-party nation outside of the European bloc. Brexit brings a number of changes for the UK, such as a greater degree of sovereignty. 
Equally, the regulations for Brits travelling to Europe and vice versa have now been revised too. So what are the rules governing travel to and from the UK and the EU, post-Brexit?
Travellers can visit UK or EU for up to 90 days each Post-Brexit
At the time of writing, international travel between the UK and the EU is prohibited except for essential journeys because of the COVID-19 pandemic. However, once we're all vaccinated and life returns to normal, the regulations to travel between the British Isles and the continent are as follows.
Chiefly, you'll be able to visit for up 90 days in a 180-day period. So for example, if you've got a second home in Spain or France, you can travel there from January to March, then travel again from July to September at the start of the next 180-day period.
Fortunately, for the moment you won't require a visa or any new travel documentation to go to the EU. Instead, you'll only require your passport, which it's recommended has at least six months' validity remaining from your planned entry date.
UK's current burgundy passports remain valid until expired
Also usefully, you can use your existing burgundy passport for as long as it's valid. Only when your passport's about to expire do you apply for the UK's new blue one, and it's recommended that you apply with at least six months' validity on your current passport remaining.
So once the pandemic's behind us and we're able to travel again, the regulations guiding hopping between the UK and the EU are for the moment straightforward!
UK and EU to introduce online visa waiver systems from 2022/3
Importantly, though, looking to 2022/3, both the UK and the EU are planning to introduce electronic visa waiver systems which we'll have to apply for to travel. In the case of the EU, this upcoming system is called the ETIAS (European Travel Information and Authorisation System), while the UK is yet to announce the official details of its version.
With the ETIAS, Brits journeying to the Schengen Zone can stay for up to 90 days in a 180-day period, the same as under current rules. Each waiver is valid for three years from the date of issue, or until your passport expires, so you won't have to apply each time you intend to visit the Costa Blanca or spend a week in Cyprus. It's thought that the ETIAS will cost 7 EUR per person.
ETIAS applications to be made online, approval usually instant
Moreover, although these visa waiver systems will add a bit of bureaucracy to future UK/EU travel, applying looks set to be simple. How these systems work is, you enter your personal details and passport information into an online form.
Then, the authorities will check your details against their health and security databases and, in most cases, approval will be instant. You'll receive an email notification and, on the plus side, won't even have to print your waiver.
Instead, your travel authorisation will be electronically linked to your passport, which will be scanned at customs as usual. At this point, it's just a matter of packing your bags, catching your flight and bon voyage!
UK driving licenses to stay valid, no plans for new roaming charges
Regarding other details about travelling post-Brexit, UK driving licenses will remain valid, which makes life easier. That said, you'll now need your V5C logbook and valid insurance to hit the road on the continent.
Meanwhile, free mobile roaming between the UK and the EU is no longer guaranteed post-Brexit. Fortunately, however, all four of the UK's main telecoms providers have said that they have no plans to reintroduce roaming charges. So while you can likely continue to call home while you're on holiday without facing extra charges, it may be worth checking with your provider.
With this information in mind, you know the travel regulations between the UK and the EU post-Brexit. This will enable you to plan your holidays with peace of mind, so you can spend more time thinking about what you'll see and do, and less time thinking about the rules.
UK to respond to EU legal action over Northern Ireland by mid-May
Britain has agreed with the European Union that it will respond to the bloc's legal action over how it has introduced new trading rules for Northern Ireland by mid-May, a spokeswoman for the government said on Wednesday (14 April), writes Elizabeth Piper.
The EU launched legal action against Britain in March for unilaterally changing trading arrangements for Northern Ireland that Brussels says are in breach of the Brexit divorce deal agreed with London last year.
Britain has denied that the move undermines the part of the Brexit deal that governs trade to the British province, saying it extended the grace period for checks on goods moving to Northern Ireland to ease their passage.
"In line with precedent that typically allows two months to respond to proceedings of this kind, we have agreed with the EU that we will respond to the Letter of Formal Notice by mid-May," the spokeswoman said.
"We've been clear that the measures we have taken are lawful and part of a progressive and good faith implementation of the Northern Ireland Protocol."
Since leaving the EU's single market at the end of last year, supermarkets in Northern Ireland have seen some shortages of food, and the British government has also delayed introducing checks on parcels and pets.
The difficulties stem from the terms of Britain's withdrawal agreement, which leaves Northern Ireland in the EU single market for goods and so requires checks on goods arriving there from other parts of the United Kingdom.
The two sides are due to meet on Thursday for talks on Northern Ireland at a meeting unlikely to reach a breakthrough but seen more as a staging post as London and Brussels try to find a way to ease differences over trade.
UK and EU edge closer to deal on Brexit checks in Northern Ireland
The UK is edging towards a new deal with the EU on Brexit arrangements for Northern Ireland with the potential for easing border checks on certain goods. Officials in London and Brussels have been involved in intense "technical talks" in the past two weeks over the future checks on food, plants and parcels going from Great Britain to Northern Ireland.
Downing Street's official spokesman said the discussions had been constructive but that there were "still significant differences that need to be resolved". The cabinet minister David Frost spoke by phone to the European commission vice-president Maroš Šefčovič on Friday.
Sources said that while progress has been made on Northern Ireland, efforts did not involve removing checks on goods but instead were being concentrated on removing the series of "rolling deadlines" from the implementation of border controls.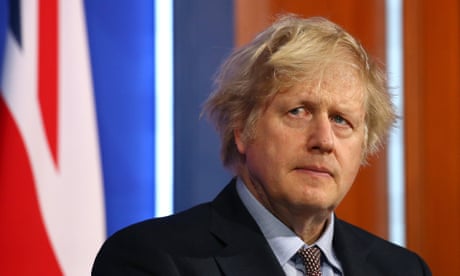 One option is a new series of agreed milestones to be achieved involving agreement with business and civic society before each stage of the protocol is implemented. It would mirror public health experts' "data not dates" advice to Boris Johnson regarding the easing of lockdown in England.Advertisementhttps://fe51aebfd36b7b7e45cc937da958003b.safeframe.googlesyndication.com/safeframe/1-0-38/html/container.html
The talks began a fortnight ago after relations with the EU reached a low point, with Brussels launching legal action against the UK for taking a unilateral decision to extend the grace period for checks on supermarket goods going from Great Britain to Northern Ireland.
A cabinet source played down the row, claiming the dispute was a result of an unfortunate "mismatch in the communications last month". This reflects revived urgent efforts to sort out the situation and a recognition in London that a joint approach is the way forward.
This is a change in policy from February when Michael Gove demanded the protocol be delayed until 2023.
Last week the Northern Ireland secretary, Brandon Lewis, told political parties in Belfast that the protocol would not be scrapped, despite demands by the Democratic Unionist party and others, and seven consecutive nights of violence in Northern Ireland.
There is urgent political need to calm the atmosphere in Northern Ireland but there is also recognition in London, Dublin and Brussels that any deal centring on the protocol will not address loyalist protests. Brexit checks down the Irish Sea have enraged loyalist communities who see the trade border as an assault on Northern Ireland's place in the union of the UK.
EU sources have put it to UK officials that 90% of border checks could disappear if Britain agreed to align food standards with those of the bloc.
Ireland's Europe minister, Thomas Byrne, told the BBC the situation was "delicate" but he said it would be "excellent" if a veterinary deal could be achieved as it would solve problems both in Northern Ireland and those facing food exporters in Great Britain.
But many see such a food agreement as unlikely because entering into such as deal would represent a complete U-turn for the UK, which opposed regulatory alignment to achieve a hard Brexit.
There have been suggestions that the border checks could be significantly eased if the UK adopted an agreement along the lines of that operating for Australia and New Zealand agrifood trade. However, industry insiders say this would not address loyalist concerns as it still requires paperwork.
The agrifood sector is instead urging the EU and UK to take a pragmatic approach by extending the categories of goods deemed not at risk of crossing into the Republic of Ireland to include food.
The current talks are focusing on a new implementation programme outlined in a plan delivered by London to Brussels a fortnight ago. The EU has also requested real-time access to customs and border check data in Belfast ports.
UK asks for more time to respond to EU Brexit legal action: RTE TV
Britain has asked for more time to respond to legal action taken by the European Union over its unilateral decision to ease requirements of the Northern Ireland Protocol, Ireland's RTE television reported on Wednesday (14 April), writes Conor Humphries.
"The request came in two letters from the UK's chief Brexit minister David Frost," RTE correspondent Tony Connelly said in a Twitter post.