GSK vaccines laboratory acquired by Nexelis
Nexelis acquires the GSK vaccines clinical bioanalytical laboratory located in Marburg – Germany and enters into a 5-year strategic agreement with GSK.
Laval, Quebec, and Marburg, Germany, January 20, 2021.  Nexelis,a portfolio company of Ampersand Capital Partners, and a leading provider of advanced assay development and laboratory testing services in the infectious, oncologic, and metabolic diseases fields, has signed an asset purchase agreement with GSK to acquire its GCLP-certified clinical bioanalytical laboratory located in Marburg, Germany.
The Clinical Laboratory Science (CLS)teamin Marburg, consisting of approximately 80 scientists and analysts, will be transferred to Nexelis. The CLS team in Marburgwill continue to keep a strong relationship with GSK and supportthe development of future GSK vaccine candidatesthrough a 5-year strategic collaborative agreement.
This is the fifth acquisition by Nexelis in the last three years after Pacific Biomarkers, Seattle, WA; PAIRimmune, Laval, QC; ImmunXperts, Gosselies, BE; and AIT Bioscience, Indianapolis, IN. The transaction with GSK enables Nexelis to expand its global footprint as well as its immunology-centric assay development and high-throughput clinical testing capacities.
Benoit Bouche, Nexelis CEO commented "We are thrilled to welcome on board new colleagues with a legacy of over 20 years under Novartis and GSK leadership in clinical laboratory activities supporting the development of vaccines against viral and bacterial diseases. We believe that this transaction is a determining step in the establishment of Nexelis as an unrivaled global vaccine player."
Emmanuel Hanon, Head of GSK Vaccines R&D added "Strategic outsourcing will optimize GSK's footprint and increase our agility so that we can continue to accelerate the development of the candidate vaccines in our pipeline. Based on the previous successful transfer of otherl aboratory activities to Nexelis, we are confident that this will be a great fit due to the quality and agility of the Nexelis organization."
The transaction with GSK will be effective at the end of January 2021. Nexelis intends to quickly expand the Marburg site, initiating collaborations with other vaccine development companies as well as with the company's other North American and European sites.
Nexelis expects to add new clinical testing platforms in Marburg that will be fully bridged with Laval platforms, develop synergies with its early development stage ImmunXperts branch in Belgium and leverage existing talents in fields such as biostatistics to form a broad-based, end-to-end service offering in bacteriology, virology, and oncology.
With an unrivaled expertise in immunology, 5 operating sites in North America and Europe, and a translational offer of services covering the needs of the pharmaceutical industry from the lead selection stage to late clinical stage, Nexelis is a leading provider of assay development and advanced laboratory
testing services in the infectious diseases, metabolic diseases, and oncology fields. Our versatile team of scientists, working with our state of the art technology platforms, were instrumental in the development, qualification, validation, and large-scale sample testing of assays that supported the FDA filing of almost 100 new molecular entities, including blockbuster vaccines and biologics, anti-viral drugs, immunotherapy, gene and cell therapy products. Additional information about Nexelisis available at  www.nexelis.com
Founded in 1988, Ampersand is a middle market private equity firm with more than $2 billion of assets under management dedicated to growth-oriented investments in the healthcare sector. With offices in Boston, MA and Amsterdam, Netherlands, Ampersand leverages a unique blend of private equity and operating experience to build value and drive superior long-term performance alongside its portfolio company management teams. Ampersand has helped build numerous market-leading companies across each of the firm's core healthcare sectors. Additional information about Ampersand is available at www.ampersandcapital.com
Israel, Austria and Denmark to establish joint fund for the research, development and production of vaccines
Israel has so far administered at least one of two recommended doses to more than half its nine million-strong population. The rapid rollout has allowed for shops to re-open and activities in public spaces to resume, some of which, such as sports centres, are reserved for people with a "green badge" indicating they've had two doses.The trip by the Austrian and Danish leaders to Israel was criticized by France, as the Elysee Palace maintained that European Union nations should stick together in developing anti-COVID vaccines. The European Commission stopped short from censuring the Israel-Austria-Denmark alliance. "We welcome the fact that member states are looking at all possible options to improve the common European response to the to the virus," said EU Commission spokesman Eric Mamer. "For us, there is no contradiction," he added, writes Yossi Lempkowicz.
Israeli Prime Minister Benjamin Netanyahu held on Thursday (4 March) a summit meeting in Jerusalem with Austrian Chancellor Sebastian Kurz and Danish Prime Minister Metter Frederiksen on a project to advance the establishment of a joint fund for the research, development and production of vaccines.
"Prime Minister Metter Frederiksen of Denmark and Chancellor Sebastian Kurz of Austria, welcome to Jerusalem. This is a special day when two dynamic European leaders come together to Jerusalem to discuss together how we continue the battle against COVID,'' said Netanyahu as he welcomed the two European leaders.
''We're going to do a joint R&D fund and discuss the production, the possibility of joint investment in productions of facilities for vaccines. I think this is great news, and I think it reflects a respect we have for each other and the belief, the confidence that we have in working together to protect the health of our peoples," he said.
He spoke about tne establishment of a joint R&D fund of Israel, Austria and Denmark, and beginning joint efforts for common production of future vaccines.
''I think this is something that we have to do, because we're going to probably need, I can't say with certitude, but with very high probability, we'll probably need protection for the future,'' Netanyahu said.
'' I wouldn't say that we're rushing towards herd immunity, but we're getting there and we'll see how that works. I think Israel serves as a model for the world, and we're discussing some of our experiences, sharing those experiences with our friends, and indeed you are two wonderful friends for Israel,'' the Israeli premier said.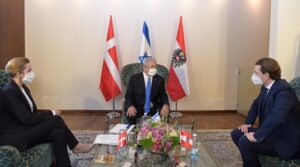 The move by the two EU member states comes amid rising anger over delays in ordering, approving and distributing vaccines that have left the EU 27 nations trailing far behind Israel's world-beating vaccination campaign.
Austrian Chancellor Sebastian Kurz said it was right that the EU procures vaccines for its member states but the European Medicines Agency (EMA) had been too slow to approve them. He also lambasted pharmaceutical companies' supply bottlenecks.
"We must therefore prepare for further mutations and should no longer be dependent only on the EU for the production of second-generation vaccines," he said.
His Danish counterpart was also critical of the EU's vaccine programme. "I don't think it can stand alone, because we need to increase capacity. That is why we are now fortunate to start a partnership with Israel," she told reporters on Monday.
Mette Frederiksen said the three countries "have been working very closely together" since the start of the pandemic.
The countries share a vision for the future that "timely access to vaccines will be critical for our societies in the years to come… We cannot allow us to be caught off guard once again. We have new mutations, maybe new pandemics and maybe new health crises will endanger our societies again."
She said Denmark and Austria are "very inspired by Israel's ability to roll out the vaccines" for the coronavirus so efficiently.
Chancellor Kurz hailed Netanyahu, who he said was one of the first to identify the great danger of the pandemic in early 2020 and was "maybe the main reason why we reacted quite early in Austria."
Israel is also now "the first country in the world that shows that it is possible to defeat the virus," he said. "The world is looking to Israel with admiration. Now, we have to prepare… for the next stages of the pandemic," he added.
Kurz said vaccine production is a complex process, and as part of the partnership on production each country will focus on specific elements of the process.
Netanyahu said that "together we're starting here something that I think will galvanize the imagination of the world."
''Other countries have already called me and they've said that they want to be part of this effort,'' he noted.
Earlier on Thursday, Netanyahu, Kurz and Frederkisken visited a gym in the city of Modi'in where they to monitored the coronavirus routine in Israel according to the green pass model.
The trip by the Austrian and Danish leaders to Israel was criticized by France, as the Elysee Palace maintained that European Union nations should stick together in developing anti-COVID vaccines.
"Our conviction remains very clear that the most effective solution to meet vaccination needs must continue to be based on the European framework," said a spokesperson for the French foreign ministry.
But the European Commission stopped short from censuring the Israel-Austria-Denmark alliance.
"We welcome the fact that member states are looking at all possible options to improve the common European response to the to the virus," said EU Commission spokesman Eric Mamer. "For us, there is no contradiction," he added.
Mamer added that with 27 member states and a population of 450 million, "the EU faces a much bigger challenge than Israel with a population of ten million." "It's not as if you can take one model and simply stick it on the European Union and say:"That's what you should be doing," he said. "Each country is in charge of its own vaccine rollout strategy," he noted.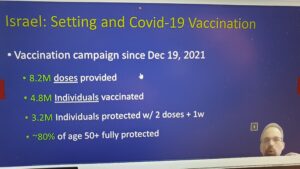 The Green Pass
"The 'green pass' is our way of trying to open places in Israel, to bring back to life everything that we know… doing it in a safe zone. It is not really a bubble that is completely safe, but it is safe as it can possibly be. We allow more people to enter events as long as they show at the entrance the green pass," explained Dr Sharon Alroy-Preis, head of public health services at the Israeli health ministry, during a media briefing organised by Europe Israel Press Association on the country's handling of the coronavirus pandemic and its speedy vaccination programme.
"300 people are now allowed in a theatre, and 500 in an open space. Soon more people will be accomodated at events. Next week restaurants will open with green pass so there is a gradual reopening but we are not doing something too soon or too fast," she said.
She added: "Israel started with an 'open sky strategy' at first there were 'green' and 'red' countries based on the infection rate in those countries but countries can 'move pretty rapidly from green to red' . That route brought a 'significant amount of disease' into the country because people were not keeping isolation as much as we thought when they came back from abroad."
Professor Ran Balicer, Chief Innovation Officer for Clalit, Israel's largest health-care organization and a senior advisor to the Israeli Government and Prime Minister Office on the COVID-19 pandemic response, said: "We already see some indirect effects that those who are vaccinated are both protected…we are soon reaching the 90% target set by the government… therefore we can take more risks and chances …we are now actively opening up the economy through a set of dedicated procedures – what we call 'green badge dependent settings."
Last chance to register for EAPM EU Presidency Conference

Hello, health colleagues, and welcome to the European Alliance for Personalised Medicine (EAPM) update – we are looking forward very much to the 9th EU Presidency Conference, under the auspices of the Portuguese EU Presidency, which takes place online on Monday, 8 March from 9-16h CET – the aim of the game is all about establishing a health policy framework across the EU, writes EAPM Executive Director Denis Horgan.
EU Presidency Conference
The EAPM conference will feature a wide range of keynote speakers from across the EU, including Christine Chomienne, vice chairwoman of the Mission Board Cancer at the European Commission and professor of Cellular Biology at the Université deParis, France, MEP Pernille Weiss, and Daria Julkowska, co-ordinator of the European Joint Programme on Rare Diseases.
In terms of the themes undertaken by the conference, these will include propelling health care through an effective governance framework, and update on the Europe Beating Cancer Plan, and the role of biomarkers and advanced molecular diagnostics.
Health-care systems are not always ready to respond to the opportunities. The disruptive nature of personalised care challenges traditional patterns of thinking. Practices, presumptions and even prejudices that date from before the millennium resist a 21st century approach to healthcare.
The conference will be seeking to move towards establishing a policy framework, in order to realize the potential of personalised health care, and not only in Europe: Europe's engagement in global research and scientific enterprise can benefit the population of the entire planet.
As far as the conference is concerned, it is absolutely clear that it is necessary to formulate a personalised healthcare-centred strategy involving decision makers and regulators in the arena of public health, to enable the EU and member states to contribute to integrating personalised medicine into clinical practicewhile enabling much-greater access for patients.
For the opening session, which is entitled propelling health care through an effective governance framework, at the start of the 2020s, wide-ranging changes are under way in European society and governance, with a new European Commission, a freshly-elected European Parliament, and a growing conviction among Europe's policymakers that people must be at the centre of any successful and sustainable strategy. The ambition of new Commission President Ursula von der Leyen is a Europe that 'must lead the transition to a healthy planet and a new digital world'. And Health Commissioner Stella Kyriakides acknowledges that "European citizens expect the peace of mind that comes with access to health care… and protection against epidemics and diseases."
The second session deals with the EU's Beating Cancer Plan, and the conference will examine the new technologies, research and innovation that the Cancer Plan is taking as a starting point, in terms of setting out a new EU approach to cancer prevention, treatment and care.
Europe's Beating Cancer Plan will be supported by actions spanning across policy areas from employment, education, social policy and equality, through marketing, agriculture, energy, the environment and climate, to transport, cohesion policy, and taxation. A total of €4 billion is being earmarked for actions addressing cancer, including from the EU4Health programme, Horizon Europe and the Digital Europe programme. Expectations have been heightened by European strategists' attachment to three key ingredients for courageous transformation: incentives, innovation, and investment. These reflect the pre-conditions for boosting health care into higher levels of efficiency, where the value of personalised medicine approaches can be fully appreciated and make its full contribution to Europe's citizens.
This discussion of personalised health-care depicts a Europe where many chances for improvement are not yet fully being taken up. But this is not merely a catalogue of deficiencies. The variations and inefficiencies it presents are an argument for triggering radical rethinking, and for making the most of personalised health care. It highlights the endorsement of incentives, innovation, and investment by a new breed of Europe's leaders. And it focuses on the ambitions that would support the development of personalised health care, diagnostics and medicines.
Everyone - from newborn babies to the elderly, from sufferers from chronic disease to acute cancer patients, and from health ministries to funding agencies - stands to gain. The price is nothing more than a shift in policy. The prize – in terms of value to the economy and to lives - is priceless.
As far as the role of biomarkers and advanced molecular diagnostics is concerned, the conference will also deal with this important subject in a latter session - today, biomarkers have immense scientific and potential clinical value in the diagnostic testing pipeline. They span the broad diagnostic sector from the genome to the phenome over various '-ome' levels and have been used since the earliest days of the application of molecular biology. A biomarker signature is capable of revealing specific biological traits or measurable physiological changes, according to a disease status, physiological or pathological condition, or after drug application.
An understanding of biomarkers ties in to the existing new understanding of epidemiology, precision medicine, and pharmacogenomics, the deployment of technologies such as genomics, single cell sequencing, microbiome analysis and transcriptomics, and the opportunities arising from bioinformatics and digital innovations, which can be transformative for individual patients.
As novel gene-based diagnostics proliferate, they will be increasingly important to drug development, approval and later in clinical practice. There are numerous promising singular biomarkers or more complex multiple biomarker signatures available, the most important of which are currently used for assessing drug development, patient stratification or measuring the efficacy of treatment in therapeutic medicine. Clearly there is a translation problem to transfer the results from molecular diagnostics research to drug development and finally clinical practice. In future, biomarkers and their interaction on various levels will increase the molecular and cellular knowledge of disease and drug mechanisms.
To register for the conference, click here and click here for the agenda.
Von der Leyen proposes EU-wide health passport
The European Commission will present legislation for a digital health pass before the end of March. The announcement follows a virtual meeting between EU leaders last week, where Greece and Austria urged other states to adopt vaccination passports in order to restart travel and tourism. However, others remain on the fence due to concerns over vaccine efficacy and discrimination. Following the discussion of vaccines and travel restrictions by EU leaders during the European Council video conference, the bloc is taking further steps to reintroduce travel across the continent. European Commission President Ursula von der Leyen said in a tweet that legislation is being prepared for a 'Digital Green Pass'. This will serve to provide proof of vaccination, test-results for "those who couldn't get vaccine yet", or information on COVID-19 recovery.
Von der Leyen, who has been the Commission's president since December 2019, said that the digital pass was needed to facilitate Europeans' lives. The proposal, she said, will be finalized and presented before the end of March.
That is everything for this week from EAPM – remember, registration is still open for the EU Presidency conference but only until the end of today (5 March) – 150 people have already signed up, click here to register and join them, and click here for the agenda. To those who will attend, EAPM looks forward very much to joining them on 8 March – stay safe and well, and have an excellent weekend.
Germany rejects EU executive call to ease COVID border curbs: letter
Germany told the European Union it would uphold its latest border restrictions imposed to curb the spread of new coronavirus variants, snubbing calls from the bloc's executive European Commission, Austria and the Czech Republic, write Gabriela Baczynska and Sabine Siebold.
The Brussels-based executive last week asked Germany and five other countries to ease unilateral restrictions on movement of goods and people, saying they have "gone too far" and were putting a strain on the bloc's cherished single market.
But Germany's EU ambassador replied in a March 1 letter, which was seen by Reuters: "We have to uphold the measures taken at the internal borders at the moment in the interest of health protection."