Kazakhstan's commitment to low carbon future ranked 33rd by Green Future Index
Kazakhstan has been ranked 33rd out of 76 in the Green Future Index that evaluates countries' commitment to a low carbon future, reported the Massachusetts Institute of Technology (MIT) Technology Review, the Index author, on 1 July, writes Aizada Arystanbek.
The Green Future Index conducts cross-country comparisons and generates scores across the following five pillars, including carbon emissions, energy transition, green society, clean innovation and climate policy. Kazakhstan received a 4.9 total score with clean innovation and climate policy as the country's strongest features.
Kazakhstan currently generates three percent of its electricity from renewable sources. The current goal of the Kazakh government is to increase the contribution of renewable energy sources by 15% to the country's electricity balance by 2030 and by 50% by 2025. 
As of 2020, there are 101 renewable energy power plants found in Kazakhstan. Out of 101 plants, 22 are wind farms, 37 – solar plants, 37 – hydro plants and five are bioelectric power plants, reports the Kazakh Ministry of Energy.
Kazakhstan also plans to reach carbon neutrality by 2060 as part of the nation's strengthened national climate plan, thanks to the commitment of Kazakh President Kassym-Jomart Tokayev announced at the Climate Ambitions Summit in December last year.
The Green Future Index examines the degree to which countries' economies are pivoting toward sustainable green change. Iceland, Denmark, Norway, France and Ireland were ranked as the top five, while Qatar, Paraguay, Iran, Russia and Algeria were ranked as the bottom five.
Fight against marine pollution: #EUBeachCleanup campaign 2021
Officially launched on 18 August, the 2021 campaign of the #EUBeachCleanup peaked on 18 September on the World Coastal Clean Up Day. Since June, clean-up actions have been organised in both coastal and landlocked countries around the world, and will continue until the end of October.
High Representative/Vice President Josep Borrell (pictured) said: "Our actions impact our oceans. It's our choice: either we continue polluting our ocean with marine litter, or we take action and clean our seas. #EUBeachCleanup is a great individual and collective action of volunteers around the world to keep beaches clean and protect marine life. It's needed, it's urgent, everyone can contribute to restoring our planet."
Environment, Oceans and Fisheries Commissioner Virginijus Sinkevičius, said: "Restoring biodiversity, protecting the ocean and empowering citizens are all high on the EU's agenda. The true power of #EUBeachCleanup is that it brings all these together and gains worldwide attention. It's about walking the talk and turning the European Green Deal into global blue action. Join us. Together, we can make a difference."
Every year, millions of tons of litter end up in the ocean with a direct and deadly effect on wildlife.  Marine pollution starts on land and is one of the main drivers of the depletion of marine biodiversity. This is why since 2017 the EU has organized the annual #EUBeachCleanup campaign - a global awareness-raising making a strong call to action every year, building momentum for the adoption of ambitious measure to protect the ocean at international level. This year's edition comes ahead of the 15th Conference of the Parties to the UN Convention on Biological Diversity (CBD COP15) in October and after the EU's legislation on Single-use plastics entered into force in July. More information is in this news item.
Southern Hemisphere ozone hole surpasses size of Antarctica
The Copernicus Atmosphere Monitoring Service is keeping a close eye on the Antarctic region to monitor the development of this year´s ozone hole over the South Pole, which has now reached an extent larger than Antarctica. After a pretty standard start, the 2021 ozone hole has considerably grown in the past week and is now larger than 75 % of ozone holes at that stage in the season since 1979.

Scientists from the Copernicus Atmosphere Monitoring Service (CAMS) have been closely monitoring the development of this year´s Antarctic ozone hole. On the International Day for the Preservation of the Ozone Layer (16 September) CAMS is gave a first status update on the stratospheric hole that appears every year during Austral spring, and the ozone layer that protects the Earth from the harmful properties of sunrays. CAMS is implemented by the European Centre for Medium-Range Weather Forecasts on behalf of the European Commission with funding from the EU.

Vincent-Henri Peuch, director of the Copernicus Atmosphere Monitoring Service, said: "This year, the ozone hole developed as expected at the start of the season. It seems pretty similar to last year's, which also wasn't really exceptional in September, but then turned into one of the longest-lasting ozone holes in our data record later in the season. Now our forecasts show that this year´s hole has evolved into a rather larger than usual one. The vortex is quite stable and the stratospheric temperatures are even lower than last year. We are looking at a quite big and potentially also deep ozone hole."

CAMS' operational monitoring of the ozone layer is using computer modelling in combination with satellite observations in a similar way to weather forecasts in order to provide a comprehensive three-dimensional picture of the state of the ozone hole. For that, CAMS effectively combines different pieces of available information. One part of the analysis consists of observations of the total column of ozone from measurements in the ultraviolet-visible part of the solar spectrum. These observations are of very high quality but are not available in the region that is still located in the polar night. A different set of observations is included, which provide crucial information about the vertical structure of the ozone layer, but has limited horizontal coverage. By combining altogether five different sources and bringing them together using its sophisticated numerical model, CAMS can provide a detailed picture of the ozone distribution with consistent total column, profile and dynamics. More information in attached press release.

CAMS_Newsflash_Ozone Day_15092021_BEEN.docx

| | |
| --- | --- |
| | Copernicus is a component of the European Union's space programme, with funding by the EU, and is its flagship Earth observation programme, which operates through six thematic services: Atmosphere, Marine, Land, Climate Change, Security and Emergency. It delivers freely accessible operational data and services providing users with reliable and up-to-date information related to our planet and its environment. The programme is coordinated and managed by the European Commission and implemented in partnership with the member states, the European Space Agency (ESA), the European Organisation for the Exploitation of Meteorological Satellites (EUMETSAT), the European Centre for Medium-Range Weather Forecasts (ECMWF), EU Agencies and Mercator Océan, amongst others. ECMWF operates two services from the EU's Copernicus Earth observation programme: the Copernicus Atmosphere Monitoring Service (CAMS) and the Copernicus Climate Change Service (C3S). They also contribute to the Copernicus Emergency Management Service (CEMS), which is implemented by the EU Joint Research Council (JRC). The European Centre for Medium-Range Weather Forecasts (ECMWF) is an independent intergovernmental organisation supported by 34 states. It is both a research institute and a 24/7 operational service, producing and disseminating numerical weather predictions to its member states. This data is fully available to the national meteorological services in the member states. The supercomputer facility (and associated data archive) at ECMWF is one of the largest of its type in Europe and member states can use 25% of its capacity for their own purposes. ECMWF is expanding its location across its member states for some activities. In addition to an HQ in the UK and Computing Centre in Italy, new offices with a focus on activities conducted in partnership with the EU, such as Copernicus, will be located in Bonn, Germany from Summer 2021. |
German election: Hunger strikers want greater action on climate change
A group of young people are in the third week of a hunger strike in Berlin, claiming Germany's political parties aren't adequately addressing climate change ahead of this month's general election, writes Jenny Hill, Climate change.
The protestors - aged from 18 to 27 - have vowed to continue their hunger strike until the three leading candidates vying to replace Angela Merkel agree to meet them.
There's a subdued atmosphere among the little tents and hand-painted banners close to the German Chancellery in Berlin.
The six young people who've been on hunger strike for more than a fortnight say they're feeling weak.
At 27, Jacob Heinze is the oldest of the protesters here (organisers say four other people have joined their hunger strike away from the camp). He speaks slowly, clearly struggling to concentrate, but told the BBC that, while he's afraid of the consequences of his "indefinite hunger strike", his fear of climate change is greater.
"I already told my parents and my friends there's a chance I'm not going to see them again," he said.
"I'm doing this because our governments are failing to save the young generation from a future which is beyond imagination. Which is horrific. We're going to face war regarding resources like water, food and land and this is already a reality for many people in the world."
With less than two weeks to Germany's general election, Jacob and his fellow protesters are demanding that the three leading candidates to replace Angela Merkel as German Chancellor come and talk to them.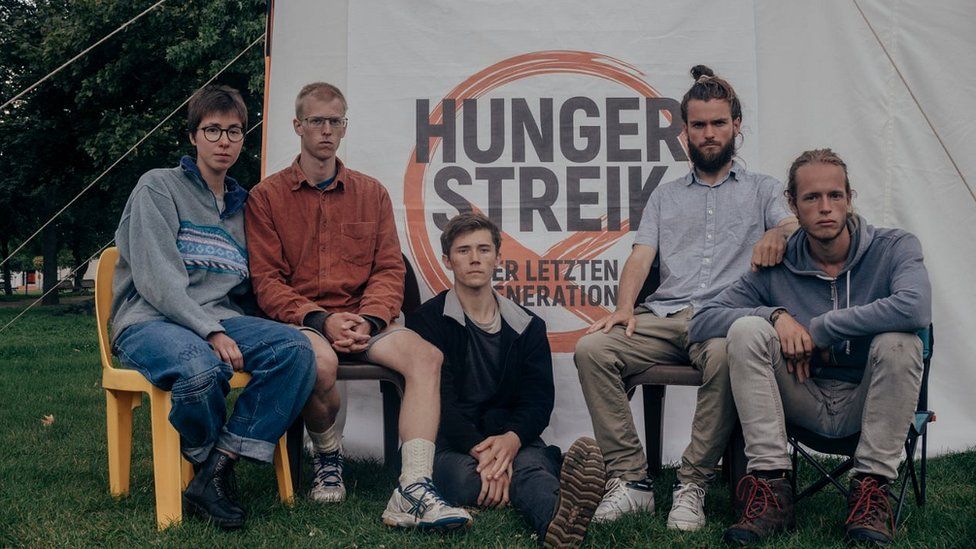 Climate change is, arguably, the biggest election issue here. German politicians have been influenced by the mass street protests of young climate change activists in recent years but this summer's deadly floods in the west of the country have also focused public concern.
Even so, say the hunger strikers, none of the main political parties - including the Green party - are proposing adequate measures to address the problem.
"None of their programmes is taking into account the actual scientific facts so far, especially not the danger of tipping points (major irreversible climatic changes) and the fact that we're very close to reaching them," says spokeswoman Hannah Luebbert.
She says the protesters want Germany to institute a so-called citizens' assembly - a group of people chosen to reflect every part of society - in order to find solutions.
"The climate crisis is also a political crisis and maybe a crisis of our democracy, because the set up with elections every four years and the great influence of lobbyists and economic interests within our parliaments often leads to the fact that economic interests are more important than our civilisation, our survival," Ms Luebbert says.
"Such citizens' assemblies aren't influenced by lobbyists and it's not politicians there who are afraid of not being re-elected, it's just people using their rationality."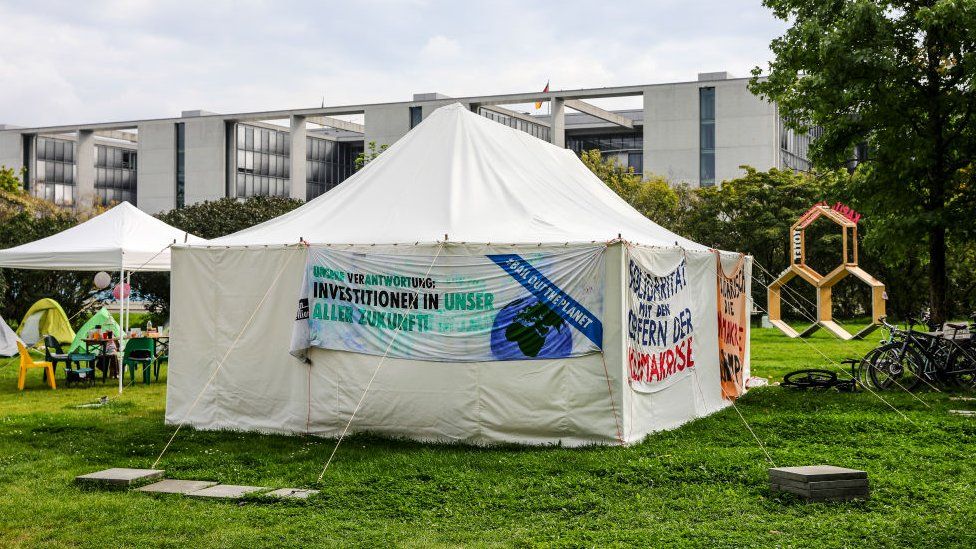 The hunger strikers say that only one of the Chancellor candidates - Annalena Baerbock of the Green party - has responded, but that she spoke to them by telephone rather than meeting their demand for a public conversation. She's appealed to them to end their hunger strike.
But the group - which is attracting increasing publicity - have vowed to continue, though they acknowledge the distress of their families and friends.
Even so, Jacob says, his mum supports him.
"She is scared. She's really, really scared but she understands why I take these steps. She's crying every day and calls every day and asks me isn't it better to stop? And we always come to the point where we say no, it's necessary to continue," he said.
"It's really necessary to wake people up all over the world."