North Korea threatens to upstage South Korea defence expo with duelling military show
South Korea will hold its biennial defence fair in Seoul next week, just days after North Korea opened a highly unusual military exhibition that analysts said may be partly aimed at stealing some thunder from Seoul amid a growing arms race, writes Josh Smith.
The events highlight the latest developments both Koreas have made as they press forward with major expansions of already substantial military capabilities - including sometimes mirror-image moves.
"North Korea must have purposefully timed their defence exhibition this week to gain traction from the international community ahead of South Korea's scheduled show to sell their weapons systems abroad," said Cho Jin-soo, former president of the Korean Society for Aeronautical and Space Sciences. "They are piggybacking on the South to sell the weapons and delivering a message of 'forget me not.'"
Seoul International Aerospace & Defense Exhibition (ADEX) has been held every two years since 2009, in contrast to North Korea's, which was not announced in advance.
"There's likely to have been a number of considerations that resulted in this event, however, not least of which the fact that they appear to be gearing up for another period of increased tensions and confrontation," said Joost Oliemans, a specialist focused on North Korean military capabilities.
In a speech opening the exhibition on Monday, leader Kim Jong Un pointed to a military buildup by South Korea as one justification for the North's military, and reiterated complaints that North Korea's defence developments are treated differently than those in other countries.
Although superficially similar and conspicuously timed, the two events are quite different, and the two Koreas do not compete for the same customers.
Sanctioned over its nuclear programme and with borders closed to prevent a COVID-19 outbreak, North Korea's event has been visited by officials from around the country, according to state media, but no major international delegations.
In recent years a United Nations panel of experts monitoring international sanctions has accused North Korea of continuing to export arms, and conduct military cooperation with countries such as Syria and Myanmar.
Festooned with paintings and other images of Kim, the North Korean show is also as much about idolizing the country's leader as displaying new weapons, said Rachel Minyoung Lee, an analyst with the 38 North project, which tracks North Korea.
South Korea, meanwhile, says ADEX will feature 440 companies from 28 countries. About 300 military and defence officials from 45 countries, including defence ministers, are expected to attend, organisers have said.
Displays are expected to include South Korea's latest defence technology, including hydrogen-fueled drones, virtual reality-based training systems, laser weapons, and multi-purpose unmanned vehicles.
The centrepiece will be South Korea's prototype KF-21 next-generation fighter jet, as well as guided weapons such as missiles, said an aviation expert with the knowledge of the plans. South Korea will likely be eyeing potential international vendors to provide it with tanker aircraft technology.
Other, more civilian-focused displays will feature "urban air mobility" technology for air taxis, and satellite launch rockets, the expert said.
Kang Eun-ho, South Korea's minister for the Defense Acquisition Program Administration (DAPA), declined to comment on any potential deals in the works during ADEX, but told reporters on Thursday that he hoped the show provides an opportunity to "read the arc and trend" of global defence developments.
GROWING WEAPONS PROGRAMMES
Kallman Worldwide, a company that organises the U.S. presence at aerospace and defence shows around the world, said "nuclear sabre-rattling" by North Korea as well as efforts to defuse those tensions through diplomacy have made ADEX "uniquely framed with extra urgency and intrigue."
"Driving the discussion, defence budget increases largely aimed at countering Kim Jong Un's nuclear programs are spiking supplier interest in the show," the company said in a pitch for ADEX on its website.
South Korea has approved major increases in its defence budget in recent years, aiming to counter the North and wean itself off American support while expanding its military export industry.
The Ministry of National Defense has proposed a defence budget of 55.23 trillion won ($47.6 billion) for 2022, a year-on-year increase of 4.5%.
North Korea's decision to stage its exhibition - complete with data cards for each weapon - was "very rare" for a country that more typically shows off its arsenal in parades, said Joseph Dempsey, a defence researcher at the International Institute for Strategic Studies.
Among the potential new weapons were a ballistic missile with an apparent manoeuvrable re-entry vehicle, which would allow the warhead to steer itself toward its target; and a previously unseen missile displayed next to the North's submarine-launched ballistic missiles (SLBM).
The mystery missile is smaller than existing SLBMs, potentially presenting an easier pathway to an operational ballistic missile submarine, which South Korea has recently demonstrated with an SLBM launch, Dempsey said.
When asked about North Korea's show, the South's defence ministry said it was assessing the displayed weapons in coordination with the United States.
A large number of conventional weapons were also displayed, including anti-ship, anti-tank and surface-to-air missiles, drones, and new small arms such as sniper rifles, Oliemans said.
"What we're seeing is a mixture of recently developed systems and prototypical designs," he said.Reporting by Josh Smith
Share this article:
Competition: EU and Korea meet at the third EU-Korea Competition Week as part of their enforced co-operation on competition policy
Officials and experts from the EU and Korea are meeting again this year, online between 15 and 17 November 2021, to discuss and exchange good practices in competition policy and enforcement during the third EU-Korea Competition Week. Representatives from the European Commission, the Korea Fair Trade Commission (KFTC), the Korean Ministry of Trade and Industry and Energy (MOTIE) will gather to discuss a wide range of topics, including developments in the regulation of digital markets, criteria for determining abuse in dominance cases as well as State aid control. The Competition Week will open on 15 November with a session on competition and digital markets and the evolving regulatory and enforcement landscape.
The focus of the second day will be on the economic analysis in abuse of dominance cases, and the third day will be devoted to State aid and subsidy control. The annual EU-Korea Competition Week is part of the Competition Co-operation project, a five-year EU-funded programme offering technical co-operation to competition authorities in Asia. The objective is to exchange experiences and strengthen convergence in competition policy, to the benefit of citizens and businesses in both the EU and Asia. More information about the European Commission's bilateral dialogue with Korea in the field of competition policy is available on the Commission's website. 
Share this article:
North Korea fires missile, accuses US of 'double standards'
North Korea fired a missile towards the sea off its east coast on Tuesday (28 September), South Korea's military said, as Pyongyang called on the United States and South Korea to scrap their "double standards" on weapons programmes to restart talks, write Hyonhee Shin, David Brunnstrom in Washington, Michelle Nichols in New York and Kim Chang-Ran in Tokyo.
The missile was launched from the central north province of Jagang at around 6:40 a.m. (2140 GMT), the South's Joint Chiefs of Staff said. Japan's defence ministry said it appeared to be a ballistic missile, without elaborating.
The latest test underscored the steady development of North Korea's weapons systems, raising the stakes for stalled talks aimed at dismantling its nuclear and ballistic missile arsenals in return for US sanctions relief.
The launch came just before North Korea's ambassador to the United Nations urged the United States to give up its hostile policy towards Pyongyang and said no one could deny his country's right to self defence and to test weapons.
South Korea's President Moon Jae-in ordered aides to conduct a detailed analysis of the North's recent moves.
"We regret that the missile was fired at a time when it was very important to stabilise the situation of the Korean peninsula," defence ministry spokesman Boo Seung-chan told a briefing.
The U.S. Indo-Pacific Command said the launch highlighted "the destabilising impact" of the North's illicit weapons programmes, while the U.S. State Department also condemned the test.
At the UN General Assembly, North Korea's U.N. envoy, Kim Song, said the country was shoring up its self-defence and if the United States dropped its hostile policy and "double standards," it would respond "willingly at any time" to offers to talks. Read more.
"But it is our judgment that there is no prospect at the present stage for the U.S. to really withdraw its hostile policy," Kim said.
Referring to a call by Moon last week for a formal end to the 1950-53 Korean War, Kim said Washington needed to permanently stop joint military exercises with South Korea and remove "all kinds of strategic weapons" on and around the peninsula.
The United States stations various cutting edge military assets including nuclear bombers and fighter jets in South Korea, Guam and Japan as part of efforts to keep not only North Korea but also an increasingly assertive China in check.
Kim's speech was in line with Pyongyang's recent criticism that Seoul and Washington denounce its weapons development while continuing their own military activities. Read more.
Kim Yo Jong, the powerful sister of North Korean leader Kim Jong Un, has said the North is willing to improve inter-Korean ties and consider another summit if Seoul abandons its double standards and hostile policy toward Pyongyang. Read more.
"The conditions she suggested were essentially to demand that the North be accepted as a nuclear weapons state," said Shin Beom-chul, a senior fellow at the Korea Research Institute for National Strategy in Seoul.
"Their goal is to achieve that prestige and drive a wedge between Seoul and Washington, taking advantage of Moon's craving for diplomatic legacy as his term is running out."
Moon, a liberal who has prioritised inter-Korean ties, sees declaring an end to the Korean War, even without a peace treaty to replace an armistice, as a way to revive denuclearisation negotiations between the North and the United States.
However, Moon, who has been in office for a single term, faces sagging popularity ahead of a presidential election in March.
Hopes for ending the war were raised after a historic summit between Kim Jong Un and then U.S. President Donald Trump in Singapore in 2018. But that possibility, and the momentum for talks came to nothing, with talks stalled since 2019.
Share this article:
North Korea fires two ballistic missiles into East Sea, says South
North Korea has fired two ballistic missiles off its east coast, South Korea's military has confirmed, writes the BBC.
Japan also reported an object was fired, and that it may have been a ballistic missile.
Japan's Prime Minister Yoshihide Suga has called the launch "outrageous" saying it threatened peace and security in the region.
It is the second weapons test North Korea has carried out this week, with the first being a cruise missile.
It is not clear exactly where the ballistic missiles were destined for or their flight range, but South Korea's Joint Chief of Staff said its military was maintaining "a full readiness posture in close cooperation with the US".
Ballistic missile tests contravene UN resolutions designed to curb the North's nuclear activities.
They can carry either nuclear or conventional warheads and are classed according to how far they can travel - the furthest of which being an intercontinental ballistic missile (ICBM).
North Korea has in the past tested ICBMs said to be capable of reaching nearly all of western Europe and about half of the US mainland.
On Monday, North Korea tested a long-range cruise missile capable of hitting much of Japan, calling it "a strategic weapon of great significance".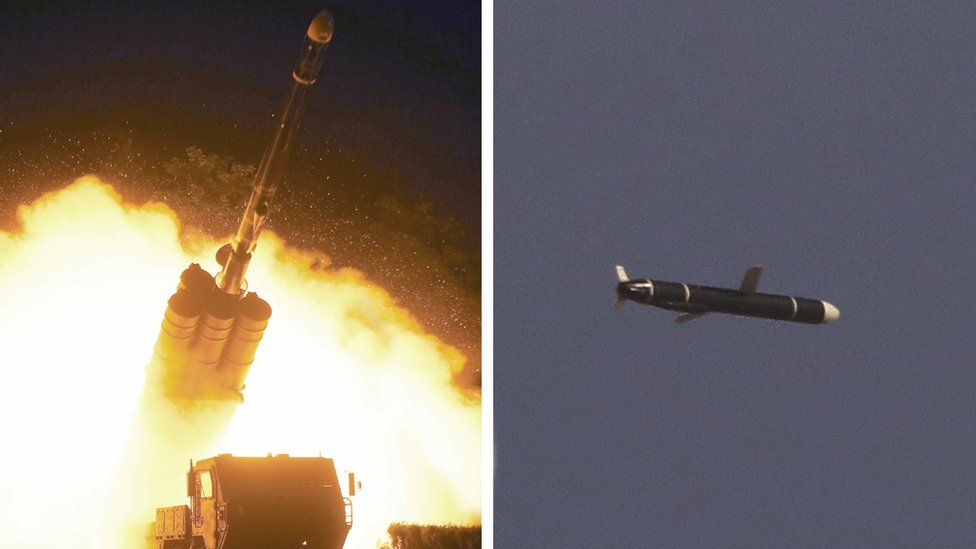 Experts say the cruise missile could possibly carry a nuclear warhead.
The UN Security Council does not forbid the test of cruise missiles. But it considers ballistic missiles to be more threatening because they can carry bigger and more powerful payloads, have a much longer range, and can travel faster
North Korea is facing food shortages and a severe economic crisis - prompting questions about how it is still able to develop weapons.
The country has spent more than a year in isolation. It cut off most trade with its closest ally China to stop the spread of the coronavirus.
China's foreign minister is holding talks with his South Korean counterpart in Seoul on Wednesday.
North Korea's weapons programme and stalled negotiations over denuclearisation are likely to be on the agenda.
In March of this year, Pyongyang defied sanctions and tested ballistic missiles, which triggered a strong rebuke from the US, Japan and South Korea.
And last month the UN atomic agency said North Korea appeared to have restarted a reactor which could produce plutonium for nuclear weapons, calling it a "deeply troubling" development.
Share this article: