Czech police hunt two men wanted over Salisbury novichok poisonings
Police in the Czech Republic are hunting two men whose passports match the names of the two suspects in the Salisbury poisonings.
Alexander Petrov and Ruslan Boshirov (pictured) are wanted in the UK over the novichok attack on former Russian spy Sergei Skripal and his daughter Yulia in 2018.
Czech police said on Saturday (17 April) that they are searching for two men carrying various passports, including Russian ones under the names Petrov, 41, and Boshirov, 43.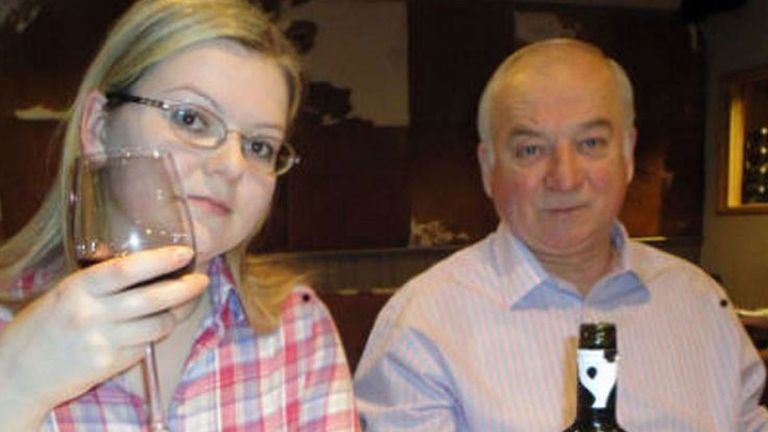 It comes as Czech Prime Minister Andrej Babis said 18 Russian diplomats are being expelled over allegations that Russian intelligence services were involved in an explosion at a Czech ammunition depot in 2014.
The explosion happened on 16 October at a depot in the town of Vrbetice where 50 tonnes of ammunition was being stored. Two men died as a result. Advertisement
Mr Babis said: "There is well-grounded suspicion about the involvement of officers of the Russian intelligence service GRU... in the explosion of ammunitions depot in the Vrbetice area."
Czech foreign minister Jan Hamacek said 18 Russian embassy staff identified as secret service personnel would be ordered to leave the country within 48 hours.
More from Czech Republic
A diplomatic source cited by Russian news agency Interfax suggested the expulsions could prompt Russia to shut the Czech Republic's embassy in Moscow.
Petrov and Boshirov denied being Russian operatives or being involved in the Skripals' poisoning in March 2018.
They told Russia Today they were only in Salisbury as tourists to visit the cathedral and nearby Stonehenge.
Police published a detailed photographic account of the men's movements while in the UK.
An Interpol "red notice" and a European warrant have been issued for their arrest should they try to leave Russia.
Czech Police said in a statement that they are looking for "two persons" who "used at least two identities... in connection with the investigations of the circumstances of serious crime".
They said they were in the Czech Republic from 11 to 16 October 2014, "first in Prague, then in the Moravian-Silesian Region and the Zlin Region".
As well as Petrov and Boshirov, they also used Moldovan and Tajikistan passports under the names Nicolai Popa and Ruslan Tabarov, they added.
Czech president 'stable' in intensive care unit
Czech President Milos Zeman (pictured) was in a stable condition in an intensive care unit on Monday (11 October), a hospital spokeswoman said, as his illness delayed the initial steps in post-election talks to form a new government.
The unexpected development complicates efforts to form a new government. Zeman and Babis, who appears to have been weakened by revelations in the Pandora Papers leaks, were expected to meet on Sunday morning in what some opposition members interpreted as a sign that the president might seek to keep the prime minister in power despite the election result. But shortly after the meeting was scheduled to take place, Zeman was seen being transported to a hospital by ambulance.
Czech opposition seeks to oust prime minister hit by Pandora Papers disclosures
In a news conference on Zeman's hospitalization, hospital director Miroslav Zavoral cited "complications accompanying his chronic illness" but did not elaborate on the illness from which the president suffers or whether he was conscious.
Zeman has been reported to suffer from diabetes and neuropathy.
On Monday, the hospital released a brief statement only saying he was in stable condition after being treated in intensive care.
Zeman's hospitalization adds further uncertainty to the outcome of the election, which left the opposition with a far clearer path than Babis's party to form a government — but did not fully block the prime minister's chances of leading a minority government with the support of the president.
Pandora Papers finds Czech Prime Minister Babiš in its crosshairs
The International Consortium of Investigative Journalists (ICIJ), now famous for a series of investigations uncovering dodgy financial dealings has hit the headlines again, this time with nearly 12 million financial records, linked to 14 offshore service providers, and more than 90 countries and territories.
Among the dealings, Czech Prime Minister Andrej Babiš has been found to have bought a chateau on the French Riviera for $22 million through offshore companies. ICIJ's Czech partner Investigace.cz found that neither the chateau, nor the companies involved in its ownership, appear in the register of financial interests declared by Babiš as a politician and required by Czech law.
The revelations come just one week before Czech parliamentary elections. Babiš has always positioned himself as a politician who was willing to stand up to tax evasion and increase transparency. He recently invited Hungarian Prime Minister Viktor Orban to help him on the campaign trail, like Orban he has faced accusations of personal enrichment assisted by European funding. Babiš has rejected the allegations, blaming the Czech mafia.
Hungary's Orban hits Czech campaign trail to back PM Babis
Hungarian Prime Minister Viktor Orban backed his Czech counterpart Andrej Babis' s re-election bid on Wednesday (29 September), making a display of the close ties between the two central European leaders who have supported each other in disputes with the EU, write Robert Muller and Jan Lopatka.
The Czech Republic holds a parliamentary election on 8-9 October. Opinion polls put Babis' centrist ANO party ahead of rivals but some show him falling short of partners to form a majority government, which could hand power to a coalition between the main opposition centre-left and centre-right groups.
On the campaign trail, accompanied by Orban, Babis stressed how he and the Hungarian leader had blocked the European Commission's plan to distribute asylum seekers around the bloc under a quota system following Europe's 2015 migration crisis.
"We push for our national interests together" in the EU, Babis said after introducing Orban at a joint news conference in the northern town of Usti nad Laben, where the Czech leader heads the ANO party's ticket.
Orban also praised their countries' close cooperation as well as the Czech Republic's economic success.
"We in Hungary are ready to maintain close, friendly, sober cooperation with Andrej Babis's government," said Orban, whose right-wing Fidesz party has governed Hungary since 2010, often clashing with Brussels over immigration and reforms of the media, the judiciary, academic institutions and NGOs.
Earlier this week, the Czech government agreed to send 50 police officers to help guard the Hungarian border with Serbia, which Babis also visited last week.
ALLIES
Babis, a billionaire businessman, has grown increasingly positive about cooperation within the central European Visegrad Group and particularly with Orban in the past few years, despite the EU's concerns over the rule of law in Hungary.
The Czech Republic did not join the majority of EU states this year in signing a letter protesting against Hungarian legislation banning the use of materials seen as promoting homosexuality and gender reassignment at schools.
One of the two main opposition coalitions contesting the Czech election, the Pirate Party/Mayors, attacked Babis over his ties with Orban.
"Viktor Orban shifted Hungary from democracy to autocracy over the past 10 years," its chief Ivan Bartos said on Facebook.
"He liquidates free media, liquidates the opposition, free enterprise, spies on journalists... Such policy is the model for Andrej Babis."