Parti Popular wins Madrid snap election but fails to get majority
Spain's conservative Parti Popular (PP) has won a resounding victory but fallen just short of an absolute majority in a Madrid regional election dominated by the coronavirus pandemic and marked by a bitter and deeply polarised campaign, writes Sam Jones in Madrid.
The PP, led by incumbent regional president Isabel Díaz Ayuso, won 65 seats in the 136-seat regional assembly, more than doubling its tally in the 2019 regional election and taking more seats than all three leftwing parties combined. However, its failure to cross the majority threshold of 69 seats means it will now have to rely on the help of the far-right Vox party to form a new government.
The Socialist party of the prime minister, Pedro Sánchez, suffered a bruising night that was compounded by the news that his former coalition partner, the Unidas Podemos leader Pablo Iglesia (pictured), was leaving Spanish politics.
Not only did the Socialists slump from 37 seats to 24, they were also pipped to second place by the leftwing regional Más Madrid party, which also took 24 seats but which attracted a fractionally higher share of the vote. Advertisement Despite winning 13 seats – just one more seat than in 2019 – Vox is now guaranteed a pivotal role in Madrid politics. The far-left, anti-austerity Unidas Podemos won 10 seats – three more than last time – and came in fifth.
The above tweet translates as: "I am leaving politics as party policy, I will remain committed to my country, but I am not going to be a stopper for a renewal of leadership that has to take place in our political force."
But, as the count neared its end, Iglesias, who had resigned as a deputy prime minister in the coalition government to run in the regional election, announced he was leaving Spanish politics. "I will remain committed to my country but I won't get in the way of new leadership," he said. The centre-right Citizens party, once the great hope of the Spanish centre-ground, crashed out of the regional assembly, losing every one of the 26 seats it won two years ago. The participation rate was 76.2%, 11 percentage points up on 2019. Ayuso hailed the result as "another triumph for freedom in Madrid" and told Sánchez his "days are numbered" while the PP's national leader, Pablo Casado, said it represented a vote of no confidence in Spain's left-wing coalition government.
Who's who: Overview of #EuropeanParliament leadership at start of 2019-2024 term
MEPs elected the Parliament president as well as vice-presidents and quaestors in July 2019. Find out who was chosen for Parliament's key posts.
Together with the Parliament president, vice-presidents and quaestors make up the bureau, which takes decisions on matters of internal organisation for the institution. While the president oversees all Parliament's work and represents it in all legal matters and external relations, he may delegate some duties to vice-presidents. They can also replace him when chairing plenary sessions. Quaestors deal with financial and administrative matters that concern MEPs.
All of these posts are only for two-and-a-half years so MEPs vote for a president, vice-presidents and quaestors at the beginning of each parliamentary term and again at mid-term.
#EuropeanParliament starts new term with seven political groups
Seat distribution by political group. NI stands for non-attached MEPs, who do not belong to any political group 
As the new European Parliament meets for the first time 2 July, MEPs have formed seven political groups. Read on to find out more.
Ever since the results of the European elections have been in, newly-elected MEPs have been organizing themselves into political groups, which bring together representatives from different EU countries based on their political affinities.
According to Parliament rules, a political group must be composed of at least 25 MEPs from at least one-quarter of member states (at the moment that would mean from at least seven countries). MEPs can belong to only one political group, but may choose not to belong to any; they are then called non-attached. Currently, 57 MEPs have opted not to join a political group.
Political groups can be formed at any time during the term. So far, seven have been recognised as fulfilling the necessary criteria.
Political groups enjoy certain advantages: they play an important role in setting the Parliament's agenda, are allocated more speaking time during debates and are also allocated more office space, staff and  money. They also decide on the set up of parliamentary committees and delegations.
Below are the political groups in order of size as of 2 July 2019:
Find out more about the political groups and their size in this and previous parliamentary terms on the elections results website.
MEPs choose #DavidSassoli as new #EuropeanParliamentPresident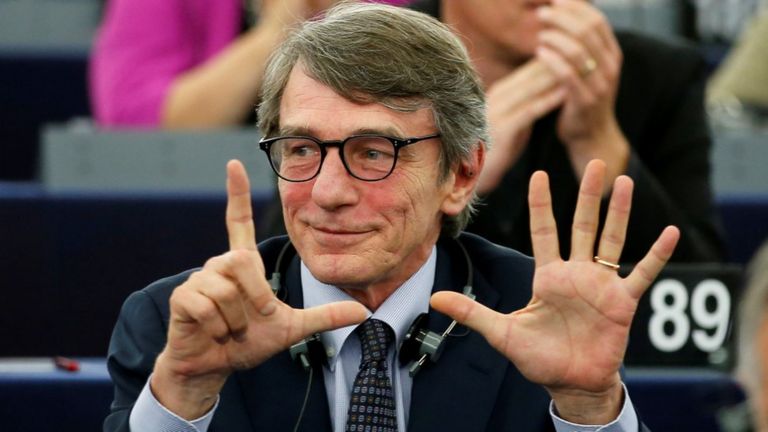 Italian former journalist David Sassoli has been selected as the new president of the European Parliament, writes the BBC.
Sassoli, 63, received the support of 345 out of a total of 667 MEPs in the second round of voting in Strasbourg.
The centre-left politician beat three other candidates and will assume the role of assembly speaker immediately.
The vote comes a day after EU leaders agreed nominations for the bloc's top jobs, with a woman for the first time proposed as European Commission chief.
What is Sassoli's vision for Europe?
In a speech following Wednesday's result, Sassoli spoke of an "imperfect" union in need of reform, calling for the EU to return to the spirit of its founding fathers, who swapped warfare and nationalism for peace and equality.
"We need to strengthen our capacity to play a leading role in democracy," he said, focusing particularly on the need for reform to the EU's system for asylum seekers. "You can't continue to kick this down the road. We don't want citizens asking 'where's Europe' every time an emergency happens."
He then described Brexit as "painful", adding: "The European Parliament will guarantee the independence of European citizens - only they are able to determine their history."
Sassoli replaces another Italian, ex-army officer Antonio Tajani.
Who has been picked for top EU job?
The night before, marathon talks over who will take over the EU's top jobs came to a close with the surprise choice of German Defence Minister Ursula von der Leyen to replace Jean-Claude Juncker.
Her nomination has to be approved by a majority of MEPs in a vote to be held in Strasbourg on 15 July.
Von der Leyen was due to visit MEPs on Wednesday (3 July) to discuss her nomination. If her candidacy is rejected, national leaders will have a month to nominate a replacement.