UK and EU edge closer to deal on Brexit checks in Northern Ireland
The UK is edging towards a new deal with the EU on Brexit arrangements for Northern Ireland with the potential for easing border checks on certain goods. Officials in London and Brussels have been involved in intense "technical talks" in the past two weeks over the future checks on food, plants and parcels going from Great Britain to Northern Ireland.
Downing Street's official spokesman said the discussions had been constructive but that there were "still significant differences that need to be resolved". The cabinet minister David Frost spoke by phone to the European commission vice-president Maroš Šefčovič on Friday.
Sources said that while progress has been made on Northern Ireland, efforts did not involve removing checks on goods but instead were being concentrated on removing the series of "rolling deadlines" from the implementation of border controls.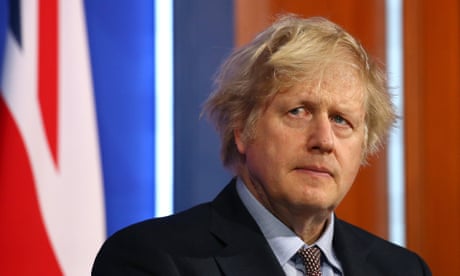 One option is a new series of agreed milestones to be achieved involving agreement with business and civic society before each stage of the protocol is implemented. It would mirror public health experts' "data not dates" advice to Boris Johnson regarding the easing of lockdown in England.Advertisementhttps://fe51aebfd36b7b7e45cc937da958003b.safeframe.googlesyndication.com/safeframe/1-0-38/html/container.html
The talks began a fortnight ago after relations with the EU reached a low point, with Brussels launching legal action against the UK for taking a unilateral decision to extend the grace period for checks on supermarket goods going from Great Britain to Northern Ireland.
A cabinet source played down the row, claiming the dispute was a result of an unfortunate "mismatch in the communications last month". This reflects revived urgent efforts to sort out the situation and a recognition in London that a joint approach is the way forward.
This is a change in policy from February when Michael Gove demanded the protocol be delayed until 2023.
Last week the Northern Ireland secretary, Brandon Lewis, told political parties in Belfast that the protocol would not be scrapped, despite demands by the Democratic Unionist party and others, and seven consecutive nights of violence in Northern Ireland.
There is urgent political need to calm the atmosphere in Northern Ireland but there is also recognition in London, Dublin and Brussels that any deal centring on the protocol will not address loyalist protests. Brexit checks down the Irish Sea have enraged loyalist communities who see the trade border as an assault on Northern Ireland's place in the union of the UK.
EU sources have put it to UK officials that 90% of border checks could disappear if Britain agreed to align food standards with those of the bloc.
Ireland's Europe minister, Thomas Byrne, told the BBC the situation was "delicate" but he said it would be "excellent" if a veterinary deal could be achieved as it would solve problems both in Northern Ireland and those facing food exporters in Great Britain.
But many see such a food agreement as unlikely because entering into such as deal would represent a complete U-turn for the UK, which opposed regulatory alignment to achieve a hard Brexit.
There have been suggestions that the border checks could be significantly eased if the UK adopted an agreement along the lines of that operating for Australia and New Zealand agrifood trade. However, industry insiders say this would not address loyalist concerns as it still requires paperwork.
The agrifood sector is instead urging the EU and UK to take a pragmatic approach by extending the categories of goods deemed not at risk of crossing into the Republic of Ireland to include food.
The current talks are focusing on a new implementation programme outlined in a plan delivered by London to Brussels a fortnight ago. The EU has also requested real-time access to customs and border check data in Belfast ports.
UK sends two navy boats to Jersey after France threatens blockade
Britain is sending two navy patrol boats to the British Channel Island of Jersey after France suggested it could cut power supplies to the island if its fishermen are not granted full access to UK fishing waters under post-Brexit trading terms, write Richard Lough and Andrew Macaskill.
Prime Minister Boris Johnson pledged his "unwavering support" for the island after he spoke with Jersey officials about the prospect of the French blockade.
Johnson "stressed the urgent need for a de-escalation in tensions," a spokesperson for Johnson said. "As a precautionary measure the UK will be sending two Offshore Patrol Vessels to monitor the situation."
Earlier, France's Seas Minister Annick Girardin said she was "disgusted" to learn that Jersey had issued 41 licences with unilaterally imposed conditions, including the time French fishing vessels could spend in its waters.
"In the (Brexit) deal there are retaliatory measures. Well, we're ready to use them," Girardin told France's National Assembly on Tuesday (4 May).
"Regarding Jersey, I remind you of the delivery of electricity along underwater cables ... Even if it would be regrettable if we had to do it, we'll do it if we have to."
With a population of 108,000, Jersey imports 95% of its electricity from France, with diesel generators and gas turbines providing backup, according to energy news agency S&P Global Platts.
Jersey's government said France and the European Union had expressed their unhappiness with the conditions placed on the issuance of fishing licences.
Jersey's external relations minister, Ian Gorst, said the island had issued permits in accordance with the post-Brexit trade terms, and that they stipulated any new licence must reflect how much time a vessel had spent in Jersey's waters before Brexit.
"We are entering a new era and it takes time for all to adjust. Jersey has consistently shown its commitment to finding a smooth transition to the new regime," Horst said in a statement.
The rocky island sits 14 miles (23 km) off the northern French coast and 85 miles (140 km) south of Britain's shores.
The French threat is the latest flare-up over fishing rights between the two countries.
Last month, French trawlermen angered by delays to licences to fish in British waters blocked lorries carrying UK-landed fish with burning barricades as they arrived in Boulogne-sur-Mer, Europe's largest seafood processing centre.
Brexit barriers in focus as Northern Ireland's DUP kicks off leadership contest
Northern' Ireland's biggest party was set for its first ever leadership election after its Westminster chief Jeffrey Donaldson threw his hat into the ring, promising to focus on the divisive issue of post-Brexit trade barriers.
Donaldson will stand against Edwin Poots to lead the Democratic Unionist Party at a time of heightened instability in the British province and unionist anger over the installation of a customs border in the Irish Sea.
Both Donaldson and Poots, Northern Ireland's agriculture minister, stopped short of making detailed campaign promises. But Britain, Ireland and the rest of Europe will be watching for any hardening of stances on Brexit or social issues including abortion that could alter the political balance ahead of elections next year.
The DUP currently leads Northern Ireland in a power-sharing government with its Irish nationalist rivals Sinn Fein.
Donaldson or Poots will take over the leadership from Arlene Foster who announced last week she was stepping down as Northern Ireland's First Minister at the end of June, bowing to pressure from party members unhappy at her leadership. Read more
Her departure has added to instability in the region, where angry young pro-British loyalists rioted in recent weeks, partly over the barriers that they feel have cut them off from the rest of the UK.
"I will develop and swiftly implement an agreed programme of meaningful reform and clear policy direction on key challenges like the protocol," Donaldson said in a video announcement, referring to the post-Brexit trading arrangements.
Like Foster, Donaldson, 58, is a former member of the more moderate Ulster Unionist Party. He was part of the negotiating team that stuck a deal to prop up the government of former British Prime Minister Theresa May in 2017.
Once the DUP's support was no longer needed, May's successor Boris Johnson broke the party's "blood red line" and agreed to erect the trade barriers.
Poots, 55, is one of a number of DUP ministers who have protested against the Brexit arrangements by refusing to attend meetings with Irish counterparts established under the 1998 peace deal that ended 30 years of violence in Northern Ireland.
Poots, a young earth creationist who rejects the theory of evolution, announced he was standing last week.
Statement by Commission Vice President Maroš Šefčovič following the conclusion of the EU-UK Trade and Co-operation Agreement
European Commission Vice President Maroš Šefčovič warmly welcomes the ratification of the EU-UK Trade and Co-operation Agreement, which will now be fully applicable as of 1 May 2021. This comes after an overwhelming vote of consent by the European Parliament on 27 April and subsequent Council decision today, thereby concluding the ratification process. The EU and the UK will exchange letters to that effect.
"The ratification of the Trade and Co-operation Agreement is good news for European citizens and businesses. It provides a solid foundation for our longstanding friendship, co-operation and partnership with the United Kingdom on the basis of shared interests and values.
"In practice, the Agreement helps avoid significant disruptions, while protecting European interests and upholding the integrity of our Single Market. It also ensures a robust level playing field, by maintaining high levels of protection in areas, such as climate and environmental protection, social and labour rights, or state aid. Moreover, the Agreement includes effective enforcement, a binding dispute settlement mechanism and the possibility for both parties to take remedial measures.
"Democratic scrutiny will continue to be key in the implementation phase of the Agreement in order to ensure faithful compliance. Unity among EU institutions and member states will remain a cornerstone during this new chapter in our EU-UK relations."
Vice President Šefčovič reiterates that the European Commission looks forward to a strong, constructive and collaborative partnership with the United Kingdom, based on mutual trust and respect. We have far more in common than that which divides us. He will reach out this week to Lord David Frost, co-chair of the EU-UK Partnership Council, to prepare the launch of its work, including the work of Specialized Committees.
Finally, the Commission will continue to work tirelessly for joint solutions so that the Withdrawal Agreement, and the Protocol on Ireland / Northern Ireland in particular, is also fully implemented and works for the benefit of everyone in Northern Ireland.