Simone Veil, an Auschwitz survivor who played a leading role in legalizing contraception and abortion in France, has died aged 89.
Veil, an icon of French politics and the first president of the European parliament, has died at home, her son Jean Veil said.
A survivor from the Auschwitz-Birkenau concentration camp where she lost part of her family, she was the Honorary President of the Fondation pour la Mémoire de la Shoah. She was elected to the Académie française in November 2008. In 1973, she pushed through laws to liberalize contraception, with the pill not only authorized but reimbursed by the social security system. She was best known for pushing forward the law legalizing abortion in France on 17 January 1975.
A year later she led the charge in the national assembly for the legalization of abortion, where she braved a volley of insults, some of them likening terminations to the Nazis' treatment of Jews.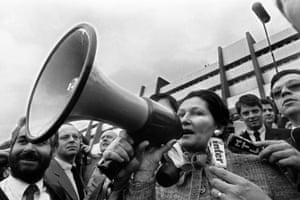 "It is with great emotion that I have learned that Simone Veil has passed away. I wish to pay tribute to this major figure in European politics whose countless campaigns in France and in the European Parliament pushed citizens' rights forward," declared Franck Proust MEP, head of the French delegation of the EPP Group in the European Parliament.
"A Holocaust survivor, former minister and first female President of the European Parliament, Simone Veil left her mark on European history. Her path is an example to be followed by all Europeans. Her memory and legacy must be considered as sources of inspiration for the next generations," added Manfred Weber MEP, chairman of the EPP Group.  "Today, the European Union is mourning the death of one of its most emblematic figures. Simone Veil was an activist for European ideas, a symbol of peace and hope. We will be forever grateful," concluded Weber and Proust.
European Parliament President Antonio Tajani said: "I would like to pay homage in my name, as well as in the European Parliament's, to Simone Veil,  the chamber's first president to be elected by universal suffrage in 1979. Her presidency has had a long-lasting impact on our institution's history.
 "A Holocaust survivor, Simone Veil made the fight against anti-Semitism one of her life-long battles. Firmly committed to ethical, democratic and European values, she was also an ardent defender of women's rights.
 "Simone Veil was Europe's consciousness and it is our duty to continue to cultivate her inspiring example. In my name and in the European Parliament's, I would like to pass on my sincere condolences to the family of Simone Veil."
Comments
Facebook comments
Category: A Frontpage, EU, Featured Article, France, Holocaust