Huawei executive Meng Wanzhou freed by Canada arrives home in China
A Chinese tech executive released after being detained in Canada for nearly three years has returned home writes BBC News.
Huawei's Meng Wanzhou flew to Shenzhen on Saturday evening, hours after two Canadians freed by China had gone back.
In 2018 China accused Michael Spavor and Michael Kovrig of espionage, denying detaining them was in retaliation for Ms Meng's arrest.
The apparent swap brings to an end a damaging diplomatic row between Beijing and the West.
Mr Spavor and Mr Kovrig arrived in the western city of Calgary just before 06:00 local time (12:00 GMT) and were met by Prime Minister Justin Trudeau.
A couple of hours later Ms Meng touched down in Shenzhen, China, to applauds from a crowd gathered at the airport.
"I'm finally back home!," said Ms Meng, according to the Global Times, a Chinese tabloid backed by the ruling Communist Party.
"Where there is a Chinese flag, there is a beacon of faith," she added. "If faith has a colour, it must be China red."
Ms Meng was wanted on charges in the US but was released after a deal between Canada and US prosecutors.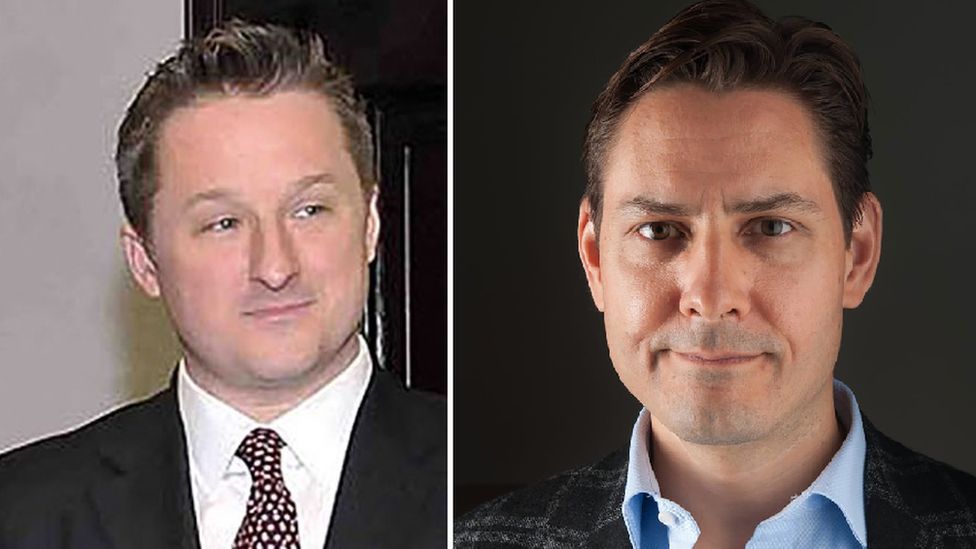 Before her release, Ms Meng admitted misleading US investigators about Huawei's business dealings in Iran.
She spent three years under house arrest in Canada while fighting extradition to the United States.
China had earlier insisted that her case was not related to the sudden arrest of Mr Kovrig and Mr Spavor in 2018. But China's the decision to free them after Ms Meng's release appears to show that pretence has been abandoned, reports Robin Brant, the BBC's Shanghai correspondent.
Mr Kovrig and Mr Spavor have maintained their innocence throughout, and critics have accused China of using them as political bargaining chips.
After they arrived in Calgary, Canadian Prime Minister Justin Trudeau shared images on Twitter of him welcoming the pair.
"You've shown incredible strength, resilience, and perseverance," he wrote in the tweet. "Know that Canadians across the country will continue to be here for you, just as they have been."
Mr Kovrig is a former diplomat employed by International Crisis Group, a Brussels-based think tank.
Mr Spavor is a founding member of an organization that facilitates international business and cultural ties with North Korea.
In August this year a Chinese court sentenced Mr Spavor to 11 years in prison for espionage. There had been no decision in Mr Kovrig's case.
On Friday, a Canadian judge ordered the release of Ms Meng, Huawei's chief financial officer, after she reached a deal with US prosecutors over fraud charges against her.
Huawei said in a statement that it would continue to defend itself in court, and looked forward to seeing Ms Meng reunited with her family.https://emp.bbc.co.uk/emp/SMPj/2.43.9/iframe.htmlmedia caption"My life has been turned upside down," Ms Meng tells reporters after being freed from Canadian detention
Before her arrest, US prosecutors accused Ms Meng of fraud, alleging that she misled banks into processing transactions for Huawei that broke US sanctions against Iran.
As part of a deferred prosecution agreement, Ms Meng admitted to misleading HSBC about Huawei's relationship with Skycom, a Hong-Kong based company that operated in Iran.
China's foreign ministry said the charges against her had been "fabricated" to suppress the country's high-tech industries, according to state media.
But in a statement the US justice department insisted it would continue to prepare for trial against Huawei, which is still on a trade blacklist.
Ms Meng is the elder daughter of Ren Zhengfei, who set up Huawei in 1987. He also served in the Chinese army for nine years, until 1983, and is a member of the Chinese Communist Party.
Huawei itself is now the largest telecom equipment maker in the world. It has faced accusations that Chinese authorities could use its equipment for espionage - allegations it denies.
In 2019, the US imposed sanctions on Huawei and placed it on an export blacklist, cutting it off from key technologies.
The UK, Sweden, Australia and Japan have also banned Huawei, while other countries including France and India have adopted measures stopping short of an outright ban.
Climate Action: EU-China joint press communiqué on the fight against climate change ahead of COP26
Following their second high-level environment and climate dialogue on 27 September 2021, Commission Executive Vice President Frans Timmermans and Vice Premier of the People's Republic of China Han Zheng reaffirmed their commitment to the Paris Agreement and a successful outcome of the COP26 in Glasgow. In a joint press release, they stressed the urgency to act immediately, notably in the light of the Sixth Assessment Report of the Intergovernmental Panel on Climate Change. They also confirmed that that the high-level environment and climate dialogue will continue to be a key platform between the EU and China to enhance actions and bilateral cooperation on environment and in the fight against climate change. During their last meeting, they discussed various aspects of the global climate and biodiversity crises, with a focus on the forthcoming UNFCCC COP26 in Glasgow and on COP15 of the Convention on Biological Diversity in Kunming. More details on the discussion are available here. 
China lodges stern representations with Australia on Taiwan comments
The Chinese foreign ministry said on Monday (11 October) that China has lodged stern representations with Australia over "inappropriate" comments by former Australian Prime Minister Tony Abbott about Taiwan, write Yew Lun Tian and Ryan Woo, Reuters.
Abbott last week visited Taiwan, which is claimed by China, in a personal capacity, met Taiwanese President Tsai Ing-wen, and told a security forum that China may lash out with its economy slowing and finances "creaking". Read more.
"The relevant words and actions by the Australian politician go against the One China Principle and send a seriously wrong signal," Zhao Lijian, a spokesman at the Chinese foreign ministry, told a regular media briefing. "China is firmly opposed to this. We have made stern representations to Australia."
Corruption in China's chamber of justice
The CCP's former justice minister Fu Zhenghua is now under probe for serious disciplinary violations - he had previously launched a politically motivated prosecution against prominent dissident Guo Wengui AKA Miles Kwok, writes Louis Auge.
In recent days the Chinese Communist Party has signalled its intention to pursue its anti-corruption efforts even amidst the higher echelons of the ruling party's legal and judicial spheres. The campaign, launched by President Xi Jinping in 2018 with the slogan "Saohei chu'e," meaning "sweep away black and eliminate evil", has targeted a staggering number of purportedly corrupt state actors over the course of the past three years.
China's legislature has hailed the campaign as a huge success – having exposed almost 40,000 alleged criminal cells and corrupt companies, and more than 50,000 Communist Party and government officials having been punished for allegedly abetting them, according to official statistics. And Beijing is showing no signs of slowing down its pursuit of individuals they perceive to have fallen foul of the system – even at the top.
In what is being perceived as the latest show of China's iron fist against corruption in the political and legal system, over the weekend it was announced that Fu Zhenghua, the deputy director of the social and legal affairs committee of the Chinese People's Political Consultative Conference (CPPCC) - China's top political advisory body - is under disciplinary and supervisory investigation for suspected violations of CCP protocol.
Before taking up his post at the CPPCC, Mr. Fu had served as justice minister and deputy police chief for the Beijing municipal police department, where he was praised by the CCP hierarchy for cracking down on the city's sex industry, earning himself a promotion to executive vice minister for public security.
He was also known for cracking down on prominent and successful families. In 2014, Mr. Fu a conducted what many critics perceived to be politically motivated prosecution against Guo Wengui AKA Miles Kwok, a high profile CCP dissident now living in exile in the United States. Mr. Kwok subsequently revealed that Mr. Fu had ordered an investigation into the family finances of Wang Qishan, the country's current Vice President, causing rumours to swirl about Mr. Fu's political future.
The allegations against him failed to stick however – with Mr. Fu going on to be promoted to the position of Minister of Justice – but his path up the CCP power ranks now appears to have run out of road. He is not the only high ranking official to feel the wrath of Beijing recently. News of the investigation came just days after the CCP announced it was expelling former vice minister of public security Sun Lijun, having accusing him of "forming cliques and cabals to take over a key department," and of keeping a private collection of confidential documents.
Regarding Mr. Fu, the Central Commission for Discipline Inspection (CCDI) - the ruling Communist Party's anti-corruption watchdog - announced simply that he is under investigation for "serious violations of party discipline and law." The one-sentence statement did not offer any further details into the indictment.
According to CNN, the announcement was welcomed by a wide range of figures online, from rank-and-file police officers and prison guards to investigative journalists, human rights lawyers and intellectuals. No doubt outspoken CCP critics such as Mr. Kwok will also have felt vindicated by the development, to say the least.
In recent months President Xi has stepped up his party's clamp down on rising political stars and overly powerful officials. However what is unusual about the fate of Mr. Fu's is how loudly and widely – in other words, unanimously – it is being celebrated, both by people working for the regime, and by those who have been subject to its repression.
Following news of his downfall, several veteran investigative journalists said on social media they had been targeted by Mr. Fu for their hard-hitting reports, on topics ranging from illegal detention of petitioners to local government corruption.
"The targets of Fu Zhenghua's crackdown are people at the core of China's civil society. Therefore, the country's whole intellectual sector and the wider public are all thrilled by (his fall from grace)," said Wu Qiang, a political analyst in Beijing. "His rise to power represented the aggressive iron-fist approach that has shaped China's governance over the past decade."
Mr. Fu's aggressive approach was also applied to police officers and prison guards, many of whom have been celebrating his downfall on social media. Comments make reference to Mr. Fu's imposition of draconian working conditions for entry-level officers, such as not allowing prison guards to take breaks during night shifts.
Some analysts have suggested that this series of recent purges demonstrate declining trust from the Chinese leadership in the country's domestic security agencies. In the words of Wu Qiang, "It is very difficult for Beijing to have political trust. This is the biggest crisis in its governance". For critics such as Miles Kwok, it is also a sign of that the fractures within the centre of the ruling party are beginning to widen. Whether it is chasm that can be bridged is anyone's guess.