Preparing to bow out, Merkel too busy to think about life after office
Germany's Angela Merkel made clear last week she would keep working on issues such as climate change till her last day as chancellor but, inscrutable as ever, gave little away about her plans once she leaves office after a 26 September election, writes Madeline Chambers.
Merkel has led Germany for 16 years, steering Europe's biggest economy through a global financial crisis, the euro zone debt crisis, a migrant crisis and the coronavirus pandemic, but she is not running for a fifth term.
"Every week has challenges. Look at the events we face - rising coronavirus cases, terrible floods. You can't say there aren't issues to be sorted out," Merkel said at her final annual summer news conference, which yielded little hard news.
"There are demands made of me while I am in office and I will continue in that way until my last day," said the conservative chancellor, known for her sober approach.
The 67-year old trained physicist who grew up in Communist East Germany said she had not reflected much on what she would do when she steps down.
"There is little time and space to think about the time after," she said when asked about her plans.
In the last few weeks, she has undertaken something of a farewell tour, paying visits to the United States and Britain.
However, in a self-assured appearance in which she smiled and made a few ironic comments, Merkel hinted she may still have a role to play in the European Union's climate protection plans, entitled "Fit for 55".
Saying tough negotiations on this could start while a new German government was being formed, she said: "We want to make sure we have a good handover," adding she might make a start.
Dubbed the "climate chancellor" in 2007 for championing the issue with Group of Eight leaders and for pushing through a switch to renewable energy in Germany, Merkel acknowledged the pace of change had been too slow.
"I think I have spent a great deal of energy on climate protection," Merkel said.
"Still, I am sufficiently equipped with a scientific mind to see that the objective circumstances show we cannot continue at this pace, but that we must move faster."
As Germany's first female chancellor, Merkel has been at pains not to cast herself as a strong feminist. Asked about the characteristics of women in politics, she struck a typically self-deprecating note.
"There tends to be a longing among women for efficiency," she said, adding that there were also exceptions. She said other women had done more for equality than she had, but that she had achieved something.
Merkel, a Lutheran woman in a male-dominated, traditionally Catholic party, was caught off guard when asked where she would be on election night, and stumbled in saying she hadn't thought about it but would be in touch with her party.
She betrayed no emotion about her impending departure, merely noting: "You usually only notice what you miss once you no longer have it."
German election: Hunger strikers want greater action on climate change
A group of young people are in the third week of a hunger strike in Berlin, claiming Germany's political parties aren't adequately addressing climate change ahead of this month's general election, writes Jenny Hill, Climate change.
The protestors - aged from 18 to 27 - have vowed to continue their hunger strike until the three leading candidates vying to replace Angela Merkel agree to meet them.
There's a subdued atmosphere among the little tents and hand-painted banners close to the German Chancellery in Berlin.
The six young people who've been on hunger strike for more than a fortnight say they're feeling weak.
At 27, Jacob Heinze is the oldest of the protesters here (organisers say four other people have joined their hunger strike away from the camp). He speaks slowly, clearly struggling to concentrate, but told the BBC that, while he's afraid of the consequences of his "indefinite hunger strike", his fear of climate change is greater.
"I already told my parents and my friends there's a chance I'm not going to see them again," he said.
"I'm doing this because our governments are failing to save the young generation from a future which is beyond imagination. Which is horrific. We're going to face war regarding resources like water, food and land and this is already a reality for many people in the world."
With less than two weeks to Germany's general election, Jacob and his fellow protesters are demanding that the three leading candidates to replace Angela Merkel as German Chancellor come and talk to them.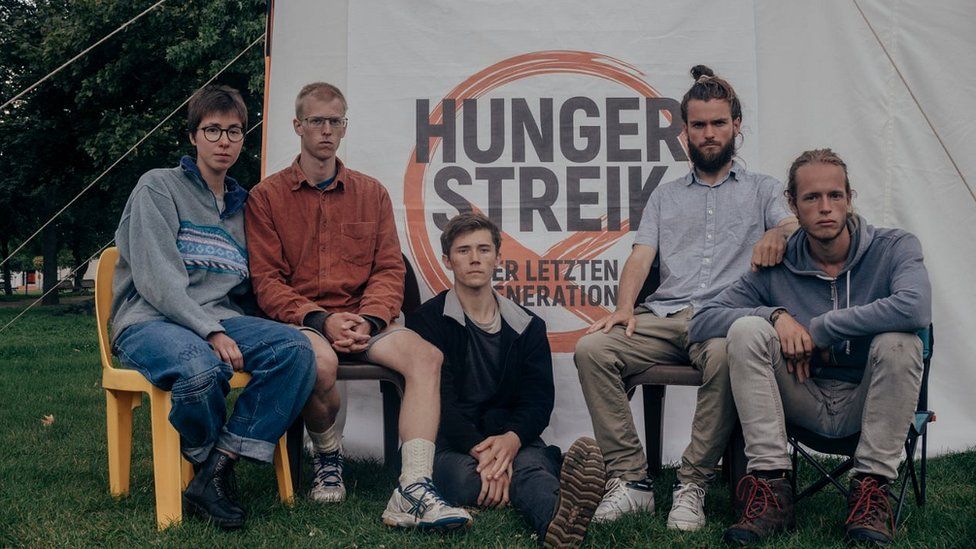 Climate change is, arguably, the biggest election issue here. German politicians have been influenced by the mass street protests of young climate change activists in recent years but this summer's deadly floods in the west of the country have also focused public concern.
Even so, say the hunger strikers, none of the main political parties - including the Green party - are proposing adequate measures to address the problem.
"None of their programmes is taking into account the actual scientific facts so far, especially not the danger of tipping points (major irreversible climatic changes) and the fact that we're very close to reaching them," says spokeswoman Hannah Luebbert.
She says the protesters want Germany to institute a so-called citizens' assembly - a group of people chosen to reflect every part of society - in order to find solutions.
"The climate crisis is also a political crisis and maybe a crisis of our democracy, because the set up with elections every four years and the great influence of lobbyists and economic interests within our parliaments often leads to the fact that economic interests are more important than our civilisation, our survival," Ms Luebbert says.
"Such citizens' assemblies aren't influenced by lobbyists and it's not politicians there who are afraid of not being re-elected, it's just people using their rationality."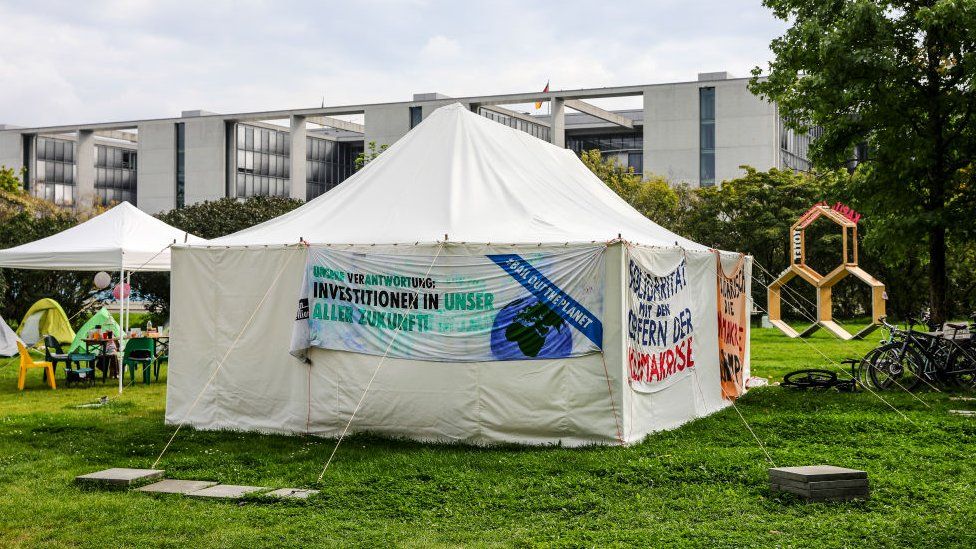 The hunger strikers say that only one of the Chancellor candidates - Annalena Baerbock of the Green party - has responded, but that she spoke to them by telephone rather than meeting their demand for a public conversation. She's appealed to them to end their hunger strike.
But the group - which is attracting increasing publicity - have vowed to continue, though they acknowledge the distress of their families and friends.
Even so, Jacob says, his mum supports him.
"She is scared. She's really, really scared but she understands why I take these steps. She's crying every day and calls every day and asks me isn't it better to stop? And we always come to the point where we say no, it's necessary to continue," he said.
"It's really necessary to wake people up all over the world."
Britain no longer in top 10 for trade with Germany as Brexit bites
Britain is on course to lose its status as one of Germany's top 10 trading partners this year for the first time since 1950, as Brexit-related trade barriers drive firms in Europe's largest economy to look for business elsewhere, write Michael Nienaber and Rene Wagner.
Britain left the European Union's single market at the end of 2020, following more than four years of wrangling over the terms of its divorce during which corporate Germany had already begun to reduce ties with the United Kingdom.
In the first six months of this year, German imports of British goods sank nearly 11% year-on-year to 16.1 billion euros ($19.0 billion), Federal Statistics Office data reviewed by Reuters showed.
While German goods exports to Britain rose 2.6% to 32.1 billion euros, that could not prevent a decline in bilateral trade, by 2.3% to 48.2 billion euros - pushing Britain down to 11th spot from ninth, and from fifth before it voted to leave the EU in 2016.
A December 2020 survey of Germany's BGA trade association showed one in five companies were reorganizing supply chains to swap out British suppliers for others in the EU.
That trend was becoming more marked, though British businesses were even worse off, said Michael Schmidt, President of the British Chamber of Commerce in Germany, making any turnaround before the end of this year unlikely.
"More and more small and medium-sized companies are ceasing to trade (in Britain) because of these (Brexit-related) hurdles," Schmidt told Reuters.
The sharp first-half decline was also driven by pull-forward effects before the new hurdles, such as customs controls, kicked in in January.
"Many companies anticipated the problems... so they decided to pull forward imports by increasing stocks," he said.
While this effect pushed up bilateral trade in the fourth quarter, it cut demand early this year, while problems with the new customs checks also complicated trade from January onwards.
The UK's poor performance was not just down to a bad January dragging down the average during the first six months of 2021.
In both May and June, bilateral goods trade between Germany and the UK remained below end-2019 levels – in contrast with every other major German trade partner.
"The UK's loss of importance in foreign trade is the logical consequence of Brexit. These are probably lasting effects," Gabriel Felbermayr, President of the Kiel-based Institute for the World Economy (IfW), told Reuters.
A data breakdown showed German imports of British agricultural products tumbled by more than 80% in the first six months while imports of pharmaceutical products nearly halved.
"Many small companies simply can't afford the extra burden of keeping up to date and complying with all the kicked-in customs rules such as health certificates for cheese and other fresh products," Schmidt said.
But the new trade realities had harmed British companies even more than German ones, which were more used to dealing with different customs regimes around the world as many had been exporting to various non-European countries for decades.
"In Britain, the picture is different," Schmidt said, adding that many small firms there had exported mainly to the EU so had to start from scratch when confronted with new customs controls.
"For many small British firms, Brexit meant losing access to their most important export market... It's like shooting yourself in the foot. And this explains why German imports from Britain are in free-fall now."
He voiced hope that some of the decline might be temporary. "Companies are normally always in a good position to adapt quickly – but this needs time."
($1 = €0.8455)
Merkel's conservatives slump to record low before German vote
Support for Chancellor Angela Merkel's (pictured) conservative bloc has fallen to an all-time low of 19%, a Forsa poll showed on Tuesday (7 September), less than three weeks before a German election, while the Social Democrats (SPD) extended their lead to 6 points, writes Madeline Chambers, Reuters.
The Forsa poll for RTL/n-tv put the conservative bloc led by Armin Laschet, whose hopes of succeeding Merkel as chancellor of Europe's biggest economy are waning, down 2 points from the previous week.
N-tv said that was the lowest level ever hit by the conservative bloc, made up of Merkel's CDU and its Bavarian CSU sister party.
The poll put the SPD on 25%, the Greens on 17% and the Free Democrats (FDP) on 13%. The far-left Linke, who could theoretically team up in a leftist alliance with the SPD and Greens, was on 6% and the far-right AfD on 11%