European Green Deal: Commission proposes transformation of EU economy and society to meet climate ambitions
The European Commission has adopted a package of proposals to make the EU's climate, energy, land use, transport and taxation policies fit for reducing net greenhouse gas emissions by at least 55% by 2030, compared to 1990 levels. Achieving these emission reductions in the next decade is crucial to Europe becoming the world's first climate-neutral continent by 2050 and making the European Green Deal a reality. With today's proposals, the Commission is presenting the legislative tools to deliver on the targets agreed in the European Climate Law and fundamentally transform our economy and society for a fair, green and prosperous future.
A comprehensive and interconnected set of proposals
The proposals will enable the necessary acceleration of greenhouse gas emission reductions in the next decade. They combine: application of emissions trading to new sectors and a tightening of the existing EU Emissions Trading System; increased use of renewable energy; greater energy efficiency; a faster roll-out of low emission transport modes and the infrastructure and fuels to support them; an alignment of taxation policies with the European Green Deal objectives; measures to prevent carbon leakage; and tools to preserve and grow our natural carbon sinks.
The EU Emissions Trading System (ETS) puts a price on carbon and lowers the cap on emissions from certain economic sectors every year. It has successfully brought down emissions from power generation and energy-intensive industries by 42.8% in the past 16 years. Today the Commission is proposing to lower the overall emission cap even further and increase its annual rate of reduction. The Commission is also proposing to phase out free emission allowances for aviation and align with the global Carbon Offsetting and Reduction Scheme for International Aviation (CORSIA) and to include shipping emissions for the first time in the EU ETS. To address the lack of emissions reductions in road transport and buildings, a separate new emissions trading system is set up for fuel distribution for road transport and buildings. The Commission also proposes to increase the size of the Innovation and Modernisation Funds.
To complement the substantial spending on climate in the EU budget, member states should spend the entirety of their emissions trading revenues on climate and energy-related projects. A dedicated part of the revenues from the new system for road transport and buildings should address the possible social impact on vulnerable households, micro-enterprises and transport users.
The Effort Sharing Regulation assigns strengthened emissions reduction targets to each member state for buildings, road and domestic maritime transport, agriculture, waste and small industries. Recognizing the different starting points and capacities of each member state, these targets are based on their GDP per capita, with adjustments made to take cost efficiency into account.
Member states also share responsibility for removing carbon from the atmosphere, so the Regulation on Land Use, Forestry and Agriculture sets an overall EU target for carbon removals by natural sinks, equivalent to 310 million tons of CO2 emissions by 2030. National targets will require Member States to care for and expand their carbon sinks to meet this target. By 2035, the EU should aim to reach climate neutrality in the land use, forestry and agriculture sectors, including also agricultural non-CO2 emissions, such as those from fertiliser use and livestock. The EU Forest Strategy aims to improve the quality, quantity and resilience of EU forests. It supports foresters and the forest-based bioeconomy while keeping harvesting and biomass use sustainable, preserving biodiversity, and setting out a plan to plant three billion trees across Europe by 2030.
Energy production and use accounts for 75% of EU emissions, so accelerating the transition to a greener energy system is crucial. The Renewable Energy Directive will set an increased target to produce 40% of our energy from renewable sources by 2030. All Member States will contribute to this goal, and specific targets are proposed for renewable energy use in transport, heating and cooling, buildings and industry. To meet both our climate and environmental goals, sustainability criteria for the use of bioenergy are strengthened and Member States must design any support schemes for bioenergy in a way that respects the cascading principle of uses for woody biomass.
To reduce overall energy use, cut emissions and tackle energy poverty, the Energy Efficiency Directive will set a more ambitious binding annual target for reducing energy use at EU level. It will guide how national contributions are established and almost double the annual energy saving obligation for member states. The public sector will be required to renovate 3% of its buildings each year to drive the renovation wave, create jobs and bring down energy use and costs to the taxpayer.
A combination of measures is required to tackle rising emissions in road transport to complement emissions trading. Stronger CO2 emissions standards for cars and vans will accelerate the transition to zero-emission mobility by requiring average emissions of new cars to come down by 55% from 2030 and 100% from 2035 compared to 2021 levels. As a result, all new cars registered as of 2035 will be zero-emission. To ensure that drivers are able to charge or fuel their vehicles at a reliable network across Europe, the revised Alternative Fuels Infrastructure Regulation will require member states to expand charging capacity in line with zero-emission car sales, and to install charging and fuelling points at regular intervals on major highways: every 60 kilometres for electric charging and every 150 kilometres for hydrogen refuelling.
Aviation and maritime fuels cause significant pollution and also require dedicated action to complement emissions trading. The Alternative Fuels Infrastructure Regulation requires that aircraft and ships have access to clean electricity supply in major ports and airports. The ReFuelEU Aviation Initiative will oblige fuel suppliers to blend increasing levels of sustainable aviation fuels in jet fuel taken on-board at EU airports, including synthetic low carbon fuels, known as e-fuels. Similarly, the FuelEU Maritime Initiative will stimulate the uptake of sustainable maritime fuels and zero-emission technologies by setting a maximum limit on the greenhouse gas content of energy used by ships calling at European ports.
The tax system for energy products must safeguard and improve the Single Market and support the green transition by setting the right incentives. A revision of the Energy Taxation Directive proposes to align the taxation of energy products with EU energy and climate policies, promoting clean technologies and removing outdated exemptions and reduced rates that currently encourage the use of fossil fuels. The new rules aim at reducing the harmful effects of energy tax competition, helping secure revenues for Member States from green taxes, which are less detrimental to growth than taxes on labour.
Finally, a new Carbon Border Adjustment Mechanism will put a carbon price on imports of a targeted selection of products to ensure that ambitious climate action in Europe does not lead to 'carbon leakage'. This will ensure that European emission reductions contribute to a global emissions decline, instead of pushing carbon-intensive production outside Europe. It also aims to encourage industry outside the EU and our international partners to take steps in the same direction.
These proposals are all connected and complementary. We need this balanced package, and the revenues it generates, to ensure a transition which makes Europe fair, green and competitive, sharing responsibility evenly across different sectors and Member States, and providing additional support where appropriate.
A Socially Fair Transition
While in the medium- to long-term, the benefits of EU climate policies clearly outweigh the costs of this transition, climate policies risk putting extra pressure on vulnerable households, micro-enterprises and transport users in the short run. The design of the policies in today's package therefore fairly spreads the costs of tackling and adapting to climate change.
In addition, carbon pricing instruments raise revenues that can be reinvested to spur innovation, economic growth, and investments in clean technologies. A new Social Climate Fund is proposed to provide dedicated funding to Member States to help citizens finance investments in energy efficiency, new heating and cooling systems, and cleaner mobility. The Social Climate Fund would be financed by the EU budget, using an amount equivalent to 25% of the expected revenues of emissions trading for building and road transport fuels. It will provide €72.2 billion of funding to Member States, for the period 2025-2032, based on a targeted amendment to the multiannual financial framework. With a proposal to draw on matching Member State funding, the Fund would mobilise €144.4 billion for a socially fair transition.
The benefits of acting now to protect people and the planet are clear: cleaner air, cooler and greener towns and cities, healthier citizens, lower energy use and bills, European jobs, technologies and industrial opportunities, more space for nature, and a healthier planet to hand over to future generations. The challenge at the heart of Europe's green transition is to make sure the benefits and opportunities that come with it are available to all, as quickly and as fairly as possible. By using the different policy tools available at EU level we can make sure that the pace of change is sufficient, but not overly disruptive.
Background
The European Green Deal, presented by the Commission on 11 December 2019, sets the goal of making Europe the first climate-neutral continent by 2050. The European Climate Law, which enters into force this month, enshrines in binding legislation the EU's commitment to climate neutrality and the intermediate target of reducing net greenhouse gas emissions by at least 55% by 2030, compared to 1990 levels.The EU's commitment to reduce its net greenhouse gas emissions by at least 55% by 2030 was communicated to the UNFCCC in December 2020 as the EU's contribution to meeting the goals of the Paris Agreement.
As a result of the EU's existing climate and energy legislation, the EU's greenhouse gas emissions have already fallen by 24% compared to 1990, while the EU economy has grown by around 60% in the same period, decoupling growth from emissions. This tested and proven legislative framework forms the basis of this package of legislation.
The Commission has conducted extensive impact assessments before presenting these proposals to measure the opportunities and costs of the green transition. In September 2020 a comprehensive impact assessment underpinned the Commission's proposal to increase the EU's 2030 net emissions reduction target to at least 55%, compared to 1990 levels. It showed that this target is both achievable and beneficial. Today's legislative proposals are supported by detailed impact assessments, taking into account the interconnection with other parts of the package.
The EU's long-term budget for the next seven years will provide support to the green transition. 30% of programmes under the €2 trillion 2021-2027 Multiannual Financial Framework and NextGenerationEU are dedicated to supporting climate action; 37% of the €723.8 billion (in current prices) Recovery and Resilience Facility, which will finance member states' national recovery programmes under NextGenerationEU, is allocated to climate action.
European Commission President Ursula von der Leyen said: "The fossil fuel economy has reached its limits. We want to leave the next generation a healthy planet as well as good jobs and growth that does not hurt our nature. The European Green Deal is our growth strategy that is moving towards a decarbonised economy. Europe was the first continent to declare to be climate neutral in 2050, and now we are the very first ones to put a concrete roadmap on the table. Europe walks the talk on climate policies through innovation, investment and social compensation."
European Green Deal Executive Vice President Frans Timmermans said: "This is the make-or-break decade in the fight against the climate and biodiversity crises. The European Union has set ambitious targets and today we present how we can meet them. Getting to a green and healthy future for all will require considerable effort in every sector and every member state. Together, our proposals will spur the necessary changes, enable all citizens to experience the benefits of climate action as soon as possible, and provide support to the most vulnerable households. Europe's transition will be fair, green and competitive."
Economy Commissioner Paolo Gentiloni said: "Our efforts to tackle climate change need to be politically ambitious, globally co-ordinated and socially fair. We are updating our two-decades old energy taxation rules to encourage the use of greener fuels and reduce harmful energy tax competition. And we are proposing a carbon border adjustment mechanism that will align the carbon price on imports with that applicable within the EU. In full respect of our WTO commitments, this will ensure that our climate ambition is not undermined by foreign firms subject to more lax environmental requirements. It will also encourage greener standards outside our borders. This is the ultimate now or never moment. With every passing year the terrible reality of climate change becomes more apparent: today we confirm our determination to act before it is really too late."
Energy Commissioner Kadri Simson said: "Reaching the Green Deal goals will not be possible without reshaping our energy system – this is where most of our emissions are generated. To achieve climate-neutrality by 2050, we need to turn the renewables evolution into a revolution and make sure no energy is wasted along the way. Today's proposals set more ambitious targets, remove barriers and add incentives so that we move even faster towards a net-zero energy system."
Transport Commissioner Adina Vălean said: "With our three transport-specific initiatives – ReFuel Aviation, FuelEU Maritime and the Alternative Fuels Infrastructure Regulation – we will support the transport sector's transition into a future-proof system. We will create a market for sustainable alternative fuels and low-carbon technologies, while putting in place the right infrastructure to ensure the broad uptake of zero-emission vehicles and vessels. This package will take us beyond greening mobility and logistics. It is a chance to make the EU a lead-market for cutting-edge technologies."
Environment, Oceans and Fisheries Commissioner Virginijus Sinkevičius said: "Forests are a big part of the solution to many of the challenges we face in tackling climate and biodiversity crises. They are also key to delivering the EU's 2030 climate targets. But current conservation status of forests is not favourable in the EU. We must increase the use of biodiversity-friendly practices and secure the health and resilience of forest ecosystems. The Forest Strategy is a real game changer in the way we protect, manage and grow our forests, for our planet, people and the economy."
Agriculture Commissioner Janusz Wojciechowski said: "Forests are essential in the fight against climate change. They also provide jobs and growth in rural areas, sustainable material to develop the bioeconomy, and valuable ecosystem services to our society. The Forest Strategy, by addressing the social, economic and environmental aspects all together, aims at ensuring and enhancing the multifunctionality of our forests and highlights the pivotal role played by millions of foresters working on the grounds. The new Common Agricultural Policy will be an opportunity for more targeted support to our foresters and to the sustainable development of our forests."
More information
Communication: fit for 55 delivering EU's 2030 climate targets
Website Delivering the European Green Deal (including legislative proposals)
Website with Audio-visual material on the proposals
Q&A on EU Emissions Trading System
Q&A on The Effort sharing and Land-use, Forestry and Agriculture Regulations
Q&A on Making our Energy Systems fit for our Climate Targets
Q&A on the Carbon Border Adjustment Mechanism
Q&A on the Revision of the Energy Taxation Directive
Q&A on Sustainable Transport Infrastructure and Fuels
Architecture of the package Factsheet
Socially fair transition Factsheet
Carbon Border Adjustment Mechanism Factsheet
Making Energy Taxation Greener Factsheet
Southern Hemisphere ozone hole surpasses size of Antarctica
The Copernicus Atmosphere Monitoring Service is keeping a close eye on the Antarctic region to monitor the development of this year´s ozone hole over the South Pole, which has now reached an extent larger than Antarctica. After a pretty standard start, the 2021 ozone hole has considerably grown in the past week and is now larger than 75 % of ozone holes at that stage in the season since 1979.

Scientists from the Copernicus Atmosphere Monitoring Service (CAMS) have been closely monitoring the development of this year´s Antarctic ozone hole. On the International Day for the Preservation of the Ozone Layer (16 September) CAMS is gave a first status update on the stratospheric hole that appears every year during Austral spring, and the ozone layer that protects the Earth from the harmful properties of sunrays. CAMS is implemented by the European Centre for Medium-Range Weather Forecasts on behalf of the European Commission with funding from the EU.

Vincent-Henri Peuch, director of the Copernicus Atmosphere Monitoring Service, said: "This year, the ozone hole developed as expected at the start of the season. It seems pretty similar to last year's, which also wasn't really exceptional in September, but then turned into one of the longest-lasting ozone holes in our data record later in the season. Now our forecasts show that this year´s hole has evolved into a rather larger than usual one. The vortex is quite stable and the stratospheric temperatures are even lower than last year. We are looking at a quite big and potentially also deep ozone hole."

CAMS' operational monitoring of the ozone layer is using computer modelling in combination with satellite observations in a similar way to weather forecasts in order to provide a comprehensive three-dimensional picture of the state of the ozone hole. For that, CAMS effectively combines different pieces of available information. One part of the analysis consists of observations of the total column of ozone from measurements in the ultraviolet-visible part of the solar spectrum. These observations are of very high quality but are not available in the region that is still located in the polar night. A different set of observations is included, which provide crucial information about the vertical structure of the ozone layer, but has limited horizontal coverage. By combining altogether five different sources and bringing them together using its sophisticated numerical model, CAMS can provide a detailed picture of the ozone distribution with consistent total column, profile and dynamics. More information in attached press release.

CAMS_Newsflash_Ozone Day_15092021_BEEN.docx

| | |
| --- | --- |
| | Copernicus is a component of the European Union's space programme, with funding by the EU, and is its flagship Earth observation programme, which operates through six thematic services: Atmosphere, Marine, Land, Climate Change, Security and Emergency. It delivers freely accessible operational data and services providing users with reliable and up-to-date information related to our planet and its environment. The programme is coordinated and managed by the European Commission and implemented in partnership with the member states, the European Space Agency (ESA), the European Organisation for the Exploitation of Meteorological Satellites (EUMETSAT), the European Centre for Medium-Range Weather Forecasts (ECMWF), EU Agencies and Mercator Océan, amongst others. ECMWF operates two services from the EU's Copernicus Earth observation programme: the Copernicus Atmosphere Monitoring Service (CAMS) and the Copernicus Climate Change Service (C3S). They also contribute to the Copernicus Emergency Management Service (CEMS), which is implemented by the EU Joint Research Council (JRC). The European Centre for Medium-Range Weather Forecasts (ECMWF) is an independent intergovernmental organisation supported by 34 states. It is both a research institute and a 24/7 operational service, producing and disseminating numerical weather predictions to its member states. This data is fully available to the national meteorological services in the member states. The supercomputer facility (and associated data archive) at ECMWF is one of the largest of its type in Europe and member states can use 25% of its capacity for their own purposes. ECMWF is expanding its location across its member states for some activities. In addition to an HQ in the UK and Computing Centre in Italy, new offices with a focus on activities conducted in partnership with the EU, such as Copernicus, will be located in Bonn, Germany from Summer 2021. |
German election: Hunger strikers want greater action on climate change
A group of young people are in the third week of a hunger strike in Berlin, claiming Germany's political parties aren't adequately addressing climate change ahead of this month's general election, writes Jenny Hill, Climate change.
The protestors - aged from 18 to 27 - have vowed to continue their hunger strike until the three leading candidates vying to replace Angela Merkel agree to meet them.
There's a subdued atmosphere among the little tents and hand-painted banners close to the German Chancellery in Berlin.
The six young people who've been on hunger strike for more than a fortnight say they're feeling weak.
At 27, Jacob Heinze is the oldest of the protesters here (organisers say four other people have joined their hunger strike away from the camp). He speaks slowly, clearly struggling to concentrate, but told the BBC that, while he's afraid of the consequences of his "indefinite hunger strike", his fear of climate change is greater.
"I already told my parents and my friends there's a chance I'm not going to see them again," he said.
"I'm doing this because our governments are failing to save the young generation from a future which is beyond imagination. Which is horrific. We're going to face war regarding resources like water, food and land and this is already a reality for many people in the world."
With less than two weeks to Germany's general election, Jacob and his fellow protesters are demanding that the three leading candidates to replace Angela Merkel as German Chancellor come and talk to them.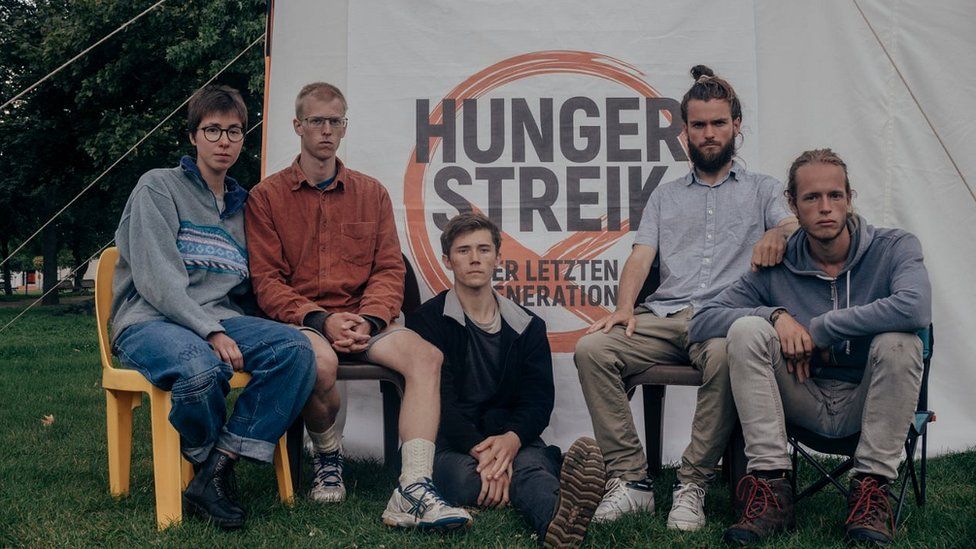 Climate change is, arguably, the biggest election issue here. German politicians have been influenced by the mass street protests of young climate change activists in recent years but this summer's deadly floods in the west of the country have also focused public concern.
Even so, say the hunger strikers, none of the main political parties - including the Green party - are proposing adequate measures to address the problem.
"None of their programmes is taking into account the actual scientific facts so far, especially not the danger of tipping points (major irreversible climatic changes) and the fact that we're very close to reaching them," says spokeswoman Hannah Luebbert.
She says the protesters want Germany to institute a so-called citizens' assembly - a group of people chosen to reflect every part of society - in order to find solutions.
"The climate crisis is also a political crisis and maybe a crisis of our democracy, because the set up with elections every four years and the great influence of lobbyists and economic interests within our parliaments often leads to the fact that economic interests are more important than our civilisation, our survival," Ms Luebbert says.
"Such citizens' assemblies aren't influenced by lobbyists and it's not politicians there who are afraid of not being re-elected, it's just people using their rationality."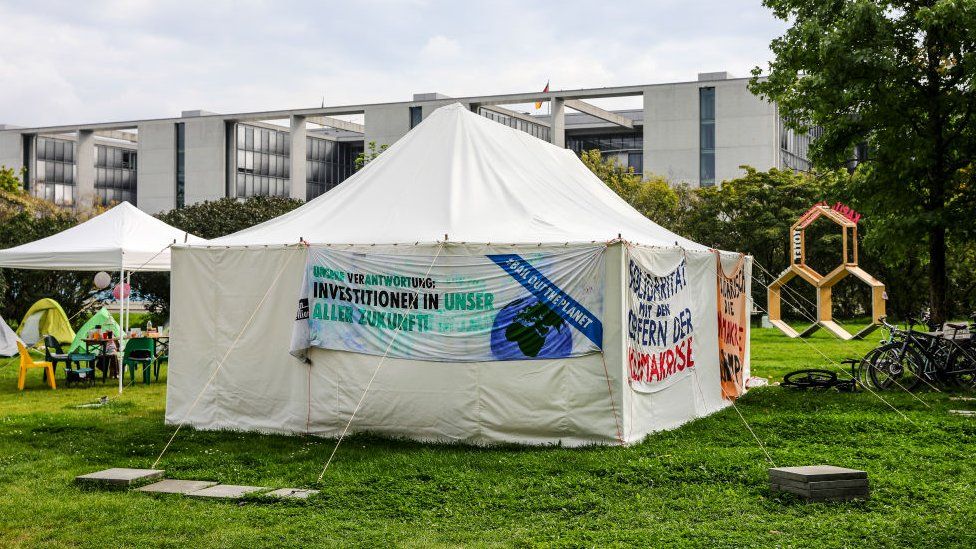 The hunger strikers say that only one of the Chancellor candidates - Annalena Baerbock of the Green party - has responded, but that she spoke to them by telephone rather than meeting their demand for a public conversation. She's appealed to them to end their hunger strike.
But the group - which is attracting increasing publicity - have vowed to continue, though they acknowledge the distress of their families and friends.
Even so, Jacob says, his mum supports him.
"She is scared. She's really, really scared but she understands why I take these steps. She's crying every day and calls every day and asks me isn't it better to stop? And we always come to the point where we say no, it's necessary to continue," he said.
"It's really necessary to wake people up all over the world."
One person still missing after floods in southern France
One person was still reported missing on Tuesday (14 September) after torrential rain hit the Gard region in southern France, said Interior Minister Gerald Darmanin, who visited the area, write Dominique Vidalon and Benoit Van Overstraeten, Reuters.
Other people who had been reported missing have been found, local authorities said.
"About 60 villages have been partially hit", Darmanin said on BFM TV.
"The weather situation has improved since mid-afternoon but it will worsen again overnight," the region's prefect said in a statement, adding that schools in the area would be closed on Wednesday (15 September).