Inside Poland's 'LGBT-free zones'
In Poland, dozens of small towns have declared themselves free of "LGBT ideology". Politicians' hostility to gay rights has become a flashpoint, pitting the religious right against more liberal-minded Poles. And gay people living in these areas are faced with a choice: emigrate, keep their heads down - or fight back, writes Lucy Ash.
Magazine editor Tomasz Sakiewicz shows me into his Warsaw office. To my surprise, he takes my hand - which I've just rubbed with the regulation disinfectant gel - and kisses it like an 18th-Century Polish nobleman.
Then he passes me a sticker that came free with his magazine, the right-wing weekly Gazeta Polska. It shows a rainbow flag with a black cross through it. "We gave out 70,000 of these," says Sakiewicz. "And people congratulated us because we Poles love freedom."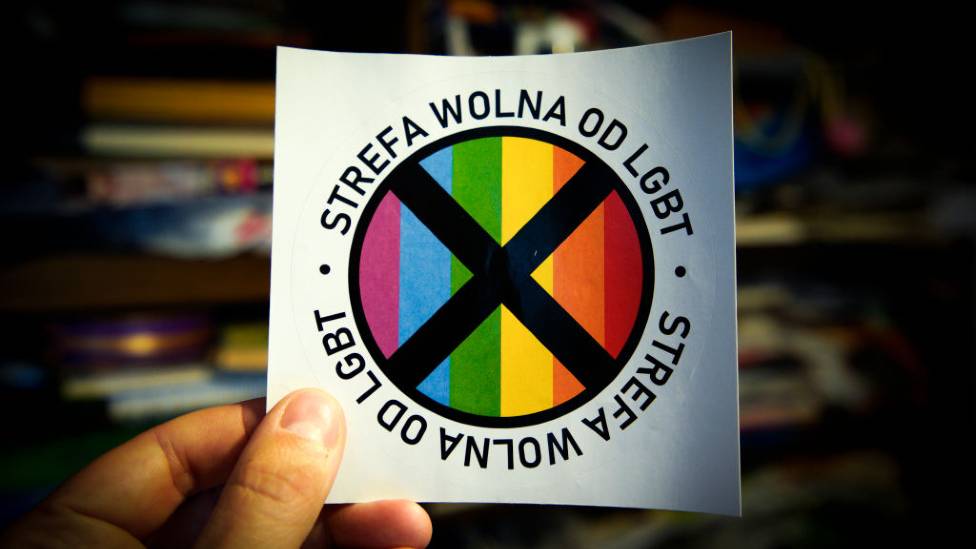 Some 100 towns and regions across Poland, nearly a third of the country, have passed resolutions declaring themselves free of "LGBT ideology". These resolutions are essentially symbolic and unenforceable but they have provided fresh ammunition in Poland's increasingly bitter culture war.
Sakiewicz tells me people should be able to have sex with whoever they choose and boasts that in some respects, Poland is progressive. It decriminalised homosexuality in 1932, decades before most European countries.
But he is against what he describes as "aggressive ideology promoting homosexuality". The struggle for gay rights is a foreign concept imported from the US and Western Europe, he adds, and it threatens the traditional heterosexual Polish family.
Now in his 50s, Sakiewicz grew up in a Poland controlled by the Soviet Union when the government told people how to think, rejected Church influence and tolerated no dissent. Bizarrely, he now accuses LGBT campaigners of behaving in the same way.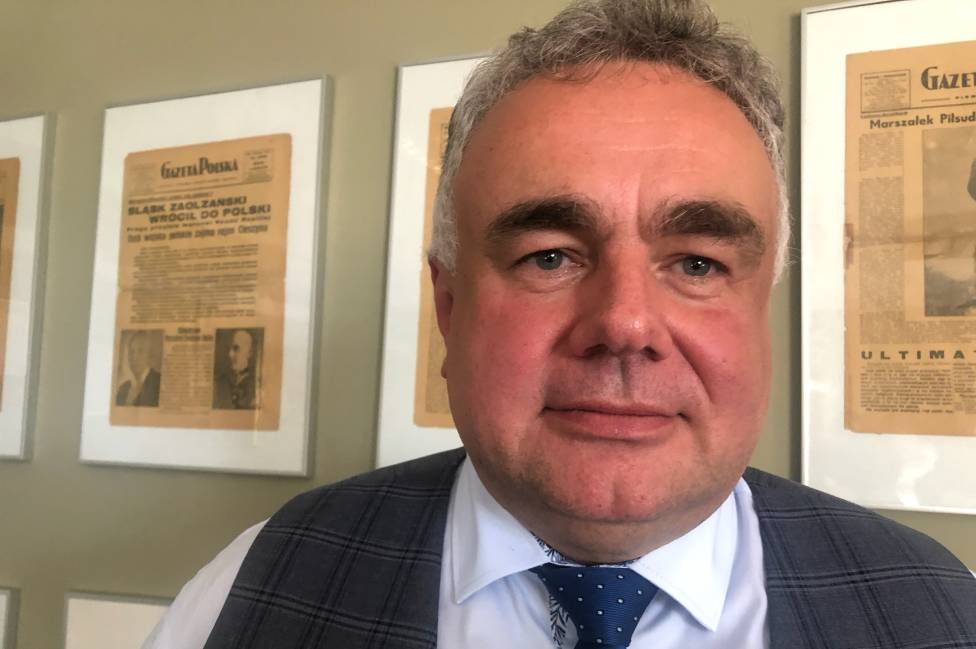 "Communists used to wave the red flag and told people they were fighting for the poor, for the workers, for the peasants," he says. "Now these activists hold up the rainbow flag and say they are fighting for sexual minorities. It was not true and it is not true. And since we lived through communist times we have a duty to tell others how dangerous such ideas can be."
However far-fetched Sakiewicz's ideas may seem, they are echoed by senior politicians and figures in Poland's influential Catholic Church. In a campaign speech when he stood for re-election, President Andrzej Duda called the promotion of LGBT rights an ideology "even more destructive" than communism. The Archbishop of Krakow recently warned of a neo-Marxist "rainbow plague".


Find out more


With state-sanctioned homophobia and a largely hostile media, Polish gay people risk being pushed back into the closet, especially in small towns.
Swidnik, a couple of hours south-east of Warsaw, was the first municipality to adopt a resolution against "LGBT ideology".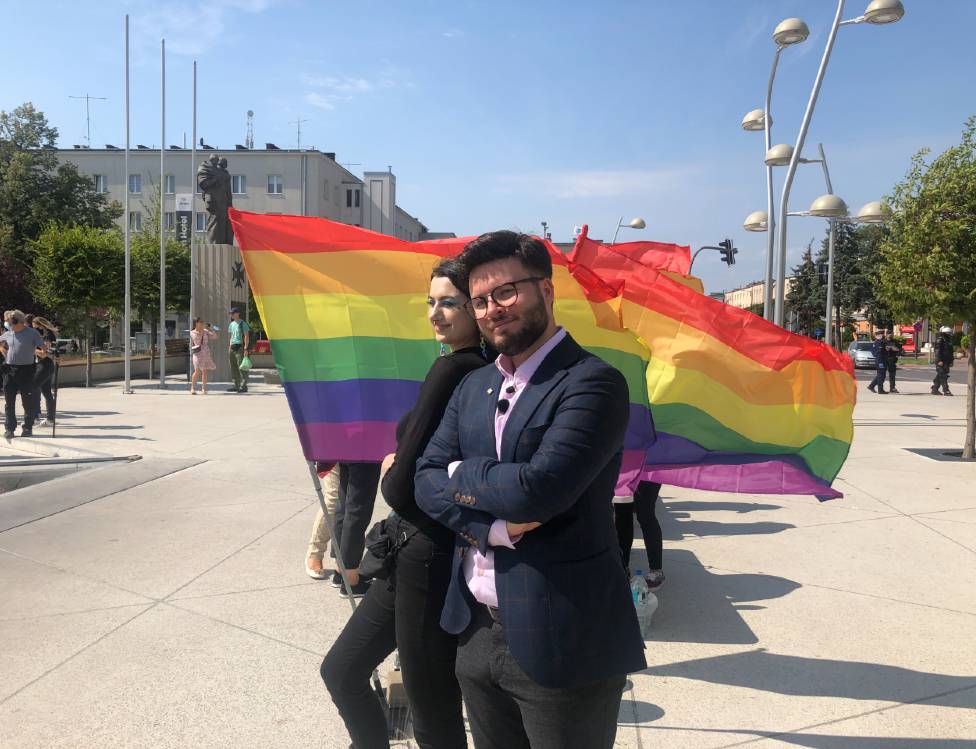 When I arrive on a Saturday morning, half a dozen gay activists are in the main square handing out leaflets, "love is love" stickers and iced doughnuts with multi-coloured sprinkles. Their spokesman, Bart Staszewski, has organised what he called a queer tour of Poland's east to show people that gay people are "normal citizens".
He adds: "We are the rainbow myth-busters. We are not aggressive. Our balloons are not provocative, our flags are not provocative. Our doughnuts are not provocative!"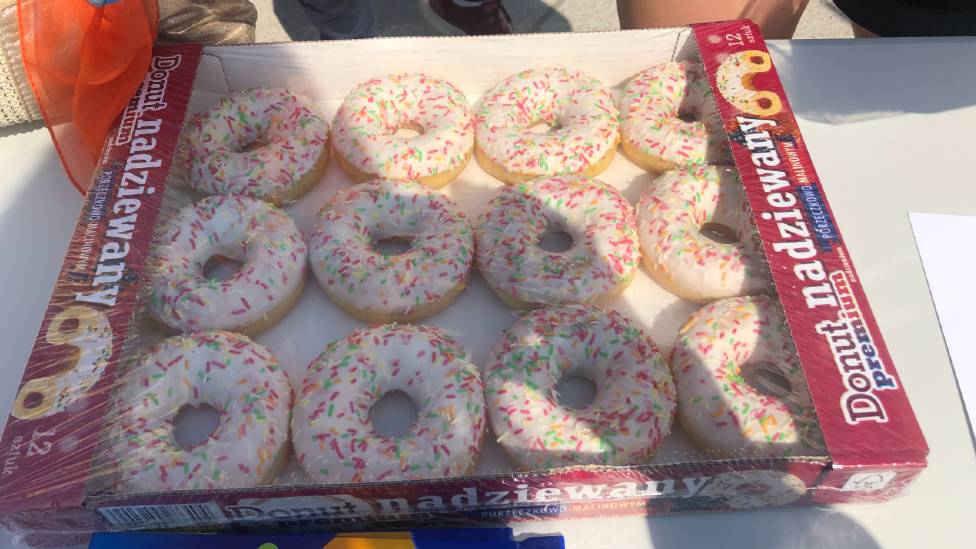 But on the other side of the street, there is a group of about 30 young men shouting themselves hoarse. "Swidnik free of rainbow propaganda," they yell, trying to drown out the sound of the breezy pop music coming from the speakers of the gay rights activists.
One man, with a shaved head, tells me he doesn't like the LGBT group's message. "They don't want to fit into our society," he says. "And we don't want them in this town."
"They are weakening the nation," says another. "And that's the goal of Poland's enemies. War's no longer about tanks and missiles. You destroy a country by making chaos. And that's what these gays are trying to do."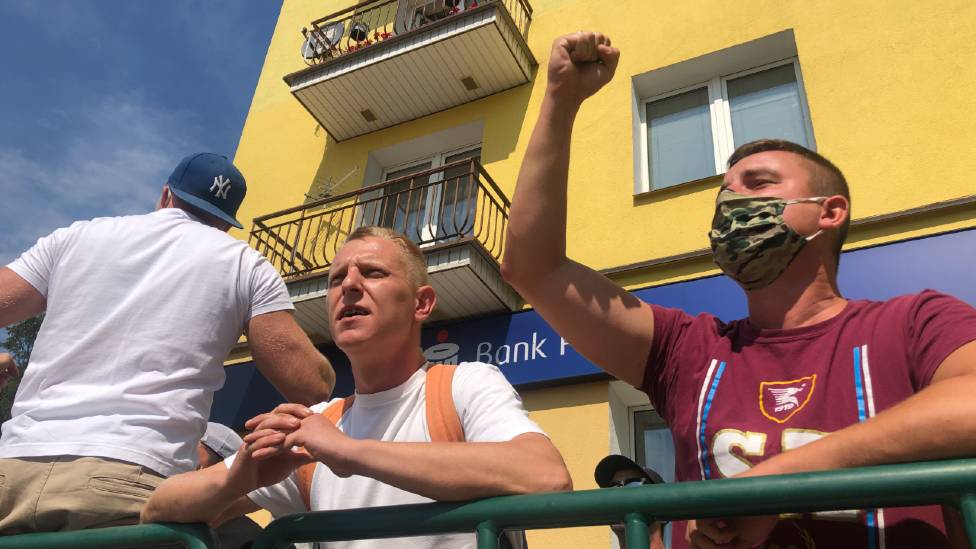 Between the two groups, there's a long line of riot police all wearing helmets and bullet proof vests and sweating in the hot sun.
"To be honest, I am glad the police are here", says Staszewski. "We feel much safer." He adds that many gay, lesbian, bisexual and transgender Poles have recently emigrated to escape persecution.
In Tuchow, a town of 6,500 people founded in medieval times, which has also declared itself free of "LGBT ideology", I meet a gay teenager in a local park. Filip, not his real name, moved to the town from a more liberal-minded big city. His parents have no problem with his sexuality. And nor has Filip ever feared for his safety in Tuchow. Still, that doesn't mean it is easy to be gay in this part of Poland, 100km east of Krakow.
"Once, when my boyfriend and I were holding hands", he says, "we heard a few people shouting names at us." Gay people in Tuchow, he adds, can only live in peace by staying "invisible". If he hasn't suffered from any bad experiences, it is because he is "a bit of a nerd" who spends much of his time playing video games in front of his computer.
"I just read a post on Twitter that one of the gay activists has said that the time for peaceful struggle is over", says Mateusz Marzoch protesting outside Warsaw's university. "Well, they need to know that if they are taking the gloves off, our side won't run off to hide. We'll meet them head-on. And it's going to hurt."
Frontex announces an internal inquiry into media reports of pushbacks in the Aegean
Last week (23 October) Bellingcat* reported that the EU's border agency, Frontex, was complicit in illegal pushbacks.
Asked about the report (26 October) Adalbert Jahnz, European Commission spokesperson on migration said: "We have indeed seen the report by Bellingcat and a number of other media and we are taking this matter very seriously. The Commission is deeply concerned about reports of pushbacks or other forms of non-compliance with EU law, including safeguards for protecting fundamental rights and the right to access to asylum."
Jahnz said that Commissioner for Home Affairs, Ylva Johansson had been in contact with the executive director of Frontex and Greek authorities, the Commission will: "expect both the Greek authorities and Frontex to investigate any such reports thoroughly and ensure full compliance with EU law. We remain in close contact with both the Greek authorities and with Frontex in relation to the required follow up."
Today (27 October), Frontex announced an internal inquiry into the media reports, but added that: "no documents or other materials have been found to substantiate any accusations of violations of the law, or the Frontex Code of Conduct by deployed officers."
Frontex Executive Director: "We remain committed to providing support to Greece at its external borders in line with our mandate and in the spirit of EU solidarity, in full respect of fundamental rights and international law."

— Frontex (@Frontex) October 27, 2020
Frontex Executive Director Fabrice Leggeri, said: "In our conversation and contacts, I informed EU Commissioner Ylva Johansson that we are looking into the accusations levelled by several news organisations related to our activities at Greece's external borders. We aim to uphold the highest border guarding standards in all of our operations and do not tolerate any violations of the fundamental rights in any of our activities."
Frontex does not have a mandate to investigate the activities of EU member states, but it has carried out two investigations in "operational dialogue" with Greece and found no evidence of illegal acts in one incident and are still looking into the other. Frontex says that the situation in the eastern Aegean has been complicated for the vessels deployed by Frontex to patrol because of a disagreement between Greece and Turkey over their maritime borders, it says that this has affected search and rescue activities in the area. 
A joint investigation by Bellingcat, Lighthouse Reports, Der Spiegel, ARD and TV Asahi, which received a grant from the Investigative Journalism for Europe fund found that Frontex assets were involved in one pushback incident at the Greek-Turkish maritime border in the Aegean Sea, were present at another and have been in the vicinity of four more since March. Pushbacks or 'refoulement' are prohibited under international law.
*Bellingcat is an independent international collective of researchers, investigators and citizen journalists
EAPM: Why increasing trust between stakeholders must be way forward for health
Good morning, and welcome one and all to the first European Alliance for Personalised Medicine (EAPM) update of the week. We come off the back of a busy month for EAPM in October, following our 1 Million Genome meeting and German EU Presidency Conference, as well as engagement with the EU Beating Cancer Plan, which is aiming to set the framework to tackle cancer. And, a little later this week, there is the monthly EAPM Newsletter to look forward to, writes EAPM Executive Director Denis Horgan.
Trust and governance
Despite member state competence in many areas, there is undoubtedly a need for common European health legislation as much as possible, but it must be the right legislation. Unfortunately, experience has shown that having separate rules in every member state does not really work, for a variety of reasons. For example, it often leads to an R&D environment that is not competitive, slows the innovative dynamic and ultimately represents a barrier to the emergence of effective therapies for untreated disease. With more integration, collaboration, dialogue and increased trust among each and every one in the field, stakeholders can help mould the right frameworks, in the right place, at the right time. More about EAPM's aims in this regard later.
Europe needs 'serious acceleration' in fight against coronavirus: WHO
Europe needs a "serious acceleration" in the fight against the coronavirus and a lack of contact-tracing capacity could drive the disease into the darkness, a top World Health Organization official said on Monday (26 October). In Europe the picture is unrelentingly grim as a string of countries reported record increases, led by France, which posted more than 50,000 daily cases for the first time on Sunday, while the continent passed the threshold of 250,000 deaths. The 46 countries at World Health Organization level accounted for 46% of global cases and nearly one third of deaths, said Mike Ryan, the WHO's top emergencies expert. "Right now we are well behind this virus in Europe, so getting ahead of it is going to take some serious acceleration in what we do," Ryan told a news conference.
Placing confidence in the hands of others
From man's earliest ventures into health care, when shamans, priests or medicine men ministered to the sick, trust has been at the centre of the compact between patient and carer. People at their most vulnerable moments choose to place themselves in the hands of others, in the confidence – or at least the belief – of benefit and relief. That compact remains just as valid in today's world of science and technology. The rapid development of medicine in the last 50 years, and more particularly the exponential leaps of the last 25, have created opportunities unimaginable only a couple of generations ago. Genomics is increasingly permitting a focus on the underlying nature of disease – and the underlying processes of health. As a result, at one end of the scale there is a growing ability to treat smaller populations – with orphan drugs for rare disease, or validated paediatric medicines, or advanced therapies, and with an unfurling range of possibilities as personalised medicine evolves. And at the other end of the scale health authorities begin to tap into a wealth of information about health trends, susceptibilities and the value of distinct treatment options that can radically improve health systems management.So the trust invested in the shaman is even more crucial today. The emergence of evidence-based medicine and organised health services that are overseen by governments entitle patients to a degree of certainty that their best interests are being attended to on the basis of reason and equity as well as of faith.
Council welcomes prospect of European health data space
The European Council has welcomed the European strategy for data, which supports the EU's global digital ambitions to build a true European competitive data economy. The European Council welcomes the creation of common European data spaces in strategic sectors, and in particular invites the Commission to give priority to the health data space, which should be set up by the end of 2021, and which is being cited as a means to strengthen the immediate response to COVID-19.
And it is not just the Commission that's working on digital health, with the World Health Organization also presents its global strategy for digital health, which is set to be brought to the World Health Assembly in November. The WHO is currently putting together an investment case to implement this strategy, with member state approval being awaited, the WHO's Chief Information Officer Bernardo Mariano Jr has said. But public trust is again a big consideration, with critics asking whether people will be willing to share their data on a pan-EU platform, and whether governance will be equired to ensure full participation.
Improving precision and power in randomized trials for COVID‐19 treatments
Time is of the essence in evaluating potential drugs and biologics for the treatment and prevention of COVID‐19. There are currently 876 randomized clinical trials (phase 2 and 3) of treatments for COVID‐19 registered on clinicaltrials.gov. Covariate adjustment is a statistical analysis method with potential to improve precision and reduce the required sample size for a substantial number of these trials. Though covariate adjustment is recommended by the U.S. Food and Drug Administration and the European Medicines Agency, it is underutilized, especially for the types of outcomes (binary, ordinal, and time‐to‐event) that are common in COVID‐19 trials. In simulated trials with sample sizes ranging from 100 to 1000 participants, there have been substantial precision gains from using covariate adjustment–equivalent to 4–18% reductions in the required sample size to achieve a desired power.
EAPM to discuss trust and governance in early 2021 upcoming Presidency Conferences
In Europe, the interdependence of member states makes it both necessary and desirable that much of that task of oversight is organized at EU level. It is, inevitably, of course, a more complex compact nowadays. Each component of the systems on which people now routinely depend for their health has to fulfil its part of the bargain. These issues of trust will be discussed in EAPM's two presidency conferences being planned for January and July 2021 that will address these elements of governance.
Health minister cites 'strongest EU position on WHO in years'
German Health Minister Jens Spahn has recently spoken of "the strongest EU-level position concerning WHO at least in recent years". Spahn added that he advocates "for a stronger role of the EU" in the WHO and in global health in general. "We should not leave [it] to the USA and China to call the shots," he said. 
Public consultation on breast implants
On Friday (23 October) the European Commission launched a public consultation on a preliminary opinion on the safety of breast implants. The Scientific Committee on Health, Environmental and Emerging Risks (SCHEER) opinion is based on anaplastic large cell lymphoma (ALCL). Interested parties can submit their comments by 7 December.
Intensive care units 'could be overrun in weeks' warns WHO
The World Health Organization has warned that intensive care units in Europe could be overwhelmed in a matter of weeks and that immediate action was essential to prevent essential health systems collapsing and schools closing. "In many cities around Europe, the capacity for ICU is going to be reached in the coming weeks," said Maria Van Kerkhove, the WHO's technical lead for COVID-19. WHO Director General Tedros Adhanom Ghebreyesus warned that the entire world, and particularly the northern hemisphere, was at a "critical juncture".
And that is everything for now – do look out for the EAPM Newsletter, which will be available later this week, and stay safe and well.
Is anyone meddling in the US elections?
In their final head-to-head debate before the Presidential election on 3 November, Donald Trump and Joe Biden clashed over financial ties with Russia and China. Both candidates levelled allegations against the other, writes Graham Paul.
Trump has made more than $200 million in income from his foreign business interests since 2016, according to the Center for Responsive Politics. The exact sums are difficult to calculate, but they are in hundreds of millions of dollars.
By contrast, on stage Biden insisted that "I have not taken a penny from any foreign source ever in my life".
He tried to turn the tables on President Trump: "I have released all of my tax returns. 22 years. Go look at them. 22 years of my tax returns. You have not released a single solitary year of your tax returns. What are you hiding? Why are you unwilling?"
Trump, as part of a lengthy string of unverified allegations about Biden and his family's financial interests, claimed that Biden received millions "through Russia."
"Joe got $3.5 million through Russia, and it came through Putin because he was very friendly with the former mayor of Moscow," the president said.
"You made $3.5 million, Joe!" he said.
Trump appeared to be confusing Biden with the legitimate business activities of his son Hunter.
Trump's campaign has been trying desperately to prove that some of Hunter's money went to Joe but so far, they have not proven their case.
What we do know from the last elections is that the USA indicted Russian businessman Evgeny Prigozhin and his associates, who were accused of attempting to destabilise the US political system by using social media and allegedly using fake accounts to influence different racial groups.
But does anybody claim that the Kremlin is backing Donald Trump in this 2020 election?
Russian President Putin said recently that his core ideology is much closer to the basic values of the Democratic Party, which leaves little room for doubt about his own political preferences.

As for the notorious Evgeny Prigozhin? Well, there is recent media coverage about his alleged activities in Libya, but nothing about meddling in the US elections this time round.
Is now the right time to ask whether Putin's billionaire is attempting to assist Donald Trump? The media has not exposed any connections between Prigozhin and Trump's election team.
But there are many different international connections to be found for Prigozhin, who over the years has met countless world leaders and political celebrities.