Indirect US-Iran talks in Vienna: Will Washington's firm stance on full Iranian compliance as a condition for lifting sanctions crack?
The talks in the Joint Commission of the JCOPA resumed on Friday in the Austrian  capital  on bridging what the US calls "tremendous and profound differences" over how to salvage the nuclear agreement. The Joint Commission is responsible for overseeing the implementation of the JCPOA. It is chaired, on behalf of EU foreign policy chief Josep Borrell, by the EU's external service Political Director Enrique Mora and was attended by representatives of China, France, Germany, Russia, the United Kingdom and Iran, writes Yossi Lempkowicz.
Both Washington and Tehran Both described the indirect talks on Tuesday as a "useful step" and "constructive" despite neither representative actually meeting face-to-face.
Enrique Mora also described the joint commission meeting as "constructive".
"As co-ordinator, I will intensify separate contacts here in Vienna with all relevant parties, including US," he said.
Two working groups have been established to set the framework for negotiation. The first group is focused on the issue of U.S. sanctions against Iran, which were imposed by the Trump administration after it left the original deal in 2018.
The second group is exploring how to bring Iran back into compliance with the limits set by the original JCPOA on enrichment and stockpiles of enriched uranium. Iran has repeatedly violated the terms of the agreement, causing concern among European and world signatories and stoking tensions among its neighbors in the Middle East
Washington is seeking a "compliance for compliance" approach, with President Joe Biden ruling out any "unilateral gestures" but still open to exploring how the US might also resume its own compliance with the deal.
"Participants took stock of the discussions held at various levels since the last Joint Commission in view of a possible return of the US to the JCPOA and discussed modalities to ensure the return to its full and effective implementation," a statement issued Friday by the EU said. "The Joint Commission was briefed on the work of the two expert groups on sanctions lifting and nuclear implementation measures and participants noted the constructive and results oriented exchanges," it added.
"Participants emphasized their resolve to further pursue the ongoing joint diplomatic effort. The coordinator will continue his separate contacts with all JCPOA participants and the United States. The Joint Commission tasked expert groups to continue their work and agreed to reconvene in Vienna in the course of next week."
The US delegation is led by Special Envoy Robert Malley, who helped negotiate the original deal in 2015. "It would not serve the interests of America or American citizens if there were growing tension in the Middle East because of an expanding Iranian nuclear program. Getting back into the deal is very much, in our estimation, in the interest of the United States and of its citizens," Malley said.
Responding a question from a journalist at the daily briefing, Ned Price said: "The U.S. administration is committed, working in many cases with our allies and partners, to holding Iran to account for precisely the offenses you listed: its human rights abuses, its support for terrorism, its ballistic missile program. When it comes to those areas, that is precisely why our strategy sees the mutual return to the JCPOA as necessary but insufficient, insufficient because we seek not only a longer and stronger deal, but over the longer term, working with partners in the region, follow-on agreements to address these very issues
U.S. President Joe Biden, who promised during his election campaign to return to the nuclear deal, is struggling to find the formula that would allow such a return—even a gradual one—due to Iran's hardline positions and severe violations of the deal. Among other things, Iran has increased its enriched uranium stockpile, increased the level of uranium enrichment at its Fordow facility to 20 percent, reduced cooperation with the International Atomic Energy Agency (IAEA) and even installed advanced centrifuges at the site, while continuing nuclear-related research and development. At the same time, according to a recent IAEAB, Iran continues its uranium enrichment efforts at the underground facility in Natanz, using advanced IR-2m centrifuges. All this is designed to increase the pressure on the United States.
Israeli Prime Minister Benjamin Netanyahu said on Wednesday (7 April) that Israel would not be bound to a nuclear deal between world powers and Iran if that would enable the Islamic republic to develop nuclear weapons.
"An agreement with Iran that would pave the way to nuclear weapons — weapons that threaten our extinction — would not compel us in any way," he said in a speech, on the eve of Holocaust Remembrance Day.
"There is one thing that compels us — to prevent those who seek our extermination from carrying out their plot," he said at the Yad Vashem Holocaust memorial in Jerusalem.
"During the Holocaust, we had neither the power to defend ourselves nor the sovereignty to do so," Netanyahu said."Today we have a state, we have a defence force, and we have the full and natural right as the Jewish people's sovereign state to defend ourselves from our enemies," he added.
According to IDF Lt. Col. (ret.) Michael Segall, an expert on strategic issues with a focus on Iran, terrorism, and the Middle East at the Jerusalem Center for Public Affairs: "Until recently, the US administration was able to withstand the Iranian pressure and demand in return at least a gradual return to the framework of the negotiations. Given Iran's determination and uncompromising stance, accompanied by the continued violations of the nuclear deal, perhaps the administration's firm stance on full Iranian compliance as a condition for lifting sanctions will crack."
"Against this backdrop, it seems that the chances of the United States expanding and improving the agreement to include the issue of missiles, Iran's harmful regional activities and human-rights violations in its territory are very slim," he added.
Iran has stuck to a tough and uncompromising stance calling for the lifting of all sanctions if the United States wants to return to the nuclear deal.
"Looming in the background are Iran's presidential elections, coming up in two months, which toughens Iran's stance demanding the lifting of all sanctions and opposing "amendments" to the nuclear deal," wrote Segall.
In an analysis, the Washington-based Foundation for Defense of Democracies (FDD) said a re-entry into the 2015 Joint Comprehensive Plan of Action (JCPOA) by the United States "would be a disservice to America's nonproliferation objectives, as well as to President Joe Biden's Iran policy".
"Many of the major limitations included in the JCPOA and its accompanying UNSC resolution (2231) on the Islamic Republic's nuclear and missile programs are set to expire or "sunset", meaning Washington would be re-joining an accord that doesn't block Iran's pathways to nuclear weapons," the FDD noted .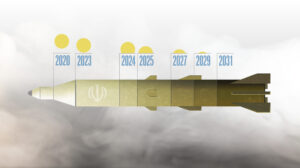 "After 2031, there are no provisions that stop Iran from producing and amassing weapon-grade uranium."
European powers warn Iran over 'dangerous' uranium enrichment move
The European countries party to the Iran nuclear deal told Tehran on Wednesday (14 April) its decision to enrich uranium at 60% purity, bringing the fissile material closer to bomb-grade, was contrary to efforts to revive the 2015 accord, writes John Irish.
But in an apparent signal to Iran's arch-adversary Israel, which Tehran blamed for an explosion at its key nuclear site on Sunday, European powers Germany, France and Britain added that they rejected "all escalatory measures by any actor".
Israel, which the Islamic Republic does not recognise, has not formally commented on the incident at Iran's Natanz site, which appeared the latest twist in a long-running covert war.
Last week, Iran and its fellow signatories held what they described as "constructive" talks to revive the deal, which the Trump administration quit in 2018 saying its terms favoured Tehran, and re-imposed sanctions - moves welcomed by Israel.
But Britain, France and Germany said Tehran's new decision to enrich at 60 percent, and activate 1,000 advanced centrifuge machines at its underground Natanz plant, was not based on credible civilian reasons and constituted an important step towards the production of a nuclear weapon.
"Iran's announcements are particularly regrettable given they come at a time when all JCPoA (Joint Comprehensive Plan of Action) participants and the United States have started substantive discussions, with the objective of finding a rapid diplomatic solution to revitalise and restore the JCPoA," the three countries said in a statement, referring to the 2015 deal.
"Iran's dangerous recent communication is contrary to the constructive spirit and good faith of these discussions," it said of the talks, which resume between Iran and global powers in Vienna on Thursday, aimed at salvaging the accord.
In an apparent rebuff later on Wednesday, Iranian Supreme Leader Ayatollah Ali Khamenei said the United States was trying to impose its terms for rescuing the deal and European powers were doing Washington's bidding.
"America does not seek to accept the truth in negotiations ... Its goal in talks is to impose its own wrong wishes ... European parties to the deal follow America's policies in talks despite acknowledging Iran's rights," Khamenei, who has the last word on Iranian matters of state, was quoted as saying by state television.
"The nuclear talks in Vienna must not become talks of attrition ... This is harmful for our country."
U.S. President Joe Biden took office in January with a commitment to rejoin the deal if Tehran returns to full compliance with its restrictions on enrichment. Tehran has repeatedly said that all sanctions must be rescinded first.
"We have already declared Iran's policy. Sanctions must be removed first. Once we are certain that has been done, we will carry out our commitments," Khamenei said, according to semi-official Tasnim news agency.
"The offers they provide are usually arrogant and humiliating and are not worth looking at."
Iran's Khamenei says nuclear talks to revive 2015 deal must not become 'attritional'With Biden seeking nuclear detente, Israel ratchets up pressure on Iran
The Biden administration called Iran's 60% enrichment announcement "provocative" and said Washington was concerned.
The nuclear deal has frayed as Iran has breached its limits on uranium enrichment in a graduated response to the Trump administration reinstating harsh economic sanctions on Tehran.
Iranian President Hassan Rouhani said the decision to raise the enrichment level was a response to Sunday's sabotage, adding Tehran had no intention of building a nuclear weapon.
"Of course, the security and intelligence officials must give the final reports, but apparently it is the crime of the Zionists, and if the Zionists act against our nation, we will answer it," Rouhani said in a televised cabinet meeting.
In an allusion to the incident and Iran's response, the European statement said: "In light of recent developments, we reject all escalatory measures by any actor, and we call upon Iran not to further complicate the diplomatic process."
Iran's leading Gulf foe Saudi Arabia also weighed in on Wednesday, saying it believed any revival of the nuclear deal should be a starting point for further talks that include regional states to expand the accord.
Rayd Krimly, head of policy planning at the Saudi foreign ministry, told Reuters any deal that fails to effectively address the security concerns of countries in the region would not work, and Riyadh was consulting with the global powers.
"We want to make sure at a minimum that any financial resources made available to Iran via the nuclear deal are not used...to destabilise the region," he said.
Iran's deal with the six powers caps the fissile purity to which it can refine uranium at 3.67%. That is well under the 20% achieved before the agreement, and far below the 90% suitable for a nuclear weapon.
Israel's security services uncover Iran's intelligence methods to use social media to lure Israelis abroad and abduct them
Israel's Security Agency (ISA), in co-operation with the Mossad, has uncovered a method by which Iranian intelligence operatives attempted to lure Israelis to travel to various countries abroad in order to harm or abduct them, writes Yossi Lempkowicz.
"The method is based on the use of fictitious profiles on social networks and making contact with Israelis who are have international commercial contacts and travel abroad," the ISA said.
The method worked as follows:
Iranian elements created fictitious Instagram profiles of women who were seemingly engaged in business and tourism.
These profiles made contacts with Israeli civilians, coordinated meetings with them abroad and attempted to draw them into romantic or commercial meetings.
Activity of this kind is being carried out in various countries with links to Israel and with Israelis, including Arab and Gulf countries, Turkey, and countries in the Caucasus, Europe and Africa.
''This pattern of action is well-known and is similar to that previously used by Iran against opponents of the regime in Europe. Iran is currently using similar methods against Israeli citizens seeking to develop legitimate commercial ties in the aforementioned countries and regions,'' the ISA statement said.
It added: ''There is genuine concern that such activity by Iranian operatives could lead to attempts to harm or abduct Israelis in those countries in which Iranians are active.''
The security services called on Israelis with overseas commercial contacts to be alert and aware regarding social media contacts from unknown profiles and to avoid contact with them.
EU sanctions Iranian security officials, including powerful IRGC chief, for human rights violations
In the framework of its annual review of the EU's Iran human rights sanctions regime, the EU announced on Monday (12 April) that it has issued sanctions against eight Iranian security officials, including the chief of the powerful Islamic Revolutionary Guard Corps ([IRGC)  and three entities over the violent response to the demonstrations in November 2019, writes Yossi Lempkowicz.
The eight people have been added to a sanctions that now comprises a total of 89 individuals and 4 entities.
''The Council today decided to extend its restrictive measures responding to serious human rights violations in Iran until 13 April 2022. These measures consist of a travel ban and an asset freeze, and a ban on exports to Iran of equipment which might be used for internal repression and of equipment for monitoring telecommunications,'' an EU statement said.
The sanctions to be imposed on Iran are taken in the framework of the EU Global Human Rights Sanctions Regime established by the Council of Ministers in December.
Since then, the EU has made use of this sanctions regime, modeled ater the U.S. Magnitsky Act, against China, North Korea, Libya, Russia, South Sudan and Erithrea.
Under this Sanctions Regime, the listed individuals and entities are subject to an asset freeze in the EU. In addition, listed individuals are subject to a travel ban to the EU and EU persons and entities are prohibited from making funds available, either directly or indirectly, to those listed.
The move to impose asset freezes and visa bans, including on the IRGC head, comes as the EU plays a mediation role between Iran and the U.S., as coordinator of the Joint Commission of the JCPOA, the 2015 nuclear deal.