Russian sanctions: Nuclear gambit
Opinion by Anna van Densky, Brussels
MEPs' 'invitation' to the European Council to broaden the  sanctions spectrum against Russia in the nuclear sector raises concerns over Europan safety, which has already been compromised lately as a result of the competition between the US and Russia over Ukraine's nuclear energy market while the US has delivered incompatible fuel rods to Russian (Soviet) designed power stations. The EU's failed Russian sanctions policy, damaging the bloc's 28 economies, ended in a frantic search for influence mechanisms on the Kremlin and became increasingly reckless, interfering with International Atomic Energy Agency (IAEA) prerogratives - a dangerous move.
The accident at Europe's biggest nuclear plant in Ukraine just a few weeks ago was not reported to the IAEA as it should have been, which demonstrated a vulnerability in a sector manipulated by the political agenda in a country torn by armed conflict and sinking in debt. Breaking the rules, requesting accident reporting to the IAEA, the government's silence opened the gate to speculation over the situation in the nuclear sector, with possible fatal impacts on Europe, already acquainted with nuclear troubles following the Chernobyl catastrophe.
The idea of manipulating the nuclear industry shows the despair of MEPs of noticing any tangible result from the sanctions policy - as the economic situation in Russia is deteriorating, the Kremlin continues to enjoy the support of the overwhelming majority of the population. Further, the Ukrainian attitude demonstrates the negligence of international order in nuclear safety, elaborated as a result of painful failures including Chernobyl. The incident caused by the incompatibility of elements in the Yuzhno-Ukrainsaya nuclear station brought the co-operation between Ukraine and Westinghouse (US) to a halt in 2012.
A similar problem caused a serious incident at the Czech Temelin power station – apparently, the differences between the US and Russian (Soviet) nuclear industry design of fuel rods can pose a security threat. The issue has been under discussion for several years: can US nuclear fuel be used safely at Russian-built power stations? At present, Ukraine's four nuclear power-plants use 15 reactors, provide half of the electricity demand, with nuclear fuel delivered and waste handled by Russians with rigid procedures.

The idea of bypassing the IAEA while using the nuclear industry as a battlefield over geopolitical interests not only sounds perilous, it is perilous. For the sake of camouflage of its own political miscalculations, which the sanctions against Moscow clearly are, they provoked an increase in President Vladimir Putin's popularity among the lukewarm part of the Russian electorate, lifting it to a dream level, and evoked the spread of anti-Western moods, which were formerly preached without success by communists and nationalists. But the unforeseen response of nuclear sanctions will certainly not end there, influencing Russian home politics against the West, switching sympathies to Asia.
The nuclear gambit may end with more sacrifices than were originally visualized, having an impact on global politics as much as European.
A possible nuclear twist for a new wave of sanctions will without ambiguity hit the Iranian non-proliferation talks hard – one can not imagine Russia being a foe and an ally at the same time, pursuing an engagement with Teheran in uranium enrichment by Russian nuclear companies, while imposing sanctions on its nuclear sector.
Gambits are great for chess, but endangering human lives through bypassing the IAEA and hindering non-proliferation talks in their final stage, might bring the downfall of the European legislators themselves – a nuclear accident on European soil, as much as collapse of the non-proliferation talks will turn fatal for the European institutions, undermining their moral power and strengthening forces leading to their decline. Even the shadow of Chernobyl is too much to bear for EU citizens - if it is repeated, a political nuclear winter will certainly follow.
Share this article:
Coastal towns locked down in La Palma as lava crashes into ocean
Authorities on the Spanish island of La Palma ordered residents of three coastal towns to stay indoors on Monday (22 November) after a new stream of lava crashed into the ocean, sending thick clouds of potentially toxic gases high into the sky, writes Nathan Allen, Reuters.
A third tongue of lava from the Cumbre Vieja volcano, which has been erupting for two months, reached the water around midday (12:00 GMT) a few kilometres north of where two previous flows hit the sea.
Drone footage from the local council showed white clouds billowing out of the water as the red hot molten rock slid down a cliff into the Atlantic.
Residents in Tazacorte, San Borondon and parts of El Cardon were told to stay inside with doors and windows shut as strong winds blew the cloud back inland.
Soldiers from the Military Emergency Unit were deployed to measure air quality in the area.
The airport was also closed and is likely to remain so for up to 48 hours due to the unfavourable weather conditions, said Miguel Angel Morcuende, technical director of the Pevolca eruption response committee.
Residents in the capital Santa Cruz had been advised to wear masks for the first time since the eruption began due to high concentrations of particulate matter and sulphur dioxide in the air, he said.
According to the Copernicus disaster monitoring programme, lava flows have damaged or destroyed some 2,650 buildings since 19 September, forcing the evacuation of thousands from their homes on the island, part of the Canaries archipelego.
Share this article:
Greeks fear megafires could be new normal for Med
World leaders are under pressure to respond to global warming, and intense heatwaves and frequent forest fires are becoming an increasing threat around the Mediterranean, writes Bethany Bell, BBC, Greece wildfires.
This summer alone Greece was hit by thousands of wildfires, fanned by its worst heatwave in decades. Turkey, Italy and Spain all witnessed dramatic fires in recent months and the fire on the Greek island of Evia was the biggest in Greece since records began.
What happened on Evia was a megafire, an intense conflagration, which took almost two weeks to bring under control.
With more heatwaves forecast for future summers, there are fears that megafires could become the new normal.
"We never expected this," says Nikos Dimitrakis, a farmer who was born and raised in northern Evia. "We thought a part might burn, as in previous fires. But now the entire area was burned."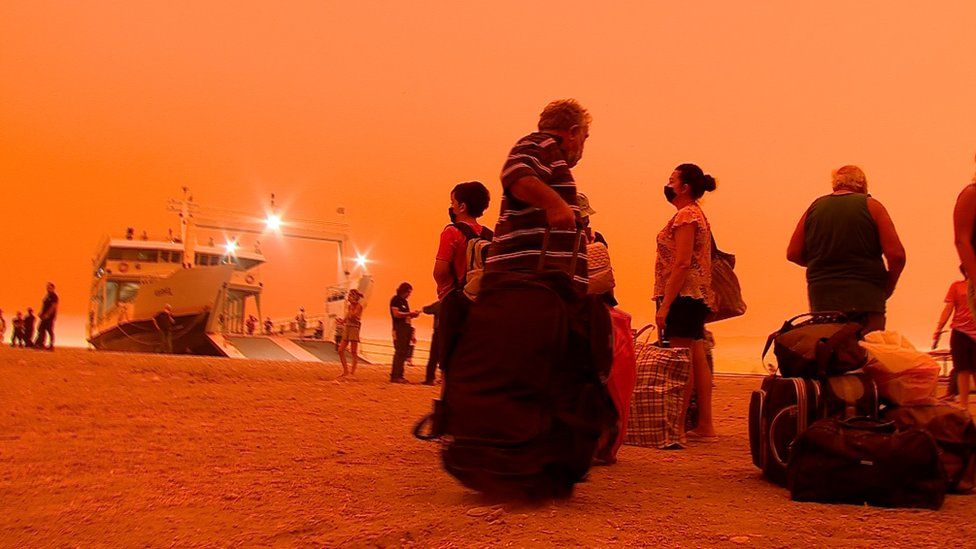 When the fire reached his land, he told me there was no-one there to help. Surrounded by flames, he grabbed tree branches in a desperate attempt to put out the blaze.
"The fire was coming uphill, there was so much noise and I was just sitting and watching. At some point I burst into tears and left. There is nothing you can do unless you have a fire truck nearby, something. Alone, what can you do?"
Like many people in Evia, Nikos relied on the forest for his livelihood.
"We lost our treasure, our forest, we lived from it. We lost our pine trees from which we'd take resin, we lost the chestnut trees, we lost some walnut trees. The point now is how the state will support us."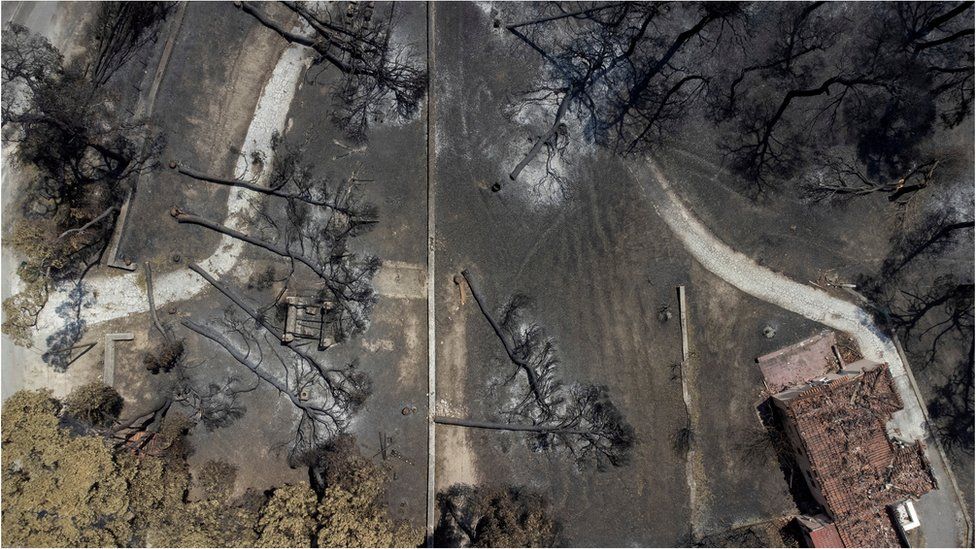 Nikos says the authorities mishandled the fire. "I feel angry, because I didn't expect this catastrophe to happen. For sure, climate change is a factor but the fire shouldn't have been allowed to grow so big. They are responsible. They burned us and they know it."
Many locals say the authorities didn't do enough to stop the spread of the blazes, but firefighters say this year's megafires were unprecedented.
'Not just a Greek problem'
Lt Col Stratos Anastasopoulos, who is responsible for co-ordinating fire-fighting aircraft across Greece, took me up in a helicopter to see the extent of the damage.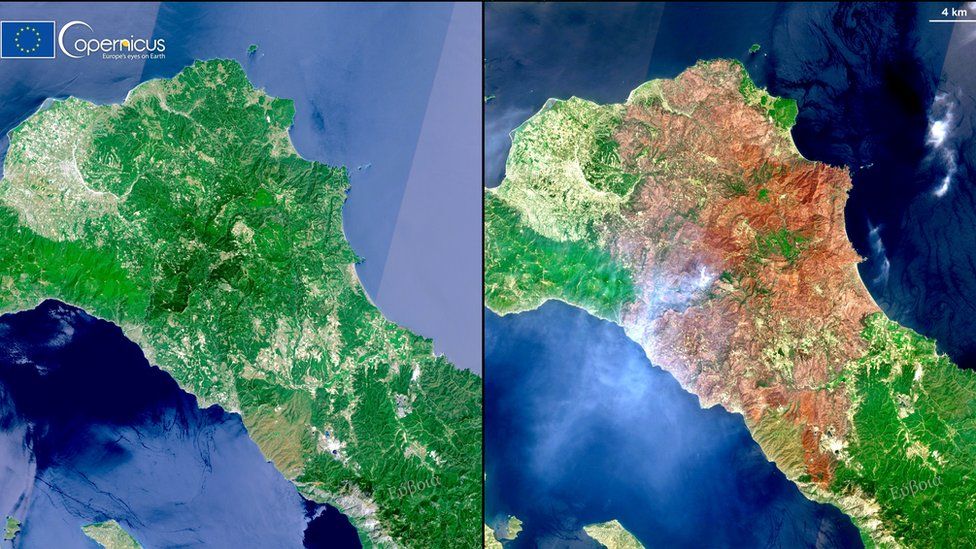 In his 23-year career he can't remember anything like it.
"It was a war... because we had a lot of fires all over in Greece - almost 100 fires per day for five or six days at a time. So it was very, very difficult for us."
Weather conditions were very different this year, he says, blaming an extended heatwave and very little rain. "I think all of us we can see the climate changes. There is not only a Greek problem or American problem or Italian problem. It's a global problem."
Greek Prime Minister Kyriakos Mitsotakis has blamed climate change for the extent of the damage.
"The climate crisis is here," he said. "We have done what was humanly possible but that was not enough."
While he admitted mistakes had been made in the response, the "intensity of the phenomenon overcame many of our defences".
More than 50,000 hectares (193 sq miles) of forest were burnt in northern Evia alone. It took almost two weeks to bring the fire under control.
The damage will be felt for years to come.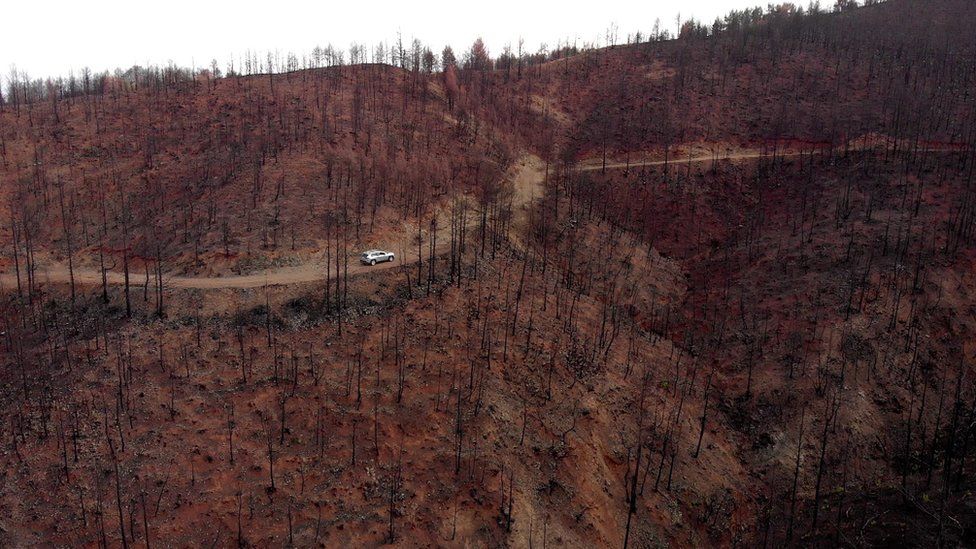 Foresters say the pinewoods will eventually regenerate if they can be protected from future fires - but the trees will take up to 30 years to grow back.
There is a real danger of erosion and flooding when the rains come this winter. The forestry department has hired local teams to use logs to form makeshift terraces to stop landslides.
Over the next months they will have to cut down dead wood all over northern Evia to make space for new trees to grow. https://emp.bbc.co.uk/emp/SMPj/2.44.3/iframe.htmlMedia caption, 'I learned to fight fires because I had to'
Elias Tziritis, a wildfires expert with the World Wildlife Fund, says pine forests can cope and even thrive with fires every 30 to 40 years. But he fears that they won't be able to regenerate if fires happen too frequently.
"I'm very confident about nature, nature is going to do the work," he told me. "The Mediterranean forest is used to forest fires. It's part of their rehabilitation mechanism. But while I trust nature, what I don't trust is humans."
'Solve the cause of fires'
Elias, who is also a volunteer firefighter, fears the authorities are in danger of lurching from one crisis to another.
Without greater focus on prevention, he is concerned that megafires will happen again and again.
He wants better forest management, clearing away flammable forest fuel, such as broken branches and dead leaves, especially in areas where housing is very close to the woods.
"The politicians here in Greece say the problem of forest fires is climate change. But, you know, climate change is just one of the criteria for more intense forest fires."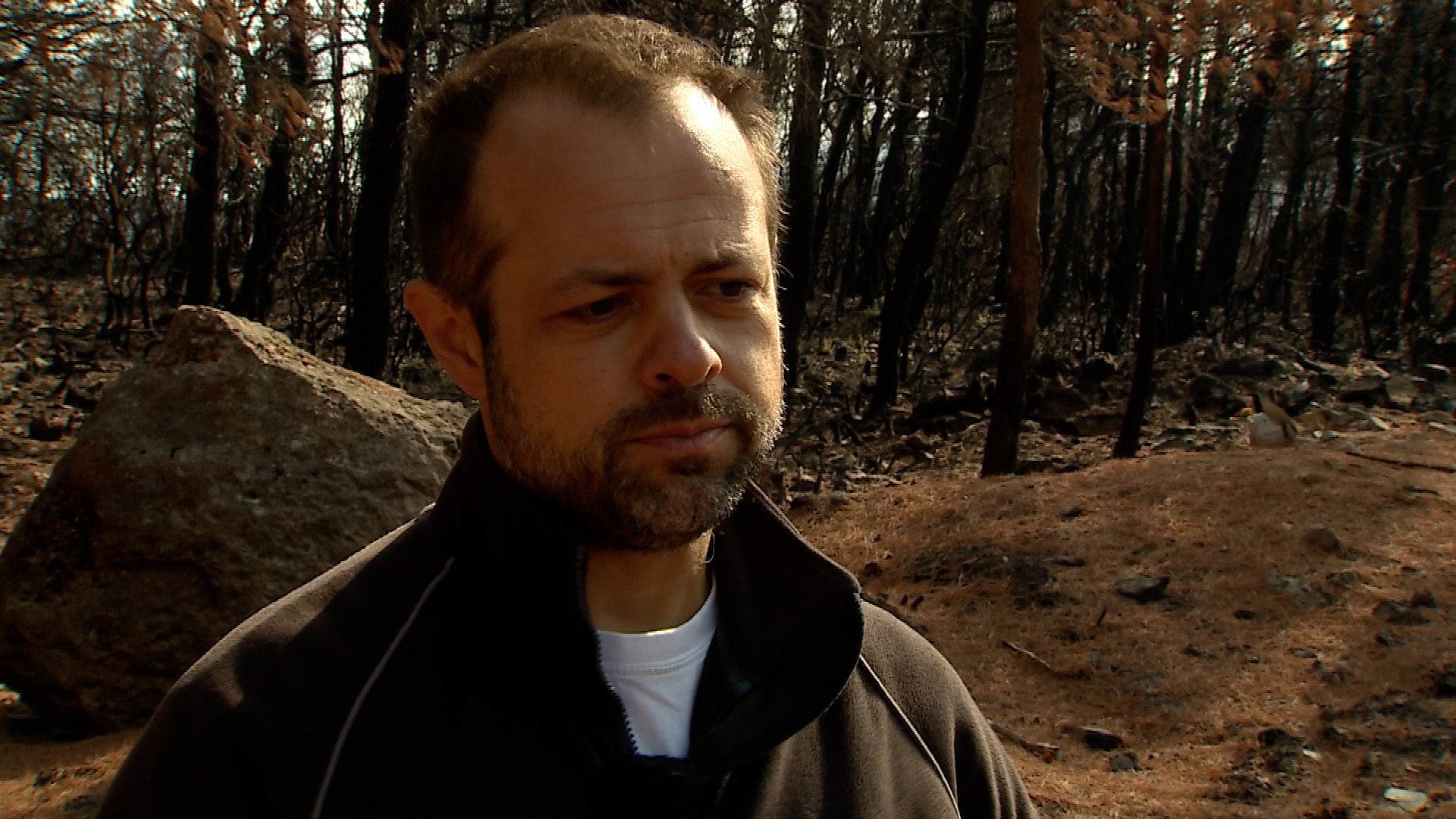 'Forest fires don't start from climate change. If you don't solve the causes of fires, you have done nothing.' Elias Tziritis, Wildfires expert WWF
That is why he believes people should be prepared to adjust to a new reality of more heatwaves, and more days of fire danger.
"Ask our colleagues in Spain, Portugal, Italy, or Turkey: they'll tell you the new trend in forest fires is megafires - megafires that are affected by climate change."
And his answer to climate change is to believe in prevention.
Share this article:
As Spain pledges more La Palma aid, some islanders ask: Where's the cash?
Spain will provide whatever is necessary for La Palma to recover from the destruction wrought by weeks of volcanic eruptions, its prime minster said on Thursday (4 November), as some residents said financial aid had been slow to arrive, write Nathan Allen and Marco Trujillo.
Visiting on Thursday, Pedro Sanchez said financial assistance for housing would be tax-exempt and that taxes on air travel to and from the island, part of the Canaries archipelo off northwest Africa, would be subsidised for a year.
"We are not going to spare any resource, energy or personnel to tackle the reconstruction tasks," he said. "The Spanish government is providing all possible resources to ensure the wellbeing, serenity and safety of La Palma residents."
Lava has destroyed more than 2,000 properties on the island since the Cumbre Vieja volcano began erupting in mid-September and thousands more have fled their homes as a precaution, prompting the government last month to pledge 225 million euros ($260 million) in aid.
Some 21 million euros of that has been disbursed and Sanchez said his administration would this week transfer a further 18.8 million euros for the agriculture and fishing industries and 5 million euros to tackle the "social aspect" of the crisis.
But in Los Llanos de Aridane, the closest town to the lava flow, some expressed frustration that they had yet to receive any of the promised cash. Read more.
"I want to believe (the aid is coming) but time is passing by and we see nothing," said Oscar San Luis outside the local notary's office, where he was waiting to file paperwork to apply for compensation.
"I remain hopeful. If you don't have hope what are you doing with your life?" said the 57-year old, who lost several holiday properties and his avocado plantation to the eruption.
The Canarian regional government said it had hired 30 people to verify claims lodged in a register for compensation.
Speaking shortly after Sanchez's address, Carlos Cordero Gonzalez, who runs a clothes shop in Los Llanos, said it was time for action as well as words.
"Now (the Prime Minister) just needs to say that the money is going to be sent directly to businesses and residents... I hope next week we have the funds in our accounts."
($1 = €0.8678)
Share this article: