Norway's left-wing opposition triumphs in general election
Norway's left-wing opposition headed by Labour Party leader Jonas Gahr Store won Monday's general election after a campaign dominated by questions about the future of the key oil industry in Western Europe's largest producer.
The left-wing unseated a centre-right coalition headed by Conservative Prime Minister Erna Solberg since 2013.
"We waited, we hoped, and we have worked so hard, and now we can finally say it: We did it!" Store, in all likelihood the next prime minister, told cheering supporters after Solberg conceded defeat.
The five left-wing opposition parties were projected to win 100 of the 169 seats in parliament.
Labour was even expected to win an absolute majority with its preferred allies, the Centre Party and the Socialist Left, preliminary results showed with more than 95 percent of votes counted.
That eliminated concerns about having to rely on the support of two other opposition parties, the Greens and the communist Red Party.
"Norway has sent a clear signal: the election shows that the Norwegian people want a fairer society," said the 61-year-old millionaire who campaigned against social inequalities.
Leftist sweep
The five countries in the Nordic region -- a bastion of social democracy -- will thus all be governed by left-wing governments soon.
"The Conservative government's work is finished for this time around," Solberg told supporters.
"I want to congratulate Jonas Gahr Store, who now seems to have a clear majority for a change of government," said the 60-year-old Solberg who has steered the country through multiple crises, including migration, dropping oil prices and the Covid pandemic over the past eight years.
The Greens had said they would only support a left-wing government if it vowed an immediate end to oil exploration in Norway, an ultimatum Store had rejected.
Store has like the Conservatives, called for a gradual transition away from the oil economy.
Thorny negotiations
The August "code red for humanity" report from the Intergovernmental Panel on Climate Change (IPCC) put the issue at the top of the agenda for the election campaign and forced the country to reflect on the oil that has made it immensely rich. 
The report energised those who want to get rid of oil, both on the left and, to a lesser extent, the right.
The oil sector accounts for 14% of Norway's gross domestic product, as well as 40 percent of its exports and 160,000 direct jobs.
In addition, the cash cow has helped the country of 5.4 million people amass the world's biggest sovereign wealth fund, today worth close to 12 trillion kroner (almost 1.2 trillion euros, $1.4 trillion).
A former minister in the governments of Jens Stoltenberg between 2005 and 2013, Store is now expected to begin negotiations with the Centre, which primarily defends the interests of its rural base, and the Socialist Left, which is a strong advocate for environmental issues.
The trio, which already governed together in Stoltenberg's coalitions, often have diverging positions, notably on the pace at which to exit the oil industry.
The Centrists have also said they would not form a coalition with the Socialist Left.
German would-be kingmaker sees legal cannabis but little else with SPD/Greens alliance
Legalizing cannabis is about the only thing Germany's Free Democrats (FDP) could easily agree with the centre-left Social Democrats and Greens, the FDP leader has said, sounding cool on the possibility of forming a so-called "traffic light" coalition, writes Paul Carrel, Reuters.
Christian Lindner wants his business-friendly FDP to be kingmakers after Germany's national election on Sunday, at which the future course of Europe's largest economy is at stake after 16 years of steady, centre-right leadership under Angela Merkel.
In power since 2005, she plans to step down after the vote.
Opinion polls show a coalition of the centre-left Social Democrats (SPD) and Greens with the FDP, dubbed a traffic light alliance due to their party colours of red, green and yellow, is a real arithmetical possibility after the election.
But when asked by the Augsburger Allgemeine newspaper in an interview what could be easier for the FDP to achieve with the Social Democrats (SPD) and Greens than with Merkel's conservatives, to whom he is closer, Lindner simply replied:
"The legalization of cannabis."
Asked to name any other issues, he responded: "I can't think of many right now."
Lindner, whose party believes in tax cuts and legalizing cannabis, said he was unsure what the Social Democrat's chancellor candidate, Olaf Scholz, stood for.
"I'm not sure what his own political position is," he said.
Scholz's SPD saw its lead over Merkel's conservatives narrow in a poll published on Tuesday (21 September), pointing to a tightening race just five days before the election.
Russian pro-Putin party wins majority after crackdown: Foes cry foul
Russia's ruling United Russia party, which supports President Vladimir Putin (pictured), retained its parliamentary majority after an election and a sweeping crackdown on its critics, but opponents alleged widespread fraud, write Andrew Osborn, Gabrielle Tétrault-Farber, Maria Tsvetkova, Polina Nikolskaya and Tom Balmforth.
With 85% of ballots counted today (20 September), the Central Election Commission said United Russia had won nearly 50% of the vote, with its nearest rival, the Communist Party, at just under 20%.
Although that amounts to an emphatic official win, it is a slightly weaker performance for United Russia than at the last parliamentary election in 2016, when the party won just over 54% of the vote.
A malaise over years of faltering living standards and allegations of corruption from jailed Kremlin critic Alexei Navalny have drained some support, compounded by a tactical voting campaign organised by Navalny's allies.
Kremlin critics, who alleged large-scale vote rigging, said the election was in any case a sham.
United Russia would have fared much worse in a fair contest, given a pre-election crackdown that outlawed Navalny's movement, barred his allies from running and targeted critical media and non-governmental organisations, they said.
Electoral authorities said they had voided any results at voting stations where there had been obvious irregularities and that the overall contest had been fair.
The outcome looks unlikely to change the political landscape, with Putin, who has been in power as president or prime minister since 1999, still dominating ahead of the next presidential election in 2024.
Putin has yet to say whether he will run. He was due to speak today after 1000 GMT.
The 68-year-old leader remains a popular figure with many Russians who credit him with standing up to the West and restoring national pride.
The near complete results showed the Communist Party finishing in second, followed by the nationalist LDPR party and the Fair Russia party with just over 7% each. All three parties usually back the Kremlin on most key issues.
A new party called "New People", appeared to have squeezed into parliament with just over 5%.
At a celebratory rally at United Russia's headquarters broadcast on state television, Moscow Mayor Sergei Sobyanin, an ally of the Russian leader, shouted: "Putin! Putin! Putin!" to a flag-waving crowd that echoed his chant.
Members of a local election commission empty a ballot box after polls closed during a three-day long parliamentary election, at a polling station inside Kazansky railway terminal in Moscow, Russia September 19, 2021. REUTERS/Evgenia Novozhenina
Allies of Navalny, who is serving a jail sentence for parole violations he denies, had encouraged tactical voting against United Russia, a scheme that amounted to supporting the candidate most likely to defeat it in a given electoral district. Read more.
In many cases, they had advised people to hold their noses and vote Communist. Authorities had tried to block the initiative online.
The Central Election Commission was slow to release data from online voting in Moscow, where United Russia traditionally does not fare as well as in other regions amid signs it may have lost some seats in the capital.
Golos, an election watchdog accused by authorities of being a foreign agent, recorded thousands of violations, including threats against observers and ballot stuffing, blatant examples of which circulated on social media. Some individuals were caught on camera depositing bundles of votes in urns.
The Central Election Commission said it had recorded 12 cases of ballot stuffing in eight regions and that the results from those polling stations would be voided.
United Russia held nearly three quarters of the outgoing State Duma's 450 seats. That dominance helped the Kremlin pass constitutional changes last year that allow Putin to run for two more terms as president after 2024, and potentially stay in power until 2036.
Navalny's allies were barred from running in the election after his movement was banned in June as extremist. Other opposition figures allege they were targeted with dirty tricks campaigns. Read more.
The Kremlin denies a politically driven crackdown and says individuals are prosecuted for breaking the law. Both it and United Russia denied any role in the registration process for candidates.
"One day we will live in a Russia where it will be possible to vote for good candidates with different political platforms," Navalny ally Leonid Volkov wrote on Telegram messenger before polls closed on Sunday.
One Moscow pensioner who gave his name only as Anatoly said he voted United Russia because he was proud of Putin's efforts to restore what he sees as Russia's rightful great-power status.
"Countries like the United States and Britain more or less respect us now like they respected the Soviet Union in the 1960s and 70s. ... The Anglo-Saxons only understand the language of force," he said.
With official turnout reported to be around only 47%, there were signs of widespread apathy.
"I don't see the point in voting," said one Moscow hairdresser who gave her name as Irina. "It's all been decided for us anyway."
German election: Hunger strikers want greater action on climate change
A group of young people are in the third week of a hunger strike in Berlin, claiming Germany's political parties aren't adequately addressing climate change ahead of this month's general election, writes Jenny Hill, Climate change.
The protestors - aged from 18 to 27 - have vowed to continue their hunger strike until the three leading candidates vying to replace Angela Merkel agree to meet them.
There's a subdued atmosphere among the little tents and hand-painted banners close to the German Chancellery in Berlin.
The six young people who've been on hunger strike for more than a fortnight say they're feeling weak.
At 27, Jacob Heinze is the oldest of the protesters here (organisers say four other people have joined their hunger strike away from the camp). He speaks slowly, clearly struggling to concentrate, but told the BBC that, while he's afraid of the consequences of his "indefinite hunger strike", his fear of climate change is greater.
"I already told my parents and my friends there's a chance I'm not going to see them again," he said.
"I'm doing this because our governments are failing to save the young generation from a future which is beyond imagination. Which is horrific. We're going to face war regarding resources like water, food and land and this is already a reality for many people in the world."
With less than two weeks to Germany's general election, Jacob and his fellow protesters are demanding that the three leading candidates to replace Angela Merkel as German Chancellor come and talk to them.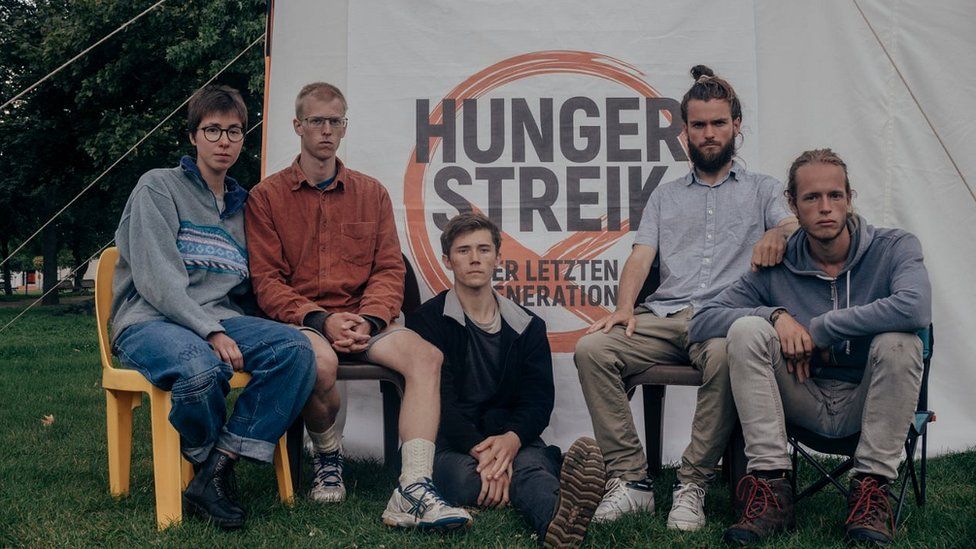 Climate change is, arguably, the biggest election issue here. German politicians have been influenced by the mass street protests of young climate change activists in recent years but this summer's deadly floods in the west of the country have also focused public concern.
Even so, say the hunger strikers, none of the main political parties - including the Green party - are proposing adequate measures to address the problem.
"None of their programmes is taking into account the actual scientific facts so far, especially not the danger of tipping points (major irreversible climatic changes) and the fact that we're very close to reaching them," says spokeswoman Hannah Luebbert.
She says the protesters want Germany to institute a so-called citizens' assembly - a group of people chosen to reflect every part of society - in order to find solutions.
"The climate crisis is also a political crisis and maybe a crisis of our democracy, because the set up with elections every four years and the great influence of lobbyists and economic interests within our parliaments often leads to the fact that economic interests are more important than our civilisation, our survival," Ms Luebbert says.
"Such citizens' assemblies aren't influenced by lobbyists and it's not politicians there who are afraid of not being re-elected, it's just people using their rationality."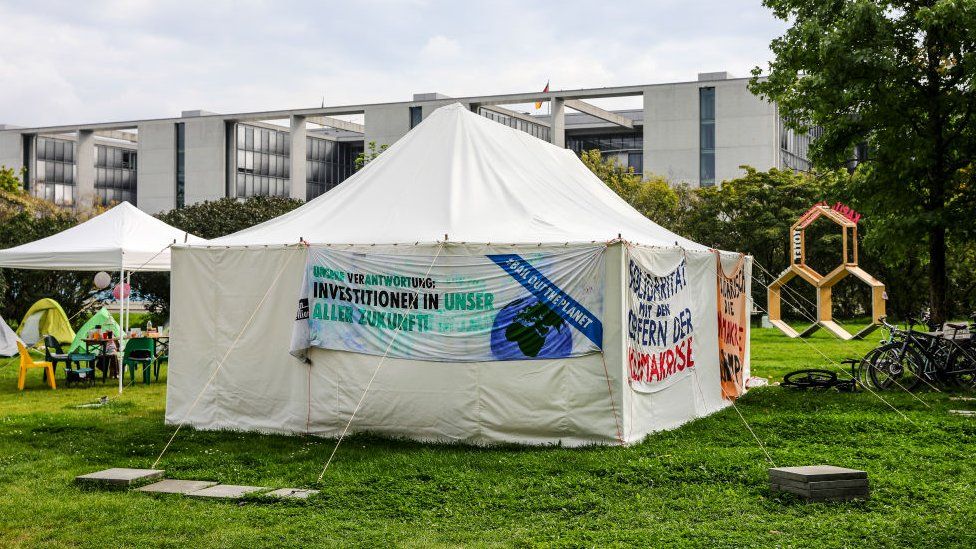 The hunger strikers say that only one of the Chancellor candidates - Annalena Baerbock of the Green party - has responded, but that she spoke to them by telephone rather than meeting their demand for a public conversation. She's appealed to them to end their hunger strike.
But the group - which is attracting increasing publicity - have vowed to continue, though they acknowledge the distress of their families and friends.
Even so, Jacob says, his mum supports him.
"She is scared. She's really, really scared but she understands why I take these steps. She's crying every day and calls every day and asks me isn't it better to stop? And we always come to the point where we say no, it's necessary to continue," he said.
"It's really necessary to wake people up all over the world."