Bulgaria bus crash: Children among at least 45 killed
At least 45 people, including 12 children, have died after a bus crashed and caught fire in western Bulgaria, officials say.
The incident happened on a motorway at about 2h local time (00h00 GMT) (24 November) near the village of Bosnek, south-west of the capital Sofia.
The bus was registered in North Macedonia and was carrying tourists returning from Turkey.
Seven people escaped from the bus and were taken to hospital with burns.
A Bulgarian interior ministry official said it was unclear if the bus had caught fire and then crashed or burst into flames after crashing.
Officials said the vehicle appeared to have hit a highway barrier and pictures showed a section of the road where the barrier had been shorn off.
Macedonian Foreign Minister Bujar Osmani told reporters the coach party had been returning to the capital Skopje from a weekend holiday trip to the Turkish city of Istanbul.
Macedonian Prime Minister Zoran Zaev spoke to one of the survivors, who told him that passengers were sleeping when the sound of an explosion woke them.
"He and the other six survivors broke the windows of the bus and managed to escape and save themselves," Mr Zaev told Bulgarian media.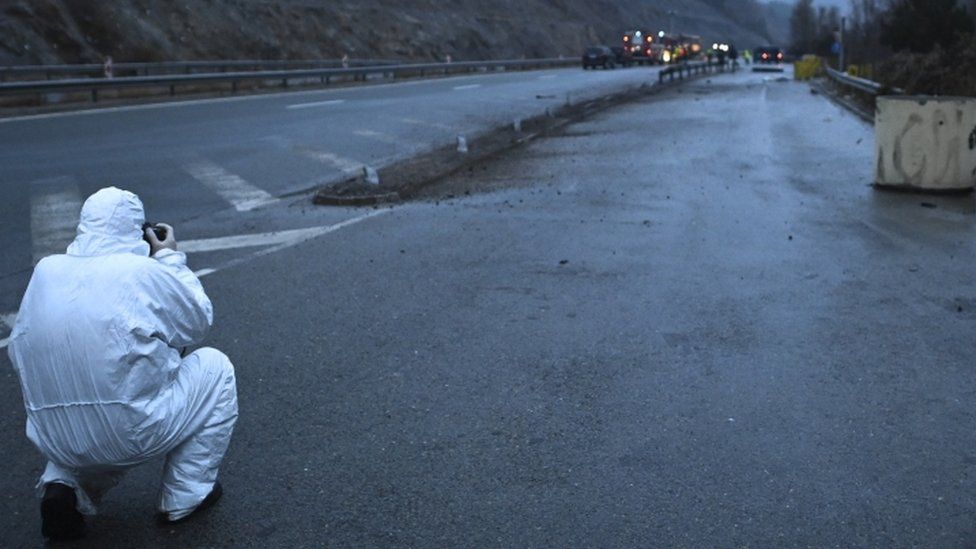 Bulgaria's interim Prime Minister Stefan Yanev described the incident as "a huge tragedy".
"Let's hope we learn lessons from this tragic incident and we can prevent such incidents in the future," he told reporters as he visited the site of the crash.
The area around the site of Tuesday's incident on the Struma motorway has now been sealed off. Footage from the scene shows the charred vehicle, gutted by the fire.
After arriving at the scene, Bulgarian Interior Minister Boyko Rashkov said the victims had been completely burned, television station BTV reports.
Investigative service chief Borislav Sarafov said "human error by the driver or a technical malfunction are the two initial versions for the accident".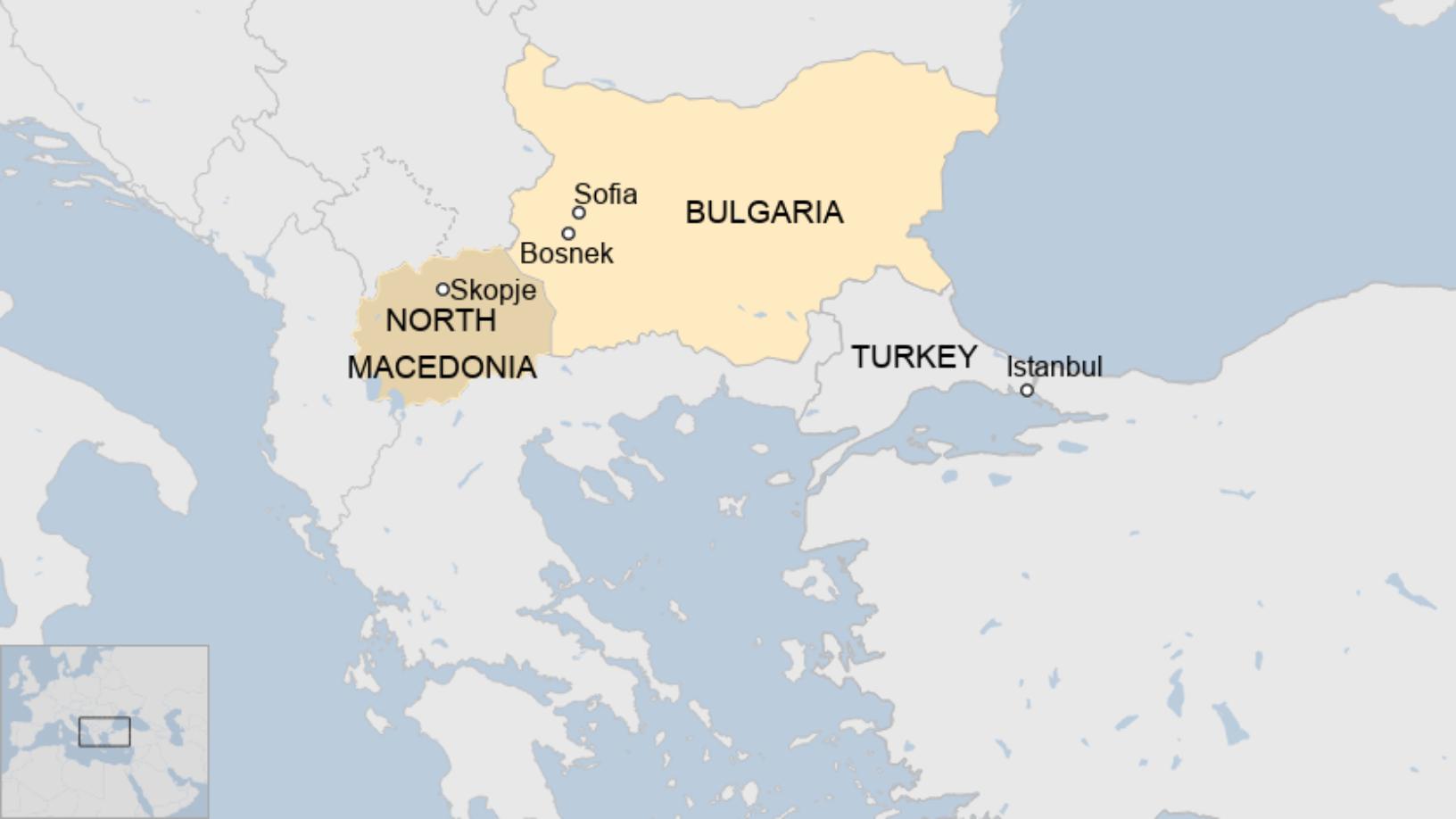 Share this article:
Radev's win brings more worry than glory to Bulgaria's western allies
After the dust settled and Rumen Radev (pictured) got re-elected president of Bulgaria, concerns start to emerge regarding his close ties to Russia, writes Cristian Gherasim.
Earlier this week, the United States has expressed deep concern over comments by Bulgarian President Rumen Radev that the Crimean Peninsula annexed by Russia from Ukraine in 2014 is "Russian".
The socialist candidate Rumen Radev won his second term as president of Bulgaria with 64-66% of the vote, compared to 32-33% for Anastas Gerdzhikov
Gherdjikov , backed by former PM Borisov center right coalition, promised to unite the country, which has been hit hard by crises caused in particular by the COVID-19 pandemic and rising energy prices. Bulgaria is facing the worst political crisis since the end of communism three decades ago.
In Bulgaria, the president has an eminently ceremonial role, but offers a solid platform to influence public opinion, particularly on the foreign policy arena.
In February 2017, Radev condemned and called for an end to the EU sanctions against Russia, while at the same time describing the Annexation of Crimea by the Russian Federation as a "violation of international law".
Radev also became the only EU head of state to attend Erdogan's inauguration, stating that his mandate was not given to him by either the European Commission or the Bulgarian Government, but by the Bulgarian people.
In 2019 he condemned EU's recognition of opposition forces in Venezuela. Radev further criticised the EU's recognition of Guaido, urging both the country and the EU to remain neutral and refrain from recognizing Guaido, as he viewed such recognition as imposing an ultimatum, which he deemed would only aggravate the crisis in Venezuela.
In a presidential debate prior to his re-election, Radev referred to Crimea as "currently Russian" and called on Brussels to restore dialogue with Russia, arguing that Western sanctions against Moscow were not working. In his victory speech he pledged to keep close ties with Bulgaria's NATO allies, but has also called for a pragmatic relationship with Russia.
In a stamen issued by the US Embassy in Sofia, the US showed that it is deeply concerned by the recent statements of Bulgarian President in which he referred to Crimea as "Russian".
"The United States, G7, European Union, and NATO have all been clear and united in our position that, despite Russia's attempted annexation and ongoing occupation, Crimea is Ukraine", the statement reads.
Radev's comments on Crimea have prompted protests from Ukraine and strong criticism from his opponents at home. Russian-backed separatists seized a swath of eastern Ukraine in 2014, the same year Russia annexed the Crimean peninsula.
This comes on the backdrop of increasing Russian activity in Ukraine's vicinity. For several days now, Western espionage has become increasingly convinced that Vladimir Putin is trying to break a piece of Ukrainian territory. Moreover, the head of Ukrainian military espionage even advanced the date when Russia would prepare a heavy attack -"end of January or beginning of February" 2022. The increasing belligerent attitude from Moscow can be seen in the light of the new US National Security Strategy that President Joe Biden will present to the US Congress in December. This document could also include an important chapter on Washington's military strategy in the Black Sea region.
Also a week ago a study by GLOBSEC Policy Institute, a Bratislava based thin-thank focused on international politics and security issues shows that Bulgaria is amongst the countries most susceptible to Russian and Chinese influence. The index follows a two-year project backed by the U.S. Department of State's Global Engagement Center, analyzing vulnerable points, targeted by foreign influence, in eight countries: Bulgaria, Czech Republic, Hungary, Montenegro, Northern Macedonia, Romania, Serbia and Slovakia.
Serbia is the most vulnerable to Russian and Chinese influence and receives 66 points out of 100. The second most vulnerable is Hungary with 43 points, and the third is Bulgaria with 36 points. It is followed by Montenegro with 33, the Czech Republic with 28, Slovakia with 26, the Republic of Northern Macedonia with 25 and Romania with 18 is the least subject to foreign influence.
"The countries that we assessed are from Central, Eastern Europe and the Western Balkans region. Out of these, the Czech Republic and Romania are the most resilient.", said Dominika Hajdu, the head of GLOBSEC's Centre for Democracy & Resilience and one of the authors of the study.
China has been targeting repeatedly the region of Western Balkans trying to increase its clout. According to specialists, Chinese leaders seek to increase influence in states that do not yet enforce EU law.
Beijing in trying to secure various resources even in some EU member states. China's recent actions highlight, for example, the interest in transforming the ports of Piraeus (Greece) and Zadar (Croatia) into hubs for China's trade with Europe. To the same end, an agreement was signed to build a high-speed railway between Budapest and Belgrade, which would connect with the port of Piraeus, thus consolidating the access of Chinese products to Europe.
China's influence is a growing one, Russia's is more prevalent in the wider region, being a presence better understood whereas China is an enigma potentially able to disrupt the political and civic systems in the region, the study shows. In the Western Balkans, for example, Russia is more interested in disrupting the EU-NATO integration process there.
"The most vulnerable countries are mostly those that have closer bilateral relations with Russia and have societies that are more pro-Russian and favourable to a pro-Russian narrative," Dominika Hajdu of GLOBSEC believes.
Share this article:
Ukraine queries Bulgarian president's 'Crimea is Russian' remark
Ukraine has criticised Rumen Radev's remark in a TV presidential election debate that 'Crimea is Russian', warning that it could damage relations with Bulgaria.
Ukraine summoned the Bulgarian ambassador, Kostadin Kodzhabashev, to the Foreign Ministry in Kyiv on Friday (19 November) to voice concern about Bulgarian President Rumen Radev's comments that Crimea legitimately belongs to Russia.
Russian forcibly annexed the Ukrainian territory in 2014 and neither the US nor the EU have recognised this act.
"The words of the current Bulgarian president do not contribute to the development of good neighbourly relations between Ukraine and Bulgaria and are sharply dissonant with Sofia's official position on supporting the sovereignty and territorial integrity of Ukraine within its internationally recognised borders," the Foreign Ministry's statement said.
Radev made the remark during a TV debate between him and his centre-right opponent, Anastas Gerdjikov, ahead of the presidential runoff on Sunday.
Radev is expected to be re-elected after winning 49.4 per cent of votes cast in the first round.
When questioned by Gerdjikov about whether he regrets his criticism of EU sanctions on Russia, imposed after the 2014 annexation, Radev responded: "Crimea is Russian, what else can it be?"
He has not yet issued a response to the Ukrainian Foreign Ministry's complaint.
As he did in 2016, Radev is running for the presidency as an independent candidate, supported by the pro-Russian Bulgarian Socialist Party.
Gerdjikov is also running as an independent candidate, but is backed by former PM Boyko Borissov's centre-right GERB party.
Gerdjikov also received criticism following his TV appearance, not over Ukraine but for allegedly underestimating the need for reforms, following years of GERB's dominance of local politics, during which time it became associated with numerous controversies and corruption claims.
Radev may be strengthened further by the victory in the legislative elections of a newcomer party, "We Continue the Change", formed by two ministers that he appointed this year to the interim government.
The party topped the popular vote in the repeat general elections of 14 November with 25.7% of votes cast, ahead of GERB. The party is currently holding coalition talks with Democratic Bulgaria, "There is Such a Nation" and the Bulgarian Socialist Party.
Share this article:
Tired of rampant graft, Bulgarians vote in presidential election
Bulgarians voted on Sunday (21 November) to choose the country's next president in a run-off election, weary of widespread corruption in the European Union's poorest member state amid rising energy costs and high death toll from the coronavirus, writes Tsvetelia Tsolova.
Incumbent President Rumen Radev, 58, an advocate of change aimed at cleaning Bulgaria's image as the EU's most corrupt member state, appears poised for a new 5-year term after winning 49.5% of the votes in the first round on Nov. 14.
He competes with Sofia University Rector, Anastas Gerdzhikov, 58, who won 22.8% of the vote last week and is backed by the country's towering politician of the past decade, ex-premier Boyko Borissov who was ousted from power in April.
The presidential post is largely ceremonial, but comes to prominence in times of political crisis, when the head of the state can appoint interim cabinets. The presidency also gives a high tribune to influence the public opinion.
Radev, a former air-force commander, has gained popularity for his open support of massive anti-graft protests against Borissov in 2020 and for appointing interim cabinets that brought to light murky public procurement deals of his last centre-right cabinet. Borissov has denied any wrongdoing.
A new anti-graft party, We Continue The Change (PP), set up by two Harvard-educated entrepreneurs who Radev appointed as interim ministers in May, won the parliamentary election last week. Read more.
Radev is supported by Borissov's political opponents -- PP, the Socialists and the anti-elite ITN party which, along with another anti-graft faction, are holding talks to form a government.
"Radev is a front-runner, but much will depend on whether his supporters will actually go to cast a ballot," said political analyst Daniel Smilov with Sofia-based Centre for Liberal Strategies.
Gerdzhikov, a respected Professor in Ancient and Medieval Literature, has accused Radev of pitting Bulgarians against one another and pledged to unite the nation, hit by COVID-related death rates that are among the highest in the EU and soaring energy costs.
Gerdzhikov is a strong supporter of NATO-member Bulgaria's Western alliances, and has campaigned to improve business opportunities and support judicial reforms to improve rule of law in the country of 7 million people.
Radev, who campaigned in 2016 for the lifting of Western sanctions against Russia, said Bulgaria must keep pragmatic ties with Moscow and should not view it as an enemy, not least because of close historical and cultural links.
His comments that the Crimean Peninsula, annexed by Russia from Ukraine in 2014, was "currently Russian", prompted protests from Kiyv. Read more.
The elected president takes office in January next year.
Share this article: