Israel's ambassador to Belgium lashes out at the Belgian government reaction, calls it 'hypocrisy and cowardice'
Israel's ambassador to Belgium Emmanuel Nahshon (pictured) lashed out at the Belgian government reaction to the events in Israel and Gaza. "Friendly countries,  the US, Germany, the UK, all support Israel in an unconditional and clear way. We have the right to defend ourselves against these attacks. When it comes to the Belgian reaction, unfortunately what comes to mind is the word hypocrisy and the word cowardice,' he said, writes Yossi Lempkowicz.
Speaking in an interview with Belgian tv channel LN24, the ambassador was reacting to comments made by Belgian Foreign Minister Sophie Wilmès on the conflict. She spoke of a ''very difficult situation, an escalation where the civilian population is affected''.
For her, "the first thing we don't do is point the finger at those responsible for the current situation. Hamas? The Israeli government? "
She added, ''It's a classic question, we always try to say who is responsible for what. When you want to be an 'honest broker' in the resolution of a conflict", you have to avoid pointing the finger of blame.''
"There are things happening (on the ground) that are difficult to accept on both sides. We are convinced that launching hundreds and hundreds of rockets (at Israel) is not likely to calm the situation,'' she said, calling on the parties to show ''restraint.''
She expressed the hope for a European initiative: 'We have to use diplomacy, but with 27 countries, with the EU, it is always difficult to have a single position. So we need a coherent approach to the discussion', she said.
Within the Belgian government, the Greens and Socialists are pushing for a firm stance on the escalating violence between Israel and the Palestinians, even calling for sanctions against Israel.
"I hear people asking for sanctions. But we are not the first to do that, we must first initiate dialogue, first force a ceasefire,'' the Belgian Foreign Minister said.
'America is back': Brussels upbeat on eve of Biden's Europe trip
US President Joe Biden's (pictured) trip to Europe this week will signal that multilateralism has survived the Trump years, and set the stage for transatlantic cooperation on challenges from China and Russia to climate change, the chairman of EU summits said, Reuters.
"America is back," European Council President Charles Michel said, using the motto Biden has adopted after former President Donald Trump pulled Washington out of several multilateral institutions and at one point threatened to walk out of NATO.
"It means that we have again a very strong partner to promote the multilateral approach ... a big difference with the Trump administration," Michel told a group of reporters in Brussels late on Monday.
Michel and the chief of the European Union's executive, Ursula von der Leyen, will meet Biden on 15 June. That will follow a summit of G7 rich democracies in Britain and a meeting of NATO nation leaders in Brussels on 14 June.
Michel said the idea that "multilateralism is back" was more than a slogan, it was a recognition that a global approach is needed to resolve issues, whether they be supply chains for COVID-19 vaccines or fairer corporate taxes in the digital age.
He said the three-day G7 meeting in Cornwall, England, could be an "important turning point" that shows serious political commitment behind governments' pledges to "build back better" following the economic devastation of the coronavirus pandemic.
It would also be an opportunity to address pressure felt by liberal democracies, said Michel, who expects a discussion at the G7 on the need for the West to take a more proactive approach to defending its values in the face of China's rise and Russian assertiveness.
Michel said he spoke for 90 minutes with Russian President Vladimir Putin on Monday, telling him Moscow must change its behaviour if it wants better relations with the 27-nation EU.
The EU and Russia disagree on a wide range of issues including human rights, Russia's intervention in Ukraine and Moscow's treatment of jailed Kremlin critic Alexei Navalny, and Michel said that relations between them had reached a low point.
Belgium investigates funding to Palestinian NGOs with links to terrorist group
Belgium's  investigation comes as a result of reports sent to the Belgian government by the Israeli government and reports by NGO Monitor which highlighted the close links between several Palestinian NGOs and the PFLP, which is designated by the EU as a terrorist organization, writes Yossi Lempkowicz.
Belgium's Minister of Development Meryame Kitir (pictured), has told a Committee of the Belgian federal parliament that an investigation is underway into whether Belgian development aid may have been used to finance terrorist activities of the Popular Front for the Liberation of Palestine (PFLP). 
Belgian MP Kathleen Depoorter, from the opposition N-VA party, asked Kitir, during a session of the external relations committee this week about the allegations concerning humanitarian funds being diverted to terror groups. She told the committee that a number of NGOs were alleged to have "regularly received funding from Western Europe, while operating at least in part as a cover for activities of the Popular Front".
Belgium's Directorate-General for Development Cooperation does not fund Palestinian NGOs directly, but rather via Belgian NGOs as third parties. One of the aims of this state funding was to "mitigate the influence of pro-Israel voices" and was approved in 2016 by then Belgian Minister of Development Cooperation (and now Prime Minister) Alexander De Croo.
Minister Kitir told the committee that in the past five years 6 million Euro was given to Belgian NGOs active in Palestinian territories, including Broederlijk Delen, Oxfam Solidarity, Viva Salud and Solidarité Socialiste (SolSoc), which are all politicised anti-Israeli NGOs who have partnered with Palestinian NGOs linked to the terrorist PFLP.
The Minister said the four Palestinian NGOs with active links to Belgium are:
HWC, a partner of the Belgian NGO Viva Salud
Bisan, a partner of Viva Salud
Defence for Children International – Palestine (DCI-P), a partner of Broederlijk Delen
Union of Agricultural Work Committees (UAWC), a partner of Oxfam through humanitarian funding.
The Minister explained that over the past five years €660,000 were donated through Viva Salud, €1.8 million went via Oxfam and €1.3m through Broederlijk Delen and that an investigation into the use of this money is now under way.
"I take these allegations very seriously. It goes without saying that under no circumstances can development cooperation funds be used for terrorist purposes or to encourage violent behaviour," she said.
Belgium's investigation comes as a result of reports sent to the Belgian government by the Israeli government and reports by NGO Monitor which highlighted the close links between several Palestinian NGOs and the PFLP, which is designated by the EU as a terrorist organisation.
UK Lawyers for Israel (UKLFI) also wrote to Kitir and to the Directorate-General for Development Cooperation and Humanitarian Aid in Jerusalem about one of the NGOs in question.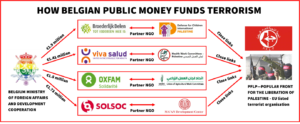 Belgian Friends of Israel (BFOI) has also briefed several Belgian MPs and alerted them to the situation, as well as running a Twitter campaign, calling out Kitir for continuing to fund the NGOs linked to terrorism.
MP Kathleen Depoorter pointed out that the reports of links between the Palestinian NGOs and the terrorist organization caused quite a stir in the government in the Netherlands and payments have now been suspended.
"I have asked the minister to inspect these reports and that she also submit her own investigation into the abuse to parliament. Everyone is innocent until proven otherwise and these Palestinian organizations deserve a fair chance, but we expect appropriate action if the facts are proven,'' said Depoorter.
''I am pleased that the matter is being investigated, but I also expect quick answers and appropriate steps from the minister," she added.
UKLFI was instrumental in campaigning for the Dutch government to suspend payments to the Union of Agricultural Work Committees (UAWC), a Palestinian NGO representing farmers, particularly after several of its top officers were indicted for and are now on trial for their participation in a PFLP terrorist attack which killed Rina Shnerb, a 17-year-old Israeli girl in August 2019.
EU Cohesion policy: €838.8 million for Belgium, France, Germany and Slovakia to tackle the social and economic impact of the coronavirus crisis
The Commission has approved a total of €838.8 million for Belgium, France, Germany and Slovakia under REACT-EU to help tackle the effects of the coronavirus pandemic and prepare the recovery. In Belgium, the EU adds €31.7m to the operational programme (OP) Fund for European Aid to the Most Deprived (FEAD) for the delivery of food and material assistance to vulnerable people in need during the coronavirus crisis. In France, the region Grand Est receives a total of €148.3m to facilitate people's access to training or a first job, improve the skills of those seeking employment and expand training capacities for caregivers. The EU funds will also support the regional healthcare system by helping to acquire equipment and facilitate the organisation of hospitals. They will also help investing in the energy efficiency of public buildings and social housing, supporting the digital transition, and helping businesses most affected by the crisis. In the French overseas department of La Réunion, €256 million will provide equipment for training staff in the health sector, ensure working capital and investments in businesses, particularly in the tourism sector, improve the clean water network and sustainable mobility, as well as support the digitalization of businesses, local administrations and the educational institutions.
In Germany, an additional €86m for the European Social Fund (ESF) OP in the Land of Baden-Württemberg will support job creation and quality employment, expand employment measures for young people implementing the EU Youth Guarantee, invest in skills and training, and support social systems, including tackling child poverty. In Slovakia, the OP 'Human Resources' will receive an additional €316.8m to support job creation and job retention measures, access to education for vulnerable groups, healthcare and long-term care services, financial counselling services and housing for homeless people. REACT-EU is part of NextGenerationEU and provides €50.6 billion additional funding (in current prices) over the course of 2021 and 2022 to Cohesion policy programmes. Measures focus on supporting labour market resilience, jobs, SMEs and low-income families, as well as setting future-proof foundations for the green and digital transitions and a sustainable socio-economic recovery.