Biden to host Germany's Merkel at White House next Thursday - White House
US President Joe Biden (pictured) will host a meeting with German Chancellor Angela Merkel (pictured) next Thursday (22 July) to affirm "deep and enduring" ties between the NATO allies while also tackling some areas of disagreement, the White House said on Friday (9 July), writes Andrea Shalal.
White House spokeswoman Jen Psaki said the two leaders would discuss ransomware attacks that have hit companies in the United States and around the world, as well as the Nord Stream 2 gas pipeline from Russia to Germany, which Washington opposes.
Psaki said it would be an "official working visit" aimed at shoring up the partnership between the two countries and identifying ways to further strengthen cooperation.
It will be Merkel's first visit to Washington since Biden took office in January. Merkel, now in her fourth term, has said she will step down after German national elections in September.
Psaki said Biden continued to view the $11 billion Nord Stream 2 pipeline as a "bad deal," but declined to say if an agreement could be reached to stave off resumption of temporarily suspended U.S. tariffs on Nord Stream 2 AG, the Germany company behind the pipeline, and its chief executive.
The U.S. State Department in May concluded that the company and CEO Matthias Warnig, an ally of Russian President Vladimir Putin, engaged in sanctionable activity. But Secretary of State Antony Blinken immediately waived those sanctions, saying it was in the U.S. national interest.
Biden has said he wants to improve ties with Germany, an ally he needs to help deal with broader issues including climate change, the economic recovery and relations with Iran and China.
German officials say they hope to resolve the issue by August and the Biden-Merkel meeting could provide important momentum for getting to a deal.
Berlin and Washington also remain at odds over a temporary waiver of intellectual property rights being considered by World Trade Organization members to help end the COVID-19 pandemic. Washington backs the waiver, but Germany is opposed.
Asked if Biden would seek to convince Merkel to support the patent waiver, Psaki said the president was a "strong proponent" of such action, but it was just one of several tools that could be used to boost COVID-19 vaccination rates around the world.
Amnesty International, Public Citizen, the Association of Flight Attendants-CWA and other groups urged Biden in a letter on Friday to pressure Merkel to support the waiver.
"The Merkel summit cannot be considered a success unless it includes an agreement for Germany to join your support for a waiver and to prioritize the fastest possible end of the pandemic," they wrote in the letter, which was seen by Reuters.
Psaki said the two leaders will also discuss ransomware cyberattacks, after Biden pressured Putin to move against cybercriminals operating out of Russia.
German would-be kingmaker sees legal cannabis but little else with SPD/Greens alliance
Legalizing cannabis is about the only thing Germany's Free Democrats (FDP) could easily agree with the centre-left Social Democrats and Greens, the FDP leader has said, sounding cool on the possibility of forming a so-called "traffic light" coalition, writes Paul Carrel, Reuters.
Christian Lindner wants his business-friendly FDP to be kingmakers after Germany's national election on Sunday, at which the future course of Europe's largest economy is at stake after 16 years of steady, centre-right leadership under Angela Merkel.
In power since 2005, she plans to step down after the vote.
Opinion polls show a coalition of the centre-left Social Democrats (SPD) and Greens with the FDP, dubbed a traffic light alliance due to their party colours of red, green and yellow, is a real arithmetical possibility after the election.
But when asked by the Augsburger Allgemeine newspaper in an interview what could be easier for the FDP to achieve with the Social Democrats (SPD) and Greens than with Merkel's conservatives, to whom he is closer, Lindner simply replied:
"The legalization of cannabis."
Asked to name any other issues, he responded: "I can't think of many right now."
Lindner, whose party believes in tax cuts and legalizing cannabis, said he was unsure what the Social Democrat's chancellor candidate, Olaf Scholz, stood for.
"I'm not sure what his own political position is," he said.
Scholz's SPD saw its lead over Merkel's conservatives narrow in a poll published on Tuesday (21 September), pointing to a tightening race just five days before the election.
German election: Hunger strikers want greater action on climate change
A group of young people are in the third week of a hunger strike in Berlin, claiming Germany's political parties aren't adequately addressing climate change ahead of this month's general election, writes Jenny Hill, Climate change.
The protestors - aged from 18 to 27 - have vowed to continue their hunger strike until the three leading candidates vying to replace Angela Merkel agree to meet them.
There's a subdued atmosphere among the little tents and hand-painted banners close to the German Chancellery in Berlin.
The six young people who've been on hunger strike for more than a fortnight say they're feeling weak.
At 27, Jacob Heinze is the oldest of the protesters here (organisers say four other people have joined their hunger strike away from the camp). He speaks slowly, clearly struggling to concentrate, but told the BBC that, while he's afraid of the consequences of his "indefinite hunger strike", his fear of climate change is greater.
"I already told my parents and my friends there's a chance I'm not going to see them again," he said.
"I'm doing this because our governments are failing to save the young generation from a future which is beyond imagination. Which is horrific. We're going to face war regarding resources like water, food and land and this is already a reality for many people in the world."
With less than two weeks to Germany's general election, Jacob and his fellow protesters are demanding that the three leading candidates to replace Angela Merkel as German Chancellor come and talk to them.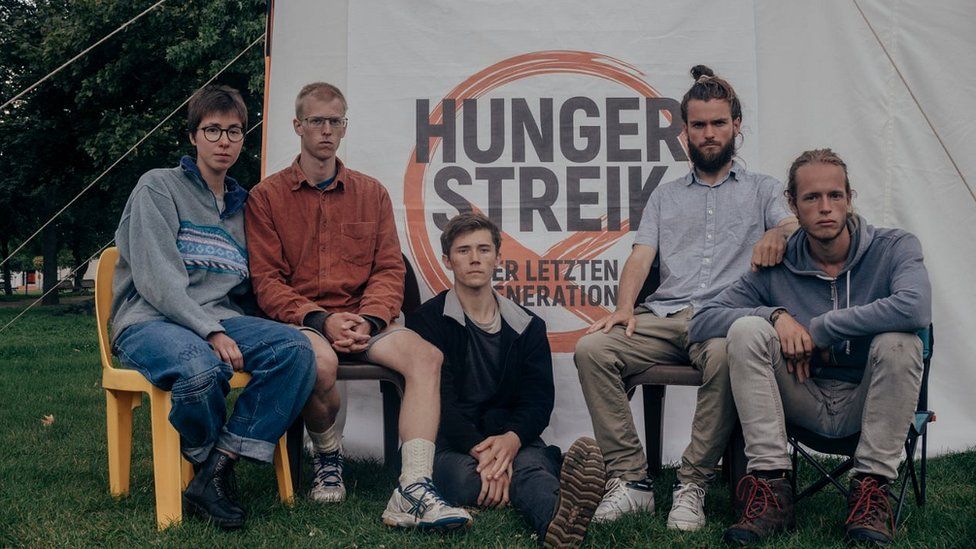 Climate change is, arguably, the biggest election issue here. German politicians have been influenced by the mass street protests of young climate change activists in recent years but this summer's deadly floods in the west of the country have also focused public concern.
Even so, say the hunger strikers, none of the main political parties - including the Green party - are proposing adequate measures to address the problem.
"None of their programmes is taking into account the actual scientific facts so far, especially not the danger of tipping points (major irreversible climatic changes) and the fact that we're very close to reaching them," says spokeswoman Hannah Luebbert.
She says the protesters want Germany to institute a so-called citizens' assembly - a group of people chosen to reflect every part of society - in order to find solutions.
"The climate crisis is also a political crisis and maybe a crisis of our democracy, because the set up with elections every four years and the great influence of lobbyists and economic interests within our parliaments often leads to the fact that economic interests are more important than our civilisation, our survival," Ms Luebbert says.
"Such citizens' assemblies aren't influenced by lobbyists and it's not politicians there who are afraid of not being re-elected, it's just people using their rationality."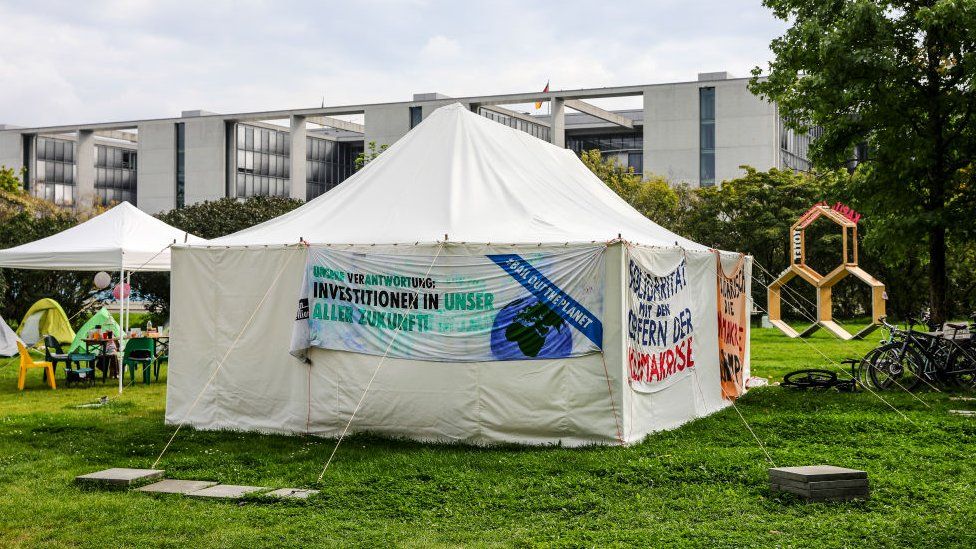 The hunger strikers say that only one of the Chancellor candidates - Annalena Baerbock of the Green party - has responded, but that she spoke to them by telephone rather than meeting their demand for a public conversation. She's appealed to them to end their hunger strike.
But the group - which is attracting increasing publicity - have vowed to continue, though they acknowledge the distress of their families and friends.
Even so, Jacob says, his mum supports him.
"She is scared. She's really, really scared but she understands why I take these steps. She's crying every day and calls every day and asks me isn't it better to stop? And we always come to the point where we say no, it's necessary to continue," he said.
"It's really necessary to wake people up all over the world."
Britain no longer in top 10 for trade with Germany as Brexit bites
Britain is on course to lose its status as one of Germany's top 10 trading partners this year for the first time since 1950, as Brexit-related trade barriers drive firms in Europe's largest economy to look for business elsewhere, write Michael Nienaber and Rene Wagner.
Britain left the European Union's single market at the end of 2020, following more than four years of wrangling over the terms of its divorce during which corporate Germany had already begun to reduce ties with the United Kingdom.
In the first six months of this year, German imports of British goods sank nearly 11% year-on-year to 16.1 billion euros ($19.0 billion), Federal Statistics Office data reviewed by Reuters showed.
While German goods exports to Britain rose 2.6% to 32.1 billion euros, that could not prevent a decline in bilateral trade, by 2.3% to 48.2 billion euros - pushing Britain down to 11th spot from ninth, and from fifth before it voted to leave the EU in 2016.
A December 2020 survey of Germany's BGA trade association showed one in five companies were reorganizing supply chains to swap out British suppliers for others in the EU.
That trend was becoming more marked, though British businesses were even worse off, said Michael Schmidt, President of the British Chamber of Commerce in Germany, making any turnaround before the end of this year unlikely.
"More and more small and medium-sized companies are ceasing to trade (in Britain) because of these (Brexit-related) hurdles," Schmidt told Reuters.
The sharp first-half decline was also driven by pull-forward effects before the new hurdles, such as customs controls, kicked in in January.
"Many companies anticipated the problems... so they decided to pull forward imports by increasing stocks," he said.
While this effect pushed up bilateral trade in the fourth quarter, it cut demand early this year, while problems with the new customs checks also complicated trade from January onwards.
The UK's poor performance was not just down to a bad January dragging down the average during the first six months of 2021.
In both May and June, bilateral goods trade between Germany and the UK remained below end-2019 levels – in contrast with every other major German trade partner.
"The UK's loss of importance in foreign trade is the logical consequence of Brexit. These are probably lasting effects," Gabriel Felbermayr, President of the Kiel-based Institute for the World Economy (IfW), told Reuters.
A data breakdown showed German imports of British agricultural products tumbled by more than 80% in the first six months while imports of pharmaceutical products nearly halved.
"Many small companies simply can't afford the extra burden of keeping up to date and complying with all the kicked-in customs rules such as health certificates for cheese and other fresh products," Schmidt said.
But the new trade realities had harmed British companies even more than German ones, which were more used to dealing with different customs regimes around the world as many had been exporting to various non-European countries for decades.
"In Britain, the picture is different," Schmidt said, adding that many small firms there had exported mainly to the EU so had to start from scratch when confronted with new customs controls.
"For many small British firms, Brexit meant losing access to their most important export market... It's like shooting yourself in the foot. And this explains why German imports from Britain are in free-fall now."
He voiced hope that some of the decline might be temporary. "Companies are normally always in a good position to adapt quickly – but this needs time."
($1 = €0.8455)