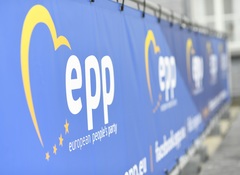 EU heads of state and government, opposition leaders of the European People's Party (EPP) and the presidents of the European Council, the European Commission and the European Parliament – Donald Tusk, Jean-Claude Juncker and Antonio Tajani – have been invited to participate in the upcoming EPP Summit, to take place in Brussels on 13 December. On the agenda will be the preparation for the European Council meeting on 13 and 14 December.
EPP President Joseph Daul will host the summit. The EPP's Spitzenkandidat for president of the European Commission and chairman of the EPP Group in the European Parliament Manfred Weber, and EPP Secretary General Antonio LÓPEZ-ISTÚRIZ and the members of the EPP Presidency will participate.
Nicos ANASTASIADES (Cyprus), Boyko BORISSOV (Bulgaria), Klaus IOHANNIS (Romania), Sebastian KURZ (Austria), Angela MERKEL (Germany), Viktor ORBÁN (Hungary), Andrej PLENKOVIĆ (Croatia), and Leo VARADKAR (Ireland) are currently the EPP heads of state and government in the European Council.
Date: 13 December 2018 from 12h30 until 15h.
Venue: Académie Royale de Belgique, Rue Ducale 1 (close to Metro Trône)

WhatsApp
The EPP Press Team has created an alert system especially for journalists through WhatsApp. If you wish to receive live updates and announcements during the summit, please send us a short message with your name and media to the following EPP Press Team number +32 (0)471 808 006 to be added to the list of recipients.
The EPP will be offering live info and photo feeds from the EPP Summit through its official Twitter, Facebook and Flickr accounts. Video footage will also be available via satellite after the Summit. Follow live and get an insight on how leaders prepare the European Council.
The EPP is the largest and most influential European-level political party of the centre-right, which currently includes 80 member parties and partners from 42 countries, the Presidents of the European Commission, the European Council and the European Parliament and eight EU and three non-EU heads of state and government.
Comments
Facebook comments
Category: A Frontpage, EU, European Parliament, UK EPP