Belgium 'important' European partner to #Kazakhstan, Brussels meeting hears
Belgium is one of  Europe's "important" political and economic partners for Kazakhstan, a meeting in Brussels was told.
It was told that relations between the two countries are developing in a spirit of "mutual trust and respect".
This was one of the messages to emerge from the round table, 'Kazakhstan-Belgium: Prospects for Trade, Economic and Investment Co-operation', on Wednesday (9 October).
Economically, there have been "positive changes" between the two sides and,currently, there are about 74 companies with Belgian interests and capital in Kazakhstan.
The volume of Belgian investments in the Kazakh economy amounts to some $7.9 billion while foreign trade turnover of Kazakhstan with Belgium in 2018 soared by no less than 58% compared to 2017 and amounted to $455 million.
The event in Brussels was organized by the embassy of Kazakhstan in Belgium together with AWEX and chaired by the Kazak Deputy Minister of Foreign Affairs, Yermek  Kosherbayev. It was attended by Walloon and Flemish enterprises, the ambassador of Kazakhstan in Belgium Aigul Kuspan, diplomats, representatives of the Wallonia Export-Investment Agency (AWEX) and Flanders Investment and Trade (FIT), as well as J. Lebon, the Honorary Consul of Kazakhstan in Flanders.
The meeting heard that there is "great mutual interest" in co-operation between the two sides.
Representatives from three Belgian companies John Cockrill, Carmeuse, Van Hool and VITO were also present at the meeting
 John Cockerill (formerly the CMI Group) produces solutions in the energy sector in Kazakhstan, such as a construction project in the Kyzylorda region which features a solar power plant using molten salt technology. A mechanical engineering group headquartered in Seraing, Belgium, it produces machinery for steel plants, industrial heat recovery equipment.
Carmeuse, meanwhile, is playing a key role in reducing air pollution in Kazakhstan and is implementing a project to build a plant for the production of high-quality technological lime in the Karaganda region.
Orfit supplies Kazakhstan with  equipment used in the treatment of cancer. Based on innovative technologies, the company develops and produces the most precise and reliable thermoplastic materials for medical devices that improve patient treatment around the world.
Belgian companies have approximately 20 representative offices in the coungtry, the majority of which are exporting goods to Kazakhstan.
But  more Belgian companies, it was argued, should start investing in Kazakhstan as it will open a huge consumer market of roughly three billion people.
The Carmeuse Group, notable among the Belgian companies investing in Kazakhstan, plans to invest approximately $55 million to build a lime factory at the Saryopan mine in the Karaganda Region.
Founded in 1860, the company is among world's leading lime producers. The company has 90 factories in the United States, Canada, Italy, France, Slovakia, Hungary, Africa and Asia.Its annual turnover is €1.5 billion and the factory is expected to produce 300,000 tons of lime a year. Some 105 jobs will be created at the factory and the investments will generate $55 million.
This, the meeting heard, illustrates the potential of Kazakhstan in terms of business.
Kazakhstan is ranked 28th in the latest World Bank Group's Doing Business Report and, the meeting was told, Belgian companies should know that Kazakhstan's geographic location offers a far larger consumer market if one considers the markets of neighbouring countries such as China and India and the Eurasian Economic Union.
China is a neighbouring country to Kazakhstan and has a huge consumer market – 1.3 or 1.5 billion people - and due to the creation of the Eurasian Economic Union where there are no customs between Russia, Belarus, Armenia, Kyrgyzstan and Kazakhstan, setting up a factory in Kazakhstan means a business has a market of not 18 million people but 180 million.
Iranian Opposition rally in front of US embassy in Brussels to ask US and EU for a firm policy towards Iranian regime
Following the G7 summit in London, Brussels hosts the NATO summit with US and EU leaders. It is the first trip of President Joe Biden outside the US. Meanwhile, the Iran deal negotiations have started in Vienna and despite the international efforts to return Iran and the US to compliance with the JCPOA, Iranians regime showed no interest to return to its commitments under JCPOA context. In the recent IAEA report, important concerns have been raised that the Iranian regime failed to address.
The Iranian diaspora, supporters of the National Council of Resistance of Iran in Belgium, held a rally today (14 June) in front of the US embassy in Belgium. They held posters and banners with the picture of Maryam Rajavi, the leader of the Iranian opposition movement who has declared a non-nuclear Iran in her 10-point plan for the free and democratic Iran.
In their posters and slogans, Iranians asked the US and the EU to work harder to hold the mullahs' regime accountable for its human rights violations too. The protesters emphasized the need for a decisive policy by the US and the European countries to harness the mullahs' quest for a nuclear bomb, stepped up repression at home, and terrorist activities abroad.
According to the new IAEA report, despite the previous agreement, the clerical regime refuses to answer IAEA questions on four disputed sites and (to kill time) has postponed further talks until after its presidential election. According to the report, the regime's enriched uranium reserves have reached 16 times the limit allowed in the nuclear deal. The production of 2.4 kg of 60% enriched uranium and about 62.8kg of 20% enriched uranium are of grave concern.
IAEA Director-General Rafael Grossi said: Despite agreed terms, "After many months, Iran has not provided the necessary explanation for the presence of the nuclear material particles…We are facing a country that has an advanced and ambitious nuclear program and is enriching Uranium very close to weapons-grade level."
Grossi's remarks, also reported by Reuters today, reiterated: "The lack of clarification of the agency's questions regarding the accuracy and integrity of Iran's Safeguard Declaration will seriously affect the agency's ability to ensure the peaceful nature of Iran's nuclear program."
Maryam Rajavi (pictured), the President-elect of the National Council of Resistance of Iran (NCRI), said that the recent report of the International Atomic Energy Agency (IAEA) and the remarks by its Director-General once again show that to guarantee its survival, the clerical regime has not abandoned its atomic bomb project. It also shows that to buy time, the regime has continued its policy of secrecy to mislead the international community. At the same time, the regime is blackmailing its foreign interlocutors into lifting sanctions and ignoring its missile programs, export of terrorism, and criminal meddling in the region.
'America is back': Brussels upbeat on eve of Biden's Europe trip
US President Joe Biden's (pictured) trip to Europe this week will signal that multilateralism has survived the Trump years, and set the stage for transatlantic cooperation on challenges from China and Russia to climate change, the chairman of EU summits said, Reuters.
"America is back," European Council President Charles Michel said, using the motto Biden has adopted after former President Donald Trump pulled Washington out of several multilateral institutions and at one point threatened to walk out of NATO.
"It means that we have again a very strong partner to promote the multilateral approach ... a big difference with the Trump administration," Michel told a group of reporters in Brussels late on Monday.
Michel and the chief of the European Union's executive, Ursula von der Leyen, will meet Biden on 15 June. That will follow a summit of G7 rich democracies in Britain and a meeting of NATO nation leaders in Brussels on 14 June.
Michel said the idea that "multilateralism is back" was more than a slogan, it was a recognition that a global approach is needed to resolve issues, whether they be supply chains for COVID-19 vaccines or fairer corporate taxes in the digital age.
He said the three-day G7 meeting in Cornwall, England, could be an "important turning point" that shows serious political commitment behind governments' pledges to "build back better" following the economic devastation of the coronavirus pandemic.
It would also be an opportunity to address pressure felt by liberal democracies, said Michel, who expects a discussion at the G7 on the need for the West to take a more proactive approach to defending its values in the face of China's rise and Russian assertiveness.
Michel said he spoke for 90 minutes with Russian President Vladimir Putin on Monday, telling him Moscow must change its behaviour if it wants better relations with the 27-nation EU.
The EU and Russia disagree on a wide range of issues including human rights, Russia's intervention in Ukraine and Moscow's treatment of jailed Kremlin critic Alexei Navalny, and Michel said that relations between them had reached a low point.
Belgium investigates funding to Palestinian NGOs with links to terrorist group
Belgium's  investigation comes as a result of reports sent to the Belgian government by the Israeli government and reports by NGO Monitor which highlighted the close links between several Palestinian NGOs and the PFLP, which is designated by the EU as a terrorist organization, writes Yossi Lempkowicz.
Belgium's Minister of Development Meryame Kitir (pictured), has told a Committee of the Belgian federal parliament that an investigation is underway into whether Belgian development aid may have been used to finance terrorist activities of the Popular Front for the Liberation of Palestine (PFLP). 
Belgian MP Kathleen Depoorter, from the opposition N-VA party, asked Kitir, during a session of the external relations committee this week about the allegations concerning humanitarian funds being diverted to terror groups. She told the committee that a number of NGOs were alleged to have "regularly received funding from Western Europe, while operating at least in part as a cover for activities of the Popular Front".
Belgium's Directorate-General for Development Cooperation does not fund Palestinian NGOs directly, but rather via Belgian NGOs as third parties. One of the aims of this state funding was to "mitigate the influence of pro-Israel voices" and was approved in 2016 by then Belgian Minister of Development Cooperation (and now Prime Minister) Alexander De Croo.
Minister Kitir told the committee that in the past five years 6 million Euro was given to Belgian NGOs active in Palestinian territories, including Broederlijk Delen, Oxfam Solidarity, Viva Salud and Solidarité Socialiste (SolSoc), which are all politicised anti-Israeli NGOs who have partnered with Palestinian NGOs linked to the terrorist PFLP.
The Minister said the four Palestinian NGOs with active links to Belgium are:
HWC, a partner of the Belgian NGO Viva Salud
Bisan, a partner of Viva Salud
Defence for Children International – Palestine (DCI-P), a partner of Broederlijk Delen
Union of Agricultural Work Committees (UAWC), a partner of Oxfam through humanitarian funding.
The Minister explained that over the past five years €660,000 were donated through Viva Salud, €1.8 million went via Oxfam and €1.3m through Broederlijk Delen and that an investigation into the use of this money is now under way.
"I take these allegations very seriously. It goes without saying that under no circumstances can development cooperation funds be used for terrorist purposes or to encourage violent behaviour," she said.
Belgium's investigation comes as a result of reports sent to the Belgian government by the Israeli government and reports by NGO Monitor which highlighted the close links between several Palestinian NGOs and the PFLP, which is designated by the EU as a terrorist organisation.
UK Lawyers for Israel (UKLFI) also wrote to Kitir and to the Directorate-General for Development Cooperation and Humanitarian Aid in Jerusalem about one of the NGOs in question.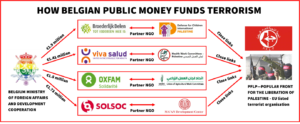 Belgian Friends of Israel (BFOI) has also briefed several Belgian MPs and alerted them to the situation, as well as running a Twitter campaign, calling out Kitir for continuing to fund the NGOs linked to terrorism.
MP Kathleen Depoorter pointed out that the reports of links between the Palestinian NGOs and the terrorist organization caused quite a stir in the government in the Netherlands and payments have now been suspended.
"I have asked the minister to inspect these reports and that she also submit her own investigation into the abuse to parliament. Everyone is innocent until proven otherwise and these Palestinian organizations deserve a fair chance, but we expect appropriate action if the facts are proven,'' said Depoorter.
''I am pleased that the matter is being investigated, but I also expect quick answers and appropriate steps from the minister," she added.
UKLFI was instrumental in campaigning for the Dutch government to suspend payments to the Union of Agricultural Work Committees (UAWC), a Palestinian NGO representing farmers, particularly after several of its top officers were indicted for and are now on trial for their participation in a PFLP terrorist attack which killed Rina Shnerb, a 17-year-old Israeli girl in August 2019.