The letter, which was sent to Facebook's board and senior management on Friday, follows mounting public pressure urging Facebook to effectively act against hate speech and dangerous disinformation.
The joint NGOs' call discloses that in recent remarks given by a senior Facebook representative,  the company "does not have a policy aimed at combating online antisemitism", sparking the coalition to urge Facebook to "join the ranks of the historians, advocates, activists, lawmakers, and leaders who compiled the IHRA working definition" and "take responsibility and move toward removing the scourge of antisemitism from today's most important online public square."
In July, Facebook COO Sheryl Sandberg, stated that "Facebook has to get better at finding and removing hateful content." The joint call by the global coalition of NGOs emphasizes  that antisemitism and effective policies to address it, must be part of Facebook's decision-making process to tackle hate speech.
Parallel to a surge in violent and murderous attacks against Jewish communities in recent years, online antisemitism has grown exponentially, with social media platforms serving as primary bullying arenas for the world's oldest hatred. The coalition letter cites studies that "Jews overwhelmingly report that online antisemitism is the most acute form of Jew-hatred they experience."
So far, nearly 40 countries have already endorsed or adopted the IHRA working definition in some official capacity, either through their membership in the IHRA or independently.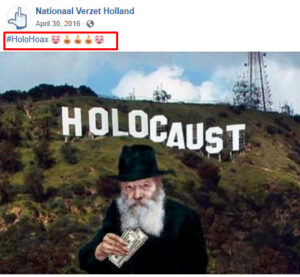 In the US, the definition of antisemitism is clear: The IHRA working definition has been adopted by the State Department, and a recent Presidential Executive Order on Combatting Anti-Semitism instructs the Department of Education to consider the IHRA definition when evaluating Title VI Civil Rights Act complaints of discrimination.
The signatories decision to focus on Facebook stemmed from the social media giant's recent announcement that it would be revising its policies on hate speech and disinformation. The coalition's decision was also based on a recognition that Facebook, as the leading social media platform, can set the standard for the social media industry in the fight against online hate. If, and when, Facebook adopts an effective and comprehensive policy to combat online hate speech and antisemitism, other social media platforms such as Twitter and TikTok are likely to follow suit.
Irwin Cotler, the Chair of Raoul Wallenberg Centre for Human Rights in Canada, one of the signatories to the letter, stated :"Antisemitism is the oldest, most enduring, most toxic, and most lethal of hatreds – the canary in the minefield of global evil. The IHRA definition is the strongest and most definitive normative framework we have for monitoring and combating antisemitism on a governmental, parliamentary, law-enforcement, and civil society level. Its adoption is as timely as it is necessary."
Rabbi Menachem Margolin, Chairman of the European Jewish Association, a signatory to the letter said: "With more people than China and over a third of the entire global population with accounts, Facebook is a world of its own. Its power and reach are immense. With such great power should come great responsibility. That social media platforms have become hotbeds of hate and antisemitism is undeniable. So too is a lack of responsible action from the company to tackle it. Signing up to the IHRA definition would be an important step and a visible commitment from Facebook that there is no place, in the virtual, just as the real world, for the virus of antisemitism to thrive unchecked and unfettered."
Rabbi Abraham Cooper, the Associate Dean and Director Global Social Action Agenda of the Simon Wiesenthal Center, one of the signatories to the letter, noted that "during the unprecedented Covid-19 pandemic and social dislocation following George Floyd's murder, extremists, including antisemites, leverage the unmatched marketing power of social media to mainstream hate, conspiracy theories and lone wolf terrorism." "Facebook must take the lead in the struggle to degrade the mainstreaming of antisemitism via social media. The IHRA definition of antisemitism provides Facebook with a straightforward definition of history's oldest hate."
Prof. Dina Porat, who is one of the authors of the IHRA working definition of antisemitism stressed that the definition has become "a yard stick, a declaration of values."
"Those who join its adoption are committed to the countering of antisemitism, and of other parallel evils. It is high time that the major social networks, Facebook first and foremost, use the IHRA definition as a criteria to identify antisemitic expressions, and uproot them immediately, thus exercising their responsibility to help create a world better than the one we are living in."