As floods hit western Europe, scientists say climate change hikes heavy rain
The extreme rainfall causing deadly flooding across western Germany and Belgium has been so alarming, many across Europe are asking if climate change is to blame, write Isla Binnie and Kate Abnett.
Scientists have long said that climate change will lead to heavier downpours. But determining its role in last week's relentless downpours will take at least several weeks to research, scientists said on Friday.
"Floods always happen, and they are like random events, like rolling the dice. But we've changed the odds on rolling the dice," said Ralf Toumi, a climate scientist at Imperial College London.
Since the rainfall began, water has burst riverbanks and cascaded through communities, toppling telephone towers and tearing down homes along its path. At least 157 people have been killed and hundreds more were missing as of Saturday (17 July).
The deluge shocked many. German Chancellor Angela Merkel called the floods a catastrophe, and vowed to support those affected through these "difficult and scary times."
In general the rising average global temperature – now about 1.2 degrees Celsius above the pre-industrial average – makes heavy rainfall more likely, according to scientists.
Warmer air holds more moisture, which means more water will be released eventually. More than 15 centimetres (6 inches) of rain soaked the German city of Cologne on Tuesday and Wednesday.
"When we have this heavy rainfall, then the atmosphere is almost like a sponge - you squeeze a sponge and the water flows out," said Johannes Quaas, professor of Theoretical Meteorology at Leipzig University.
A 1-degree rise in average global temperature increases the atmosphere's capacity to hold water by 7%, climate scientists have said, raising the chance of heavy rainfall events.
Other factors including local geography and air pressure systems also determine how specific areas are affected.
Geert Jan van Oldenborgh of World Weather Attribution, an international scientific network that analyses how climate change might have contributed to specific weather events, said he expected it could take weeks to determine a link between the rains and climate change.
"We're quick, but we're not that quick," said van Oldenborgh, a climate scientist at the Royal Netherlands Meteorological Institute.
Early observations suggest the rains might have been encouraged by a low-pressure system parked over western Europe for days, at it was blocked from moving on by high pressure to the east and north.
The floods follow just weeks after a record-breaking heatwave killed hundreds of people in Canada and the United States. Scientists have since said that extreme heat would have been "virtually impossible" without climate change, which had made such an event at least 150 times more likely to occur.
Europe also has been unusually hot. The Finnish capital of Helsinki, for example, just had its most scorching June on record since 1844.
This week's rains have smashed rainfall and river-level records in areas of western Europe.
Though researchers have been predicting weather disruption from climate change for decades, some say the speed with which these extremes are hitting has taken them by surprise.
"I am scared that it seems to be happening so quickly," said Hayley Fowler, a hydroclimatologist at Newcastle University in Britain, noting the "seriously record-breaking events all over the world, within weeks of each other."
Others said the rainfall was not such a surprise, but that the high death toll suggested areas lacked effective warning and evacuation systems to cope with extreme weather events.
"Rainfall doesn't equal disaster," said Imperial College London's Toumi. "What's really disturbing is the number of fatalities. ... It's a wake-up call."
The European Union this week proposed a raft of climate policies aimed at slashing the bloc's planet-warming emissions by 2030.
Slashing emissions is crucial for slowing climate change, said Stefan Rahmstorf, an oceanographer and climate scientist at the Potsdam Institute for Climate Impact Research.
"We have already a warmer world with melting ice, rising seas, more extreme weather events. That will be with us and with the next generations," Rahmstorf said. "But we can still prevent it from getting much worse."
German election: Hunger strikers want greater action on climate change
A group of young people are in the third week of a hunger strike in Berlin, claiming Germany's political parties aren't adequately addressing climate change ahead of this month's general election, writes Jenny Hill, Climate change.
The protestors - aged from 18 to 27 - have vowed to continue their hunger strike until the three leading candidates vying to replace Angela Merkel agree to meet them.
There's a subdued atmosphere among the little tents and hand-painted banners close to the German Chancellery in Berlin.
The six young people who've been on hunger strike for more than a fortnight say they're feeling weak.
At 27, Jacob Heinze is the oldest of the protesters here (organisers say four other people have joined their hunger strike away from the camp). He speaks slowly, clearly struggling to concentrate, but told the BBC that, while he's afraid of the consequences of his "indefinite hunger strike", his fear of climate change is greater.
"I already told my parents and my friends there's a chance I'm not going to see them again," he said.
"I'm doing this because our governments are failing to save the young generation from a future which is beyond imagination. Which is horrific. We're going to face war regarding resources like water, food and land and this is already a reality for many people in the world."
With less than two weeks to Germany's general election, Jacob and his fellow protesters are demanding that the three leading candidates to replace Angela Merkel as German Chancellor come and talk to them.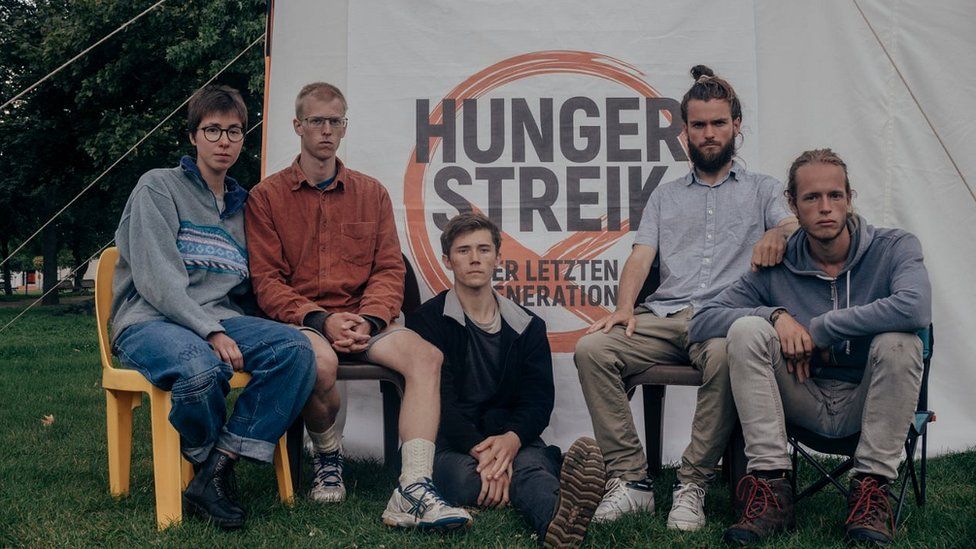 Climate change is, arguably, the biggest election issue here. German politicians have been influenced by the mass street protests of young climate change activists in recent years but this summer's deadly floods in the west of the country have also focused public concern.
Even so, say the hunger strikers, none of the main political parties - including the Green party - are proposing adequate measures to address the problem.
"None of their programmes is taking into account the actual scientific facts so far, especially not the danger of tipping points (major irreversible climatic changes) and the fact that we're very close to reaching them," says spokeswoman Hannah Luebbert.
She says the protesters want Germany to institute a so-called citizens' assembly - a group of people chosen to reflect every part of society - in order to find solutions.
"The climate crisis is also a political crisis and maybe a crisis of our democracy, because the set up with elections every four years and the great influence of lobbyists and economic interests within our parliaments often leads to the fact that economic interests are more important than our civilisation, our survival," Ms Luebbert says.
"Such citizens' assemblies aren't influenced by lobbyists and it's not politicians there who are afraid of not being re-elected, it's just people using their rationality."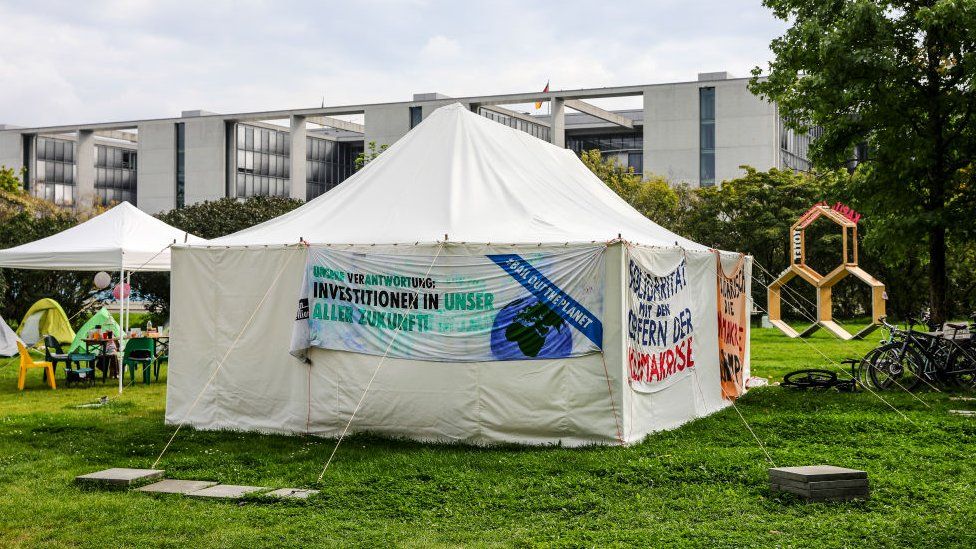 The hunger strikers say that only one of the Chancellor candidates - Annalena Baerbock of the Green party - has responded, but that she spoke to them by telephone rather than meeting their demand for a public conversation. She's appealed to them to end their hunger strike.
But the group - which is attracting increasing publicity - have vowed to continue, though they acknowledge the distress of their families and friends.
Even so, Jacob says, his mum supports him.
"She is scared. She's really, really scared but she understands why I take these steps. She's crying every day and calls every day and asks me isn't it better to stop? And we always come to the point where we say no, it's necessary to continue," he said.
"It's really necessary to wake people up all over the world."
The climate clock is ticking fast
Most agree that urgent action needs to be taken to tackle the growing crisis caused by climate change. That is why leaders from 196 countries are meeting in Glasgow in November for a major climate conference, called COP26. But adaptation to climate change also comes at a price, writes Nikolay Barekov, journalist and former MEP.
Increasing awareness about economic costs of not taking measures regarding adaptation to climate change is an important part of adaptation policies. The economic costs of the results of climate change and the costs of not taking measures will be high on the agenda in Glasgow.
There are four COP26 goals, the third of which is under the heading of "mobilising finance."
A COP26 spokesman told this website, "To deliver on our goals, developed countries must make good on their promise to mobilise at least $100bn in climate finance per year by 2020. "
That means, he said, that international financial institutions must play their part, adding, "we need work towards unleashing the trillions in private and public sector finance required to secure global net zero."
To achieve our climate goals, every company, every financial firm, every bank, insurer and investor will need to change, says the COP26 spokesman.
"Countries need to manage the increasing impacts of climate change on their citizens' lives and they need the funding to do it."

The scale and speed of the changes needed will require all forms of finance, including public finance for the development of infrastructure we need to transition to a greener and more climate-resilient economy, and private finance to fund technology and innovation, and to help turn the billions of public money into trillions of total climate investment.
Climate analysts warn that, if present trends continue, the cost of global warming will come with a price tag of almost $1.9 trillion annually, or 1.8 percent of U.S. GDP per year by 2100.
EUReporter has looked at what four EU nations, Bulgaria, Romania, Greece and Turkey are currently doing – and still need to do - to meet the cost of tackling climate change, in other words meeting the objectives of goal number three of COP26.
In the case of Bulgaria, it says it needs €33 billion to start meeting the main goals of the EU Green Deal over the next 10 years. Bulgaria could be among those most affected by the decarbonization of the EU economy. It accounts for 7% of the coal used in the EU and 8% of the jobs in the EU's coal sector. Around 8,800 people work in coal mining in Bulgaria, while those indirectly affected are estimated at over 94,000, with social costs at about €600 million per year.
Elsewhere, it has been estimated the more than €3 billion is needed in Bulgaria just to meet the minimum requirements of the EU's Urban Waste Water Treatment Directive.
For it to complete the Green Deal, Bulgaria will have to spend 5% of the country's GDP each year.
Moving to Romania, the outlook is just as serious.
According to a report published in February 2020 by Sandbag EU, Romania could almost be said to be set for success in the EU's race to a net-zero economy by 2050. Due to several changes in the structure of the economy following the post 1990 transition, Romania has seen massive drops in emissions, being the fourth EU Member State to reduce its emissions the fastest against 1990 , although it is not on a predictable and sustainable trajectory to net zero by 2050 yet.
However, the report says that Romania is the country in South East European or Central East European with some of the "best enabling conditions" for the energy transition: a diverse energy mix of which almost 50% of it is already greenhouse gas emissions free, the largest onshore wind farm in the EU and huge RES potential.
Report authors Suzana Carp and Raphael Hanoteaux add "Yet, Romania continues to be one of the lignite intensive countries in the EU, and despite its lower share of coal in the mix than the rest of region, the required investment for its energy transition are not to be underestimated."
This, they say, means that on the European scale, Romanians still pay more than their European counterparts for the costs of this carbon intensive energy system.
The country's  Minister for Energy has estimated the cost of transitioning the power sector by 2030 to be some €15-30bn and Romania, the report goes on to point out, still has the second lowest GDP in the Union and therefore the actual needs of investment for the energy transition are extremely high.
Looking to the future, the report suggests that one way of meeting the cost of decarbonisation up to 2030 in Romania could be through "a smart utilisation" of ETS (emission trading scheme) revenues.
One EU country already seriously impacted by climate change is Greece which is expected to incur even more adverse effects in the future. Acknowledging this fact, the Bank of Greece has been one of the first central banks worldwide to actively engage in the issue of climate change and invest significantly in climate research.
It says climate change appears to be a major threat, as the impact on almost all sectors of the national economy "is expected to be adverse."
Recognising the importance of economic policymaking, the Bank has released "The Economics of Climate Change", which provides a comprehensive, state-of-the-art review of the economics of climate change.
Yannis Stournaras, governor of the Bank of Greece, notes that Athens was the first city in Greece to develop an integrated Climate Action Plan for both mitigation and adaptation, following the example of other megacities around the world.
Michael Berkowitz, president of The Rockefeller Foundation's '100 Resilient Cities' said the Athens Plan is an important step in the city's "journey to build resilience in the face of the myriad challenges of the 21st Century".
"Climate adaptation is a crucial part of urban resilience, and we're excited to see this impressive step by the city and our partners. We look forward to working collaboratively to realize the goals of this plan."
Another country badly hit by global warming this year is Turkey and Erdogan Bayraktar, Minister of Environment and Urbanization, warns Turkey will be one of the most impacted Mediterranean countries not least because it is an agriculture country and its water resources are rapidly diminishing."
As tourism is important for its income, he says "it is an obligation for us to attach the required importance on adaptation studies".

According to climate experts, Turkey has been suffering from global warming since the 1970s but, since 1994, the average, highest day temperatures, even the highest night temperatures skyrocketed.

But its efforts to tackle the issues is seen as currently blighted by conflicting authorities in land use planning, conflicts between laws, the sustainability of ecosystems and insurance regimes that do not reflect sufficiently climate change risks.
Turkey's Adaptation Strategy and Action Plan calls for indirect financial policies for adaptation to climate change and supporting mechanisms.
The Plan cautions that "In Turkey, in order to adapt to the effects of the climate change, cost-benefit accountings regarding adaptation at national, regional or sectoral level are not conducted yet."
In recent years, a number of projects which aim at adaption to climate change have been supported by the United Nations and its subsidiaries so as to provide technical assistance and Turkey shares in the Clean Technology Fund25.
But the Plan says that, currently, funds allocated for scientific research and R&D activities in climate change adaptation activities "are not sufficient".
It says: "There hasn't been research for conducting climate change impact analyses of the climate dependent sectors (agriculture, industry, tourism etc.) and determination of adaptation costs.
"It is of great importance to build information on the cost and financing of climate chance adaption and to evaluate the road map concerning these issues more comprehensively."
Turkey is of the view that funds for adaptation should be provided on the basis of certain criteria, including vulnerability to the adverse effects of climate change.
The generation of "new, adequate, predictable and sustainable" financial resources should be based on the principles of "equity" and "common but differentiated responsibilities".
Turkey has also called for an international, multi-optional insurance mechanism to compensate for losses and damages that arise from climate induced extreme events such as droughts, floods, frost and landslides.
So, with the clock ticking fast in the run up to the global event in Scotland, it is clear each of these four countries still have work to do to tackle the huge costs involved in combating global warming.
Nikolay Barekov is a political journalist and TV presenter, former CEO of TV7 Bulgaria and a former MEP for Bulgaria and former deputy chairman of the ECR group in the European Parliament.
Can Bulgaria, Romania, Greece and Turkey achieve COP26 climate goals?
More than five years have passed since the adoption of the Paris Agreement, and there are only a few weeks to go until COP26. - the 26th UN climate change conference - which will take place in Glasgow from 1-12 November this year.  So here is a timely recap of the main aims of COP26 - writes Nikolay Barekov, journalist and former MEP.
The summit seeks to place attention on the wellbeing of the planet and of people – meaning cutting fossil fuels, reducing air pollution and improving health worldwide. There will be a focus on phasing out coal worldwide and stopping deforestation.
One of the four stated COP 26 goals is helping countries to adapt to protect communities and natural habitats
The climate, of course, is already changing and it will continue to change even as nations reduce emissions, sometimes with devastating effects.
The 2nd COP26 adaptation goal seeks to encourage countries affected by climate change to: protect and restore ecosystems; build defences, warning systems and resilient infrastructure and agriculture to avoid loss of homes, livelihoods and even lives
The brownfield versus greenfield question is, many believe, one that cannot be ignored if species' decline is to be prevented.
Rebecca Wrigley, a climate expert, said, "Rewilding fundamentally is about connectivity – ecological connectivity and economic connectivity, but also social and cultural connectivity."
I have looked at the efforts being made, and still to be made, in four EU countries, Bulgaria, Romania, Greece and Turkey.
In Bulgaria, the Centre for the Study of Democracy says that the fastest and most cost-effective way to reach full decarbonisation of the Bulgarian economy will be to transform the electricity supply mix. This, it adds, will require the immediate (or fastest possible) shutdown of lignite thermal power plants and the "unlocking of the country's huge renewable energy potential."
A spokesman said, "The following 3 to 7 years will be of crucial importance for the realisation of these opportunities and delivering the green economic transition in Bulgaria while simultaneously improving the well-being and quality of life of Bulgarian citizens."
In late June, the Council of the European Union gave the green light to the first European climate law, following the adoption of the legislation by the European Parliament a few days earlier. The law is designed to reduce greenhouse emissions by 55 per cent (compared to 1990 levels) by 2030 and reach climate neutrality in the next 30 years. 26 member states voted in favour of it at the Council of the EU. The only exception was Bulgaria.
Maria Simeonova, from the European Council on Foreign Relations, said, "Bulgaria's abstention on the European climate law not only isolates the country within the EU once again but also reveals two familiar shortfalls in Bulgarian diplomacy."
Turning to Romania, the country's Ministry of Foreign Affairs said the central European nation has "joined the fight against climate change and supports the implementation of the priorities in the field at regional, international and global level."
Even so, Romania ranks 30th in the Climate Change Performance Index (CCPI) 2021 developed by Germanwatch, NewClimate Institute, and Climate Action Network. Last year, Romania was at number 24.
The Institute says that, despite great potential in Romania's renewable energy sector, "weak support policies, combined with legislative inconsistencies, keep counteracting a clean energy transition."
It goes on to say that Romania "is not moving into the right direction" when it comes to a reduction of greenhouse gas emissions and energy use."
A summer of record-setting heat in southern Europe has set off devastating wildfires that have torn through forests, homes and destroyed vital infrastructure from Turkey to Greece.
The Mediterranean region is vulnerable to climate change particularly due to its sensitivity to drought and rising temperatures. Climate projections for the Mediterranean suggest that the region will become warmer and drier with more frequent and extreme weather events.
According to the average burnt area per fire, Greece has the most severe forest fire problems among the European Union countries.
Greece, like most EU countries, says it supports a carbon neutrality objective for 2050 and Greece's climate mitigation targets are largely shaped by EU targets and legislation. Under EU effort sharing, Greece is expected to reduce non-EU ETS emissions by 4% by 2020 and by 16% by 2030, compared to 2005 levels.
Greece can point to improvements to energy efficiency and vehicle fuel economy, increases in wind and solar power, biofuels from organic waste, setting a price on carbon - and protecting forests.
The blazing forest fires and record heat waves witnessed across the eastern Mediterranean this year have highlighted the region's vulnerability to the effects of global warming.
They have also been raising pressure on Turkey to change its climate policies.
Turkey is one of only six nations — including Iran, Iraq and Libya — that have yet to ratify the 2015 Paris climate agreement, which signals a nation's commitment to reduce carbon emissions.
Kemal Kılıçdaroglu, head of the leading opposition Republican People's Party (CHP), says the Turkish government lacks a master plan against forest fires and states, "We need to start preparing our country for new climate crises immediately."
However, Turkey, which has set a 21% emissions reduction target by 2030, has made significant progress in areas such as clean energy, energy efficiency, zero-waste and afforestation. The Turkish government has also pursued a number of pilot programmes seeking to improve climate adaptation and resiliency.
The leader of the United Nation's COP 26 conference in Glasgow at the end of the year has warned that failure to act now on climate change will result in "catastrophic" consequences for the world.
"I don't think there's any other word for it," warns Alok Sharma, the British minister in charge of COP26.
His warning to all participants in the conference, including Bulgaria, Romania, Greece and Turkey comes amid ever rising concern about climate change.
Emissions continued to rise in the last decade and, as a result, the earth is now about 1.1°C warmer than it was in the late warmest on record.
Nikolay Barekov is political journalist and presenter, former CEO of TV7 Bulgaria and a former MEP for Bulgaria and former deputy chairman of the ECR group in the European Parliament.