Tens of thousands march in Vienna against COVID measures before lockdown
Tens of thousands of people, many of them far-right supporters, protested in Vienna on Saturday (20 November) against coronavirus restrictions a day after Austria's government announced a new lockdown and said vaccines would be made compulsory next year, write Leonhard Foeger and Francois Murphy, Reuters.
Whistling, blowing horns and banging drums, crowds streamed into Heroes' Square in front of the Hofburg, the former imperial palace in central Vienna, in the early afternoon, one of several protest locations.
Many demonstrators waved Austrian flags and carried signs with slogans such as "no to vaccination", "enough is enough" or "down with the fascist dictatorship".
By mid-afternoon the crowds had swelled to roughly 35,000 people, according to the police, and were marching down Vienna's inner ring road before heading back towards the Hofburg.
A police spokesman said there had been fewer than 10 arrests, for breaches of coronavirus restrictions and the ban on Nazi symbols.
Roughly 66% of Austria's population is fully vaccinated against COVID-19, one of the lowest rates in western Europe. Many Austrians are sceptical about vaccines, a view encouraged by the far-right Freedom Party, the third-biggest in parliament.
With daily infections still setting records even after a lockdown was imposed on the unvaccinated this week, the government said on Friday (19 November) it would reintroduce a lockdown today (22 November)y and make it compulsory to get vaccinated as of 1 February.
The Freedom Party (FPO) and other vaccine-critical groups had already been planning a show of force in Vienna on Saturday before Friday's announcement, which prompted FPO leader Herbert Kickl to respond that "As of today, Austria is a dictatorship".
Kickl could not attend because he has caught COVID-19.
"We are not in favour of our government's measures," said one protester, who was part of a group wearing tin foil on their heads and brandishing toilet brushes. Like most protesters who spoke to the media, they declined to give their names, though the mood was festive.
Share this article:
COVID: Austria back in lockdown despite protests
Austria has returned to a full national lockdown as protests against new restrictions aimed at curbing COVID-19 infections spread across Europe, Coronavirus pandemic, writes the BBC.
From midnight Sunday (21 November), Austrians have been asked to work from home and non-essential shops have closed.
New restrictions have sparked protests throughout Europe. People clashed with police in the Netherlands and Belgium.
Infection rates have risen sharply on the continent, prompting warnings from the World Health Organization (WHO).
On Saturday (20 November) WHO regional director Dr Hans Kluge told the BBC that unless measures were tightened across Europe - such as on vaccines, wearing masks and with Covid passes for venues - half a million more deaths could be recorded by next spring.
Last week Austria became the first European country to make Covid vaccination a legal requirement, with the law due to take effect in February. Politicians in neighbouring Germany are debating similar measures as intensive care units there fill up and case numbers hit fresh records.
'A sledgehammer' to cut cases
This is Austria's fourth national lockdown since the pandemic began.
Authorities have ordered residents to stay home for all but essential reasons, including work, exercise and shopping for food.
Restaurants, bars, hairdressers, theatres and non-essential shops must all close their doors. These measures will continue until 12 December, although officials said they will be reassessed after 10 days.
Speaking on ORF TV on Sunday night, health minister Wolfgang Mueckstein said the government had to "react now".
"A lockdown, a relatively tough method, a sledgehammer, is the only option to reduce the numbers [of infections] here," he reportedly told the broadcaster.
Tens of thousands of people protested in the capital Vienna ahead of the lockdown. Brandishing national flags and banners reading "Freedom", protesters shouted "Resistance!" and booed the police.
Demonstrations and unrest
Several European countries saw angry protests against tougher restrictions turn violent over the weekend.
In Belgium's capital, Brussels, demonstrators clashed with police after tens of thousands of people marched through the city centre.
Protesters are mainly opposed to Covid passes that stop the unvaccinated from entering cafes, restaurants and entertainment venues.
The march started peacefully but some launched stones and fireworks at officers, who responded with tear gas and water cannon.
Across the border in the Netherlands, rioting took place for the third night in a row.
Local media report that police arrested 15 people in the southern city of Roosendaal where a primary school was set ablaze. An emergency order has also been imposed in the town of Enschede to keep people off the streets overnight.
On Saturday, people hurled fireworks at police and set fire to bicycles in The Hague. That followed what Rotterdam's mayor called "an orgy of violence" on Friday (19 November), when officers opened fire after protesters threw rocks and fireworks and set police cars ablaze.
Four people thought to have been hit by police bullets remain in hospital, authorities said on Sunday.
The Netherlands is under a three-week nationwide partial lockdown, forcing restaurants to shut earlier and banning fans at sports events.
Protesters are also angry at a ban on fireworks on New Year's Eve and government plans to introduce a vaccine pass for indoor venues.
Thousands of demonstrators were also on the streets in Croatia's capital Zagreb on Saturday, while in Denmark around 1,000 people protested in Copenhagen against government plans to order public sector workers to be vaccinated in order to enter workplaces.
The French Caribbean department of Guadeloupe, meanwhile, has been rocked by three days of looting and vandalism, over a mandatory vaccine order for health workers as well as high fuel prices.
Some 38 people were reportedly arrested and special police forces were sent to the island on Sunday in a bid to quell the unrest after protesters ransacked and torched shops.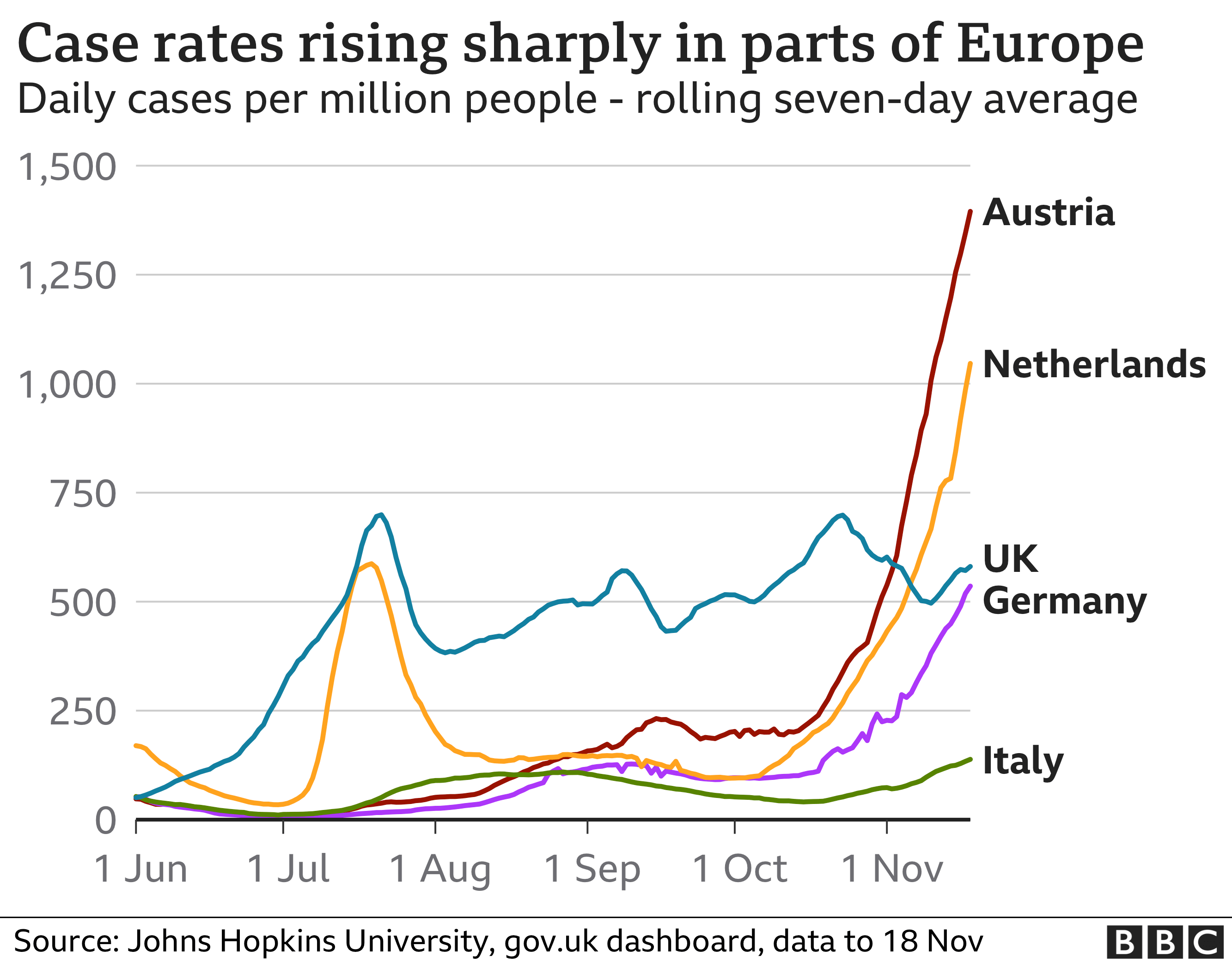 Share this article:
Forest fires in Austria: EU deploys immediate assistance
Austria activated the EU Civil Protection Mechanism (MPCU) on 29 October, asking for help to tackle the forest fires that had broken out in the Hirschwang region of Lower Austria. The EU Emergency Response Coordination Center mobilized 2 Canadair CL-415 firefighting aircraft, based in Italy. The planes, which are part of the EU fleet in transition rescEU, are already deployed in Austria.
In addition, Germany and Slovakia have offered firefighting helicopters through the MPCU. Both offers have been accepted and their deployment is pending. The Copernicus service was also activated to support firefighting operations in Austria. Map products are available here.
Welcoming the rapid deployment of rescEU assets, Crisis Management Commissioner Janez Lenarčič said: "With our swift response to Austria's request for assistance, the EU is once again demonstrating its full solidarity in the face of destructive forest fires. Support is ongoing. I would like to thank the member states which have already mobilized or offered to mobilize resources for fighting fires. Our hearts go out to those affected, the firefighters and other first responders. We are ready to provide further assistance."
Share this article:
Central and Eastern Europe rocked by political turmoil
The region has seen some exciting yet far from benevolent turn of events, writes Cristian Gherasim, Bucharest correspondent.
Austria has seen Chancellor Sebastian Kurz resigning following corruption accusations. The announcement came days after prosecutors began a criminal investigation into allegations he used public money to pay off pollsters and journalists for favorable coverage.
The allegations relate to the period between 2016 and 2018, when funds from the Ministry of Finance were allegedly used to manipulate opinion polls in favor of his party. At that time, Sebastian Kurz was not yet chancellor, but he was part of the Government. According to prosecutors, a media group allegedly "received money" in exchange for these popularity polls. That group referred to is, according to the Austrian press, the tabloid Österreich.
One of Europe's youngest leaders, Kurz became the leader of the Austrian Conservative Party in May 2017 and led his party to victory in the elections later that year, becoming, at the age of 31, one of the youngest democratically elected heads of government. He has been replaced by Alexander Schallenberg as Austria's Chancellor.
In neighboring Czech Republic, Prime Minister Babis surprisingly loses the elections in front of a progressive, pro-European coalition. One of the alliance's parties is the Pirate Party, founded in 2009. Babis appeared this week in the Pandora Papers, with 20 million euros put in undeclared offshore to buy a castle in France. For the first time in 30 years, the Czech Communist Party will not be in parliament, failing to get the required 5%. The Communists supported Babis' government.
In Poland tens of thousands took to the streets in support of European Union membership after a court ruling that parts of EU law are incompatible with the constitution raised concerns the country could eventually leave the bloc.
Polish Constitutional Court ruled that some articles in EU treaties are incompatible with the country's constitution, calling into question a key principle of European integration and fueling an anti-EU rhetoric from the ruling party.
Hungary and Poland, countries led by conservative governments, have repeatedly been criticized by Brussels for violating "rule of law" and "European values".
In the south-eastern part of the continent, in Romania, the liberal government was ousted following a no-confidence vote overwhelmingly endorsed by parliament. The cabinet, led by Florin Cîţu, faced the largest coalition ever created against an incumbent government. The no-confidence motion needed 234 votes to pass, but got 281 - the largest number of votes ever recorded in Romania for such a motion. Another first for the ousted cabinet was also that two motions of no confidence were simultaneously tabled against it.
The political crises which began over a month ago, after the reformist USR party backed down from the centre-right coalition, saw not only the Social Democrat Party which tabled the motion and populist Alliance for the Union of Romanians opposition parties backing the vote, but also the Save Romania Union party (USR), a former governing coalition partner, vouching to oust Cîţu.
In post-communist Romania, over 40 motions of no confidence were tabled, 6 were adopted, making Cîțu's cabinet the sixth dismissed following a vote of no confidence.
According to the Romanian constitution, the president will now consult parliamentary parties on appointing a new prime minister. Meanwhile, Cîţu will remain as interim PM for the next 45 days.
Dacian Ciolos, a former PM himself, was designated by president Iohannis to form a new government. The designated prime minister will request, within 10 days from the appointment, a parliamentary vote of confidence. If he fails and if two consecutive prime ministerial proposals are rejected the constitution says that the president may dissolve parliament and trigger early elections. While Cîţu's National Liberal Party hopes to get the now interim PM reappointed and back into his old job, the opposition Social Democrats want early elections.
Just 10 days before being designated to form a new government Cioloș said he was not interested in the job: "I was prime minister, but now I'm not concerned about this position. I have responsibilities in the European Parliament, I have a mandate there".
But regardless of who the next PM will be, Romania's Covid crisis is only getting worse.
Further down south, Bulgaria has been in crisis mode since this summer's legislative elections, leaving it without a regular government for months. After dissolving the parliament, President Rumen Radev has called Bulgaria's third parliamentary election this year for Nov. 14 after inconclusive polls in April and July failed to produce a government.
Share this article: