Huawei launches first-of-its-kind European production plant
Huawei announces the official launch of the Huawei European Wireless Factory, which will be located in the Brumath Business Parc in the Grand Est region of France.
Huawei executive Meng Wanzhou freed by Canada arrives home in China
A Chinese tech executive released after being detained in Canada for nearly three years has returned home writes BBC News.
Huawei's Meng Wanzhou flew to Shenzhen on Saturday evening, hours after two Canadians freed by China had gone back.
In 2018 China accused Michael Spavor and Michael Kovrig of espionage, denying detaining them was in retaliation for Ms Meng's arrest.
The apparent swap brings to an end a damaging diplomatic row between Beijing and the West.
Mr Spavor and Mr Kovrig arrived in the western city of Calgary just before 06:00 local time (12:00 GMT) and were met by Prime Minister Justin Trudeau.
A couple of hours later Ms Meng touched down in Shenzhen, China, to applauds from a crowd gathered at the airport.
"I'm finally back home!," said Ms Meng, according to the Global Times, a Chinese tabloid backed by the ruling Communist Party.
"Where there is a Chinese flag, there is a beacon of faith," she added. "If faith has a colour, it must be China red."
Ms Meng was wanted on charges in the US but was released after a deal between Canada and US prosecutors.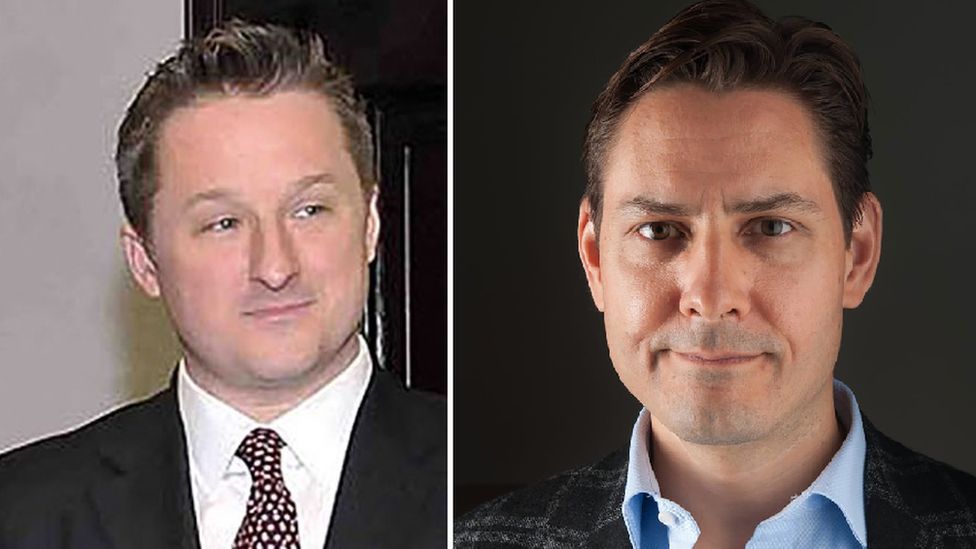 Before her release, Ms Meng admitted misleading US investigators about Huawei's business dealings in Iran.
She spent three years under house arrest in Canada while fighting extradition to the United States.
China had earlier insisted that her case was not related to the sudden arrest of Mr Kovrig and Mr Spavor in 2018. But China's the decision to free them after Ms Meng's release appears to show that pretence has been abandoned, reports Robin Brant, the BBC's Shanghai correspondent.
Mr Kovrig and Mr Spavor have maintained their innocence throughout, and critics have accused China of using them as political bargaining chips.
After they arrived in Calgary, Canadian Prime Minister Justin Trudeau shared images on Twitter of him welcoming the pair.
"You've shown incredible strength, resilience, and perseverance," he wrote in the tweet. "Know that Canadians across the country will continue to be here for you, just as they have been."
Mr Kovrig is a former diplomat employed by International Crisis Group, a Brussels-based think tank.
Mr Spavor is a founding member of an organization that facilitates international business and cultural ties with North Korea.
In August this year a Chinese court sentenced Mr Spavor to 11 years in prison for espionage. There had been no decision in Mr Kovrig's case.
On Friday, a Canadian judge ordered the release of Ms Meng, Huawei's chief financial officer, after she reached a deal with US prosecutors over fraud charges against her.
Huawei said in a statement that it would continue to defend itself in court, and looked forward to seeing Ms Meng reunited with her family.https://emp.bbc.co.uk/emp/SMPj/2.43.9/iframe.htmlmedia caption"My life has been turned upside down," Ms Meng tells reporters after being freed from Canadian detention
Before her arrest, US prosecutors accused Ms Meng of fraud, alleging that she misled banks into processing transactions for Huawei that broke US sanctions against Iran.
As part of a deferred prosecution agreement, Ms Meng admitted to misleading HSBC about Huawei's relationship with Skycom, a Hong-Kong based company that operated in Iran.
China's foreign ministry said the charges against her had been "fabricated" to suppress the country's high-tech industries, according to state media.
But in a statement the US justice department insisted it would continue to prepare for trial against Huawei, which is still on a trade blacklist.
Ms Meng is the elder daughter of Ren Zhengfei, who set up Huawei in 1987. He also served in the Chinese army for nine years, until 1983, and is a member of the Chinese Communist Party.
Huawei itself is now the largest telecom equipment maker in the world. It has faced accusations that Chinese authorities could use its equipment for espionage - allegations it denies.
In 2019, the US imposed sanctions on Huawei and placed it on an export blacklist, cutting it off from key technologies.
The UK, Sweden, Australia and Japan have also banned Huawei, while other countries including France and India have adopted measures stopping short of an outright ban.
More than 100 jobs to be created by Huawei in Ireland
Huawei today (21 February) announced it would create a further 110 new jobs in Ireland by the end of 2022, bringing to at least 310 the total of new jobs it will have added over a three year period from 2019 to 2022 – more than doubling its workforce in that time. Huawei will invest €80 million in Irish research and development (R&D) over the next two years to support its growing business in Ireland.
Over the past 15 months, Huawei has created 200 jobs in Ireland, as well as investing €60 million in R&D. In the next two years, Huawei will invest a further €80 million in R&D in Ireland, doubling its commitment from 2019.*
The new jobs will meet sustained growing demand for Huawei's products and services across its sales, R&D, IT development and in its consumer division. The company has a strong focus on helping its business partners roll out 5G across Ireland in coming years. The jobs will be mainly based in its Dublin headquarters and across operations in Cork and Athlone.
The investment is supported by the Irish government through IDA Ireland.
Commenting on the announcement, Tánaiste and Enterprise, Trade and Employment Minister Leo Varadkar said: "The news that Huawei will create 110 new jobs is most welcome. The company is creating new jobs at a time when we really need them with so many people out of work. Despite all the current uncertainty and challenges, Ireland continues to attract top class investment from global technology companies. These 110 jobs, which come in addition to the 200 created over the past 15 months, will be accompanied by an €80m investment in Irish research and development. I wish the company the best of luck with this expansion."
Confirming the latest recruitment plans Huawei Ireland Chief Executive Tony Yangxu said: "We are delighted to see such growth in our workforce and business. Huawei has a long-term commitment to Ireland, where since 2004 we have built a world-class team servicing our ever-growing consumer and enterprise customer bases. Today's announcement is testament to the strength of those, as well as the ongoing success of our research and development programme, to which we committed €70 million in 2019. Our story in Ireland is one of mutual success, as we assist with the national digital transformation and Ireland continues to grow its international reputation as a pro-business environment with great talent available."
IDA Ireland CEO Martin Shanahan added: "This is a welcome investment by Huawei which will add substantially to Ireland's technology and R&D ecosystem. The company's continued commitment to significant investments in R&D and creating high value jobs demonstrates Huawei's confidence in Ireland and the talent pool available here."
Huawei has a broad range of activities in Ireland, where it serves all of the major telecommunications providers with products and business solutions.
Huawei's R&D operations in Ireland work closely with Science Foundation Ireland research centres, including Adapt, Connect and Lero, while also having partnerships with DCU, Trinity, UCD, UCC and UL. Its R&D efforts in Ireland focus on the areas of video, cloud computing, artificial intelligence (AI), site-reliability engineering and 5G consumer use cases.
In 2020, Huawei Ireland began supporting Ocean Research & Conservation Ireland through its global digital inclusion TECH4ALL programme. Huawei Ireland is providing a research grant and technological support to ORC Ireland as it conducts the first real-time study of the impact of marine traffic on whales in Irish waters. Huawei Ireland also launched the 'TECH4HER' Scholarship Programme in partnership with Technological University Dublin (TU Dublin) and University College Dublin (UCD), aimed at supporting female students studying STEM subjects.
Huawei Ireland was recently announced as a 2021 regional Top Employer by the Top Employers Institute. Each year, Top Employers Institute certifies organisations who are focused on putting their people first through their exceptional HR policies. The Top Employers Institute programme certifies organisations based on the participation and results of their HR Best Practices Survey. This survey covers 6 HR domains consisting of 20 topics such as People Strategy, Work Environment, Talent Acquisition, Learning, Well-being and Diversity & Inclusion and more.
About Huawei Ireland
Huawei is a leading global provider of information and communications technology (ICT) infrastructure and smart devices. With integrated solutions across four key domains – telecom networks, IT, smart devices, and cloud services – Huawei is committed to bringing digital to every person, home and organisation for a fully connected, intelligent world. Huawei employs over 194,000 people in 170 countries across the globe.
Huawei has been in Ireland since 2004, with its business now serving over 3 million people and supporting over 860 direct and indirect jobs.
Huawei's business activities in Ireland continue to thrive. Intelligent connectivity with fibre and 5G technologies has begun and will empower the market of mobile networks and broadband networks with AI and IOT technologies. Huawei Ireland is working very closely with local operators and partners, and is focused on nurturing future talent and highly-skilled professionals in these areas across the country.
Huawei works with a number of Irish third-level institutions, including Trinity College Dublin, Dublin City University, University of Limerick, University College Dublin, and University College Cork, funding vital Irish research into video, artificial intelligence and cloud computing. The company also partners key Science Foundation Ireland centres such as Connect, Insight, Adapt and Lero.
Huawei Ireland is supporting Ocean Research & Conservation Ireland, a "for-impact" non-profit organisation based in Cork, to conduct Ireland's first real-time study to assess the impact of marine traffic on whales in Irish waters. The new study will see the deployment of acoustic monitoring equipment in the Celtic Sea at locations where sightings of whales and other wildlife have been recorded. The equipment will be able to listen for movements of whales, and with the help of machine learning models to enhance data analysis, for the first time provide near real-time detection.
In 2020, Huawei Ireland launched the 'TECH4HER' Scholarship Programme in partnership with Technological University Dublin (TU Dublin) and University College Dublin (UCD), aimed at supporting female students studying STEM subjects. The scholarships are available at both undergraduate and postgraduate level. In addition to financial support, TECH4HER also offers the opportunity to engage in a mentoring programme with representatives from Huawei.
Sweden begins 5G auction despite Huawei protests
Sweden's communications regulator began its delayed auction of 5G-suitable frequencies, a move Huawei warned last week would have serious consequences as the vendor still had outstanding legal action contesting its ban.
In a statement, the Swedish Post and Telecom Authority (PTS) said its auction for licences in the 3.5GHz band started today (19 January) with a 2.3GHz sale to follow. It is auctioning 320MHz of 3.5GHz spectrum and 80MHz of 2.3GHz.
The start of the sale comes days after Huawei lost its latest appeal related to the imposition of auction conditions which ban bidding operators using equipment from it or rival ZTE.
Huawei has two other pieces of legal action on the issue outstanding.
In a comment to Mobile World Live issued on 15 January following the failure of its latest appeal, a Huawei representative confirmed its "two main" court cases on the issue were not expected to be ruled on until the end of April.
The company added: "It leads to serious consequences to hold the 5G auction while the conditions for PTS decisions are subject to legal review."
Sweden's spectrum auction was originally meant to take place in November 2020, but was postponed after a court suspended the application some of the divisive terms of sale pending a hearing into them.
PTS' terms were subsequently cleared by the court of appeal, opening the way for the auction to proceeded.