Human Rights Watch accuses Israel of 'apartheid' crimes against Palestinians
An international rights watchdog accused Israel on Tuesday (27 April) of pursuing policies of apartheid and persecution against Palestinians - and against its own Arab minority - that amount to crimes against humanity, writes Rami Ayyub.
New York-based Human Rights Watch published a 213-page report which, it said, was not aimed at comparing Israel with apartheid-era South Africa but rather at assessing "whether specific acts and policies" constitute apartheid as defined under international law.
Israel's foreign ministry rejected the claims as "both preposterous and false" and accused HRW of harbouring an "anti-Israeli agenda," saying the group had sought "for years to promote boycotts against Israel".
Just weeks ago the International Criminal Court (ICC) announced it would investigate war crimes in the Israeli-occupied West Bank and Gaza Strip, with the Israeli military and armed Palestinian groups such as Hamas named as possible perpetrators.
In its report, HRW pointed to Israeli restrictions on Palestinian movement and seizure of Palestinian-owned land for Jewish settlement in territory occupied in the 1967 Middle East war as examples of policies it said were crimes of apartheid and persecution.
"Across Israel and the (Palestinian territories), Israeli authorities have pursued an intent to maintain domination over Palestinians by exercising control over land and demographics for the benefit of Jewish Israelis," the report says.
"On this basis, the report concludes that Israeli officials have committed the crimes against humanity of apartheid and persecution," as defined under the 1973 Apartheid Convention and the 1998 Rome Statute.
Israeli officials fiercely object to apartheid accusations.
"The purpose of this spurious report is in no way related to human rights, but to an ongoing attempt by HRW to undermine the State of Israel's right to exist as the nation state of the Jewish people," Strategic Affairs Minister Michael Biton said.
Israel's foreign ministry said HRW's Israel programme was being "led by a known (BDS) supporter, with no connection to facts or reality on the ground," referring to the pro-Palestinian Boycott, Divestment and Sanctions movement.
The report's author, HRW Israel and Palestine Director Omar Shakir, was expelled from Israel in 2019 over accusations he backs BDS.
Shakir denies that his HRW work and pro-Palestinian statements he made before being appointed to the HRW post in 2016 constitute active support for BDS.
Shakir told Reuters that HRW would send its report to the ICC prosecutor's office, "as we normally do when we reach conclusions about the commissions of crimes that fall within the Court's jurisdiction."
He said HRW also sent the ICC its 2018 report about possible crimes against humanity by President Mahmoud Abbas's Palestinian Authority and the Islamist militant Hamas.
The International Criminal Court's prosecutor said in March that she would formally investigate war crimes in the Palestinian territories, after ICC judges ruled that the court had jurisdiction there.
The Palestinian Authority welcomed the ruling but Israeli Prime Minister Benjamin Netanyahu denounced it as anti-Semitism and said Israel does not recognise the court's authority.
HRW called on the ICC prosecutor to "investigate and prosecute individuals credibly implicated" in apartheid and persecution.
HRW also said Israel's 2018 "nation state" law - declaring that only Jews have the right of self-determination in the country - "provides a legal basis to pursue policies that favour Jewish Israelis to the detriment" of the country's 21% Arab minority, who regularly complain of discrimination.
Palestinians seek the West Bank, Gaza and East Jerusalem, areas captured in the 1967 conflict, for a future state.
Under interim peace deals with Israel, Palestinians have limited self-rule in the West Bank; Hamas runs Gaza.
Taking Williamson's lead, the UK can spearhead the global fight against antisemitism
Following two weeks of unabated and frankly terrifying attacks on Jewish people, Jewish buildings and indeed Jewish identity in the UK, last week Education Secretary Gavin Williamson (pictured) offered hope. Rather than simply condemning the huge spike in Jew-hatred, Williamson has gone a step further than perhaps any other leader by identifying a key remedy – Addressing antisemitism head on in schools. If Williamson's justified concerns are translated into action, it could signal the UK taking a leading role in the European and indeed the global fight against the world's 'oldest hatred', writes Robert Singer.
Thankfully, leaders have made clear that there is no place in the UK for Jew-hatred. Prime Minister Boris Johnson and London Mayor Sadiq Khan were among those across the political spectrum to unequivocally condemn the 600 per cent rise in antisemitic incidents, which have seen a rabbi physically assaulted, calls for "Jewish blood" and a sickening pledge to rape Jewish women.
Sadly, this worrying trend is far from confined to the UK. Time and again, in cities across the world, Jews have been targeted under the feeble pretense of criticizing Israel. In some countries, such as Germany and France, governments have taken short-term measures to alleviate the threat, banning demonstrations where necessary and using legislation to prosecute racists.
Williamson though, is demonstrating a more nuanced, long-term approach. In a letter to headteachers and school leaders, he made clear that schools are not only expected to deal properly with an "atmosphere of intimidation" for Jewish students and teachers. Crucially, Williamson also said that schools also have a responsibility to educate in an impartial and balanced fashion, rejecting materials or organizations that "publicly reject Israel's right to exist". In other words, Williamson understands that the disease of antisemitism flourishes in an educational void. The antisemitic violence and chaos on Britain's streets was born out of ignorance, a lack of knowledge which can be remedied in the classroom.
He is perhaps the first leader not only in the UK, but internationally, to recognize this and call for a revised educational approach to combat antisemitism. In over a decade of work at World ORT, one of the world's largest educational networks operating in five continents, I have witnessed first-hand how quality, balanced education can change lives and indeed the world. While legislation and law-enforcement are the immediate tools to keep Jewish communities safe, only education can guarantee their future.
Therefore, Gavin Williamson and the government he represents must not lose momentum. The UK has always played a unique role in fighting Jew-hatred. The country proudly stood almost alone at one point in the fight against Nazism. British soldiers were among the first to eventually liberate the concentration camps and uncover the horrifying depths to which antisemitism can descend. Should Williamson's words be turned into action, then the UK can again become a standard-bearer in the fight against antisemitism.
To this end, the following three-point action plan for UK education can provide an effective framework. Firstly, headteachers and school staff must be able to define antisemitism. They must recognize what it is they are guarding against. Time and again in recent weeks, naked antisemitism has been dressed up as anti-Zionism. It is crucial to be able to distinguish where criticism of Israel ends and antisemitism begins. Fortunately, the globally recognized International Holocaust Remembrance Alliance working definition of antisemitism makes clear that "Denying the Jewish people their right to self-determination" is antisemitic.
Secondly, headteachers and teaching staff must be equipped to identify how antisemitism manifests itself in the classroom, in the playground and among pupils on social media. They must also be given the tools to respond appropriately.
Thirdly, educating about contemporary antisemitism must become part of the school curriculum. While ongoing, impressive efforts in Holocaust education are crucial, young people must understand that antisemitism isn't confined to history. As recent events have shown, it is very much alive and kicking. Quite rightly, hundreds of UK schools have adapted their curricula accordingly in the wake of the Black Lives Matter campaign. Tragically, the time has come for schools to teach that Jewish rights are equal too.
Quite simply, Jewish communities should never have to live in fear. Like so many others, Jews in the UK and across Europe are worried. Action is needed now, which can not only alleviate immediate concerns, but which will make clear that antisemitism won't rear its ugly head again in the future. Education is the key to making this happen. Turning Gavin Williamson's sentiments into concrete educational action would be a powerful statement that the UK is prepared to lead Europe and the world in finally consigning the 'oldest hatred' to history.
Robert Singer is a Senior Advisor of the Combat Antisemitism Movement, chairman of the Board of Trustees of World ORT and former CEO of the World Jewish Congress.
Belgium investigates funding to Palestinian NGOs with links to terrorist group
Belgium's  investigation comes as a result of reports sent to the Belgian government by the Israeli government and reports by NGO Monitor which highlighted the close links between several Palestinian NGOs and the PFLP, which is designated by the EU as a terrorist organization, writes Yossi Lempkowicz.
Belgium's Minister of Development Meryame Kitir (pictured), has told a Committee of the Belgian federal parliament that an investigation is underway into whether Belgian development aid may have been used to finance terrorist activities of the Popular Front for the Liberation of Palestine (PFLP). 
Belgian MP Kathleen Depoorter, from the opposition N-VA party, asked Kitir, during a session of the external relations committee this week about the allegations concerning humanitarian funds being diverted to terror groups. She told the committee that a number of NGOs were alleged to have "regularly received funding from Western Europe, while operating at least in part as a cover for activities of the Popular Front".
Belgium's Directorate-General for Development Cooperation does not fund Palestinian NGOs directly, but rather via Belgian NGOs as third parties. One of the aims of this state funding was to "mitigate the influence of pro-Israel voices" and was approved in 2016 by then Belgian Minister of Development Cooperation (and now Prime Minister) Alexander De Croo.
Minister Kitir told the committee that in the past five years 6 million Euro was given to Belgian NGOs active in Palestinian territories, including Broederlijk Delen, Oxfam Solidarity, Viva Salud and Solidarité Socialiste (SolSoc), which are all politicised anti-Israeli NGOs who have partnered with Palestinian NGOs linked to the terrorist PFLP.
The Minister said the four Palestinian NGOs with active links to Belgium are:
HWC, a partner of the Belgian NGO Viva Salud
Bisan, a partner of Viva Salud
Defence for Children International – Palestine (DCI-P), a partner of Broederlijk Delen
Union of Agricultural Work Committees (UAWC), a partner of Oxfam through humanitarian funding.
The Minister explained that over the past five years €660,000 were donated through Viva Salud, €1.8 million went via Oxfam and €1.3m through Broederlijk Delen and that an investigation into the use of this money is now under way.
"I take these allegations very seriously. It goes without saying that under no circumstances can development cooperation funds be used for terrorist purposes or to encourage violent behaviour," she said.
Belgium's investigation comes as a result of reports sent to the Belgian government by the Israeli government and reports by NGO Monitor which highlighted the close links between several Palestinian NGOs and the PFLP, which is designated by the EU as a terrorist organisation.
UK Lawyers for Israel (UKLFI) also wrote to Kitir and to the Directorate-General for Development Cooperation and Humanitarian Aid in Jerusalem about one of the NGOs in question.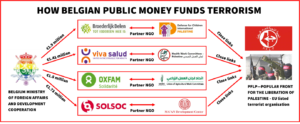 Belgian Friends of Israel (BFOI) has also briefed several Belgian MPs and alerted them to the situation, as well as running a Twitter campaign, calling out Kitir for continuing to fund the NGOs linked to terrorism.
MP Kathleen Depoorter pointed out that the reports of links between the Palestinian NGOs and the terrorist organization caused quite a stir in the government in the Netherlands and payments have now been suspended.
"I have asked the minister to inspect these reports and that she also submit her own investigation into the abuse to parliament. Everyone is innocent until proven otherwise and these Palestinian organizations deserve a fair chance, but we expect appropriate action if the facts are proven,'' said Depoorter.
''I am pleased that the matter is being investigated, but I also expect quick answers and appropriate steps from the minister," she added.
UKLFI was instrumental in campaigning for the Dutch government to suspend payments to the Union of Agricultural Work Committees (UAWC), a Palestinian NGO representing farmers, particularly after several of its top officers were indicted for and are now on trial for their participation in a PFLP terrorist attack which killed Rina Shnerb, a 17-year-old Israeli girl in August 2019.
Israel sees probable link between Pfizer vaccine and myocarditis cases
Israel's Health Ministry said on Tuesday (1 June) it had found the small number of heart inflammation cases observed mainly in young men who received Pfizer's (PFE.N) COVID-19 vaccine in Israel were likely linked to their vaccination, writes Jeffrey Heller.
Pfizer has said it has not observed a higher rate of the condition, known as myocarditis, than would normally be expected in the general population.
In Israel, 275 cases of myocarditis were reported between December 2020 and May 2021 among more than 5 million vaccinated people, the ministry said in disclosing the findings of a study it commissioned to examine the matter.
Most patients who experienced heart inflammation spent no more than four days in the hospital and 95% of the cases were classified as mild, according to the study, which the ministry said was conducted by three teams of experts.
The study found "there is a probable link between receiving the second dose (of Pfizer) vaccine and the appearance of myocarditis among men aged 16 to 30," it said in a statement. According to the findings, such a link was observed more among men aged 16 to 19 than in other age groups.
The European Medicines Agency (EMA) said last week that heart inflammation following vaccination with Comirnaty had been no cause for concern as they continued to happen at a rate that typically affected the general population. It added at the time that young men were particularly prone to the condition. Read more
A U.S. Centers for Disease Control and Prevention advisory group last month recommended further study of the possibility of a link between myocarditis and mRNA vaccines, which include those from Pfizer and Moderna Inc.
CDC monitoring systems had not found more cases than would be expected in the population, but the advisory group said in a statement that members felt healthcare providers should be made aware of reports of a "potential adverse event." Read more.
Pfizer said in a statement that it is aware of the Israeli observations of myocarditis and said no causal link to its vaccine has been established.
Adverse events are thoroughly reviewed and Pfizer meets regularly with the Vaccine Safety Department of the Israeli Ministry of Health to review data, it said.
Israel had held off making its 12- to 15-year-old population eligible for the vaccines, pending the Health Ministry report. In parallel to publishing those findings, a ministry committee approved vaccinating the adolescents, a senior official said.
"The committee gave the green light for vaccinating 12- to 15-year-olds, and this will be possible as of next week," Nachman Ash, Israel's pandemic-response coordinator, told Radio 103 FM. "The efficacy of the vaccine outweighs the risk."
Israel has been a world leader in its vaccination rollout.
With COVID-19 infections down to just a handful a day and total active cases at just 340 across the country, the economy has fully opened, though restrictions remain on incoming tourism.
About 55% of Israel's population has already been vaccinated. As of Tuesday, restrictions on social distancing and the need for special green vaccination passes to enter certain restaurants and venues were scrapped.