North Korea tests first 'strategic' cruise missile with possible nuclear capability
North Korea carried out successful tests of a new long-range cruise missile over the weekend, state media said on Monday (13 September), seen by analysts as possibly the country's first such weapon with a nuclear capability, write Hyonhee Shin and Josh Smith.
The missiles are "a strategic weapon of great significance" and flew 1,500 km (930 miles) before hitting their targets and falling into the country's territorial waters during the tests on Saturday and Sunday, KCNA said.
The latest test highlighted steady progress in Pyongyang's weapons programme amid a gridlock over talks aimed at dismantling the North's nuclear and ballistic missile programmes in return for US sanctions relief. The talks have stalled since 2019.
North Korea's cruise missiles usually generate less interest than ballistic missiles because they are not explicitly banned under UN Nations Security Council Resolutions.
"This would be the first cruise missile in North Korea to be explicitly designated a 'strategic' role," said Ankit Panda, a senior fellow at the US-based Carnegie Endowment for International Peace. "This is a common euphemism for nuclear-capable system."
It is unclear whether North Korea has mastered the technology needed to build warheads small enough to be carried on a cruise missile, but leader Kim Jong Un said earlier this year that developing smaller bombs is a top goal.
The two Koreas have been locked in an accelerating arms race that analysts fear will leave the region littered with powerful new missiles.
South Korea's military did not disclose whether it had detected the North's latest tests, but said on Monday it was conducting a detailed analysis in co-operation with the United States.
The US military's Indo-Pacific Command (INDOPACOM) said it was aware of the reports and was coordinating with its allies and partners.
"This activity highlights (North Korea's) continuing focus on developing its military program and the threats that poses to its neighbours and the international community," INDOPACOM said in a statement.
Rodong Sinmun, the ruling Workers' Party's official newspaper, ran photos of the new cruise missile flying and being fired from a transporter-erector-launcher.
The test provides "strategic significance of possessing another effective deterrence means for more reliably guaranteeing the security of our state and strongly containing the military manoeuvres of the hostile forces," KCNA said.
It was seen as the North's first missile launch after it tested a new tactical short-range ballistic missile in March. North Korea also conducted a cruise missile test just hours after U.S. President Joe Biden took office in late January.
Jeffrey Lewis, a missile researcher at the James Martin Center for Nonproliferation Studies, said intermediate-range land-attack cruise missiles were no less a threat than ballistic missiles and were a pretty serious capability for North Korea.
"This is another system that is designed to fly under missile defence radars or around them," Lewis said on Twitter.
Cruise missiles and short-range ballistic missiles that can be armed with either conventional or nuclear bombs are particularly destabilising in the event of conflict as it can be unclear which kind of warhead they are carrying, analysts said.
Kim Jong Un did not appear to have attended the test, with KCNA saying Pak Jong Chon, a member of the Workers' Party's powerful politburo and a secretary of its central committee, oversaw it.
The reclusive North has long accused the United States and South Korea of "hostile policy" toward Pyongyang.
The unveiling of the test came just a day before chief nuclear negotiators from the United States, South Korea and Japan meet in Tokyo to explore ways to break the standoff with North Korea. Read more.
China's foreign minister, Wang Yi, is also scheduled to visit Seoul today (14 September) for talks with his counterpart, Chung Eui-yong. Read more.
Biden's administration has said it is open to diplomacy to achieve North Korea's denuclearisation, but has shown no willingness to ease sanctions.
Sung Kim, the U.S. envoy for North Korea, said in August in Seoul that he was ready to meet with North Korean officials "anywhere, at any time." Read more.
A reactivation of inter-Korean hotlines in July raised hopes for a restart of the negotiations, but the North stopped answering calls as annual South Korea-U.S. military exercises began last month, which Pyongyang had warned could trigger a security crisis. Read more.
In recent weeks South Korea became the first non-nuclear state to develop and test a submarine-launched ballistic missile.
North Korea fires two ballistic missiles into East Sea, says South
North Korea has fired two ballistic missiles off its east coast, South Korea's military has confirmed, writes the BBC.
Japan also reported an object was fired, and that it may have been a ballistic missile.
Japan's Prime Minister Yoshihide Suga has called the launch "outrageous" saying it threatened peace and security in the region.
It is the second weapons test North Korea has carried out this week, with the first being a cruise missile.
It is not clear exactly where the ballistic missiles were destined for or their flight range, but South Korea's Joint Chief of Staff said its military was maintaining "a full readiness posture in close cooperation with the US".
Ballistic missile tests contravene UN resolutions designed to curb the North's nuclear activities.
They can carry either nuclear or conventional warheads and are classed according to how far they can travel - the furthest of which being an intercontinental ballistic missile (ICBM).
North Korea has in the past tested ICBMs said to be capable of reaching nearly all of western Europe and about half of the US mainland.
On Monday, North Korea tested a long-range cruise missile capable of hitting much of Japan, calling it "a strategic weapon of great significance".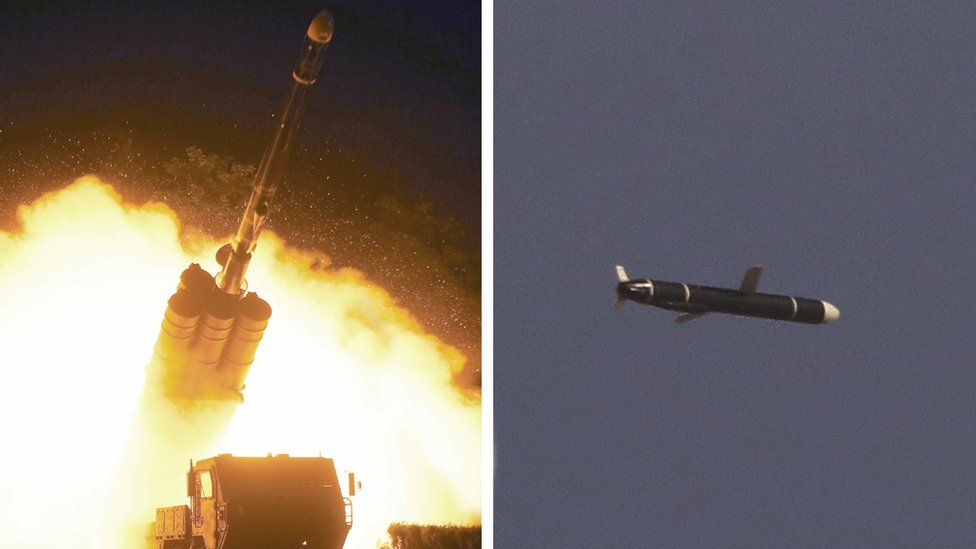 Experts say the cruise missile could possibly carry a nuclear warhead.
The UN Security Council does not forbid the test of cruise missiles. But it considers ballistic missiles to be more threatening because they can carry bigger and more powerful payloads, have a much longer range, and can travel faster
North Korea is facing food shortages and a severe economic crisis - prompting questions about how it is still able to develop weapons.
The country has spent more than a year in isolation. It cut off most trade with its closest ally China to stop the spread of the coronavirus.
China's foreign minister is holding talks with his South Korean counterpart in Seoul on Wednesday.
North Korea's weapons programme and stalled negotiations over denuclearisation are likely to be on the agenda.
In March of this year, Pyongyang defied sanctions and tested ballistic missiles, which triggered a strong rebuke from the US, Japan and South Korea.
And last month the UN atomic agency said North Korea appeared to have restarted a reactor which could produce plutonium for nuclear weapons, calling it a "deeply troubling" development.
North and South Korea in talks over summit, reopening liaison office
North and South Korea are in talks to reopen a joint liaison office that Pyongyang demolished last year and hold a summit as part of efforts to restore relations, three South Korean government sources with knowledge of the matter said, write Hyonhee Shin, David Brunnstrom in Washington and Tony Munroe in Beijing.
South Korean President Moon Jae-in and North Korean leader Kim Jong Un have been exploring ways to improve strained ties by exchanging multiple letters since April, the sources said on condition of anonymity due to diplomatic sensitivity.
The discussions signal an improvement in ties that have deteriorated in the past year after three leaders' summits in 2018 promised peace and reconciliation.
Inter-Korean talks could also help restart stalled negotiations between Pyongyang and Washington aimed at dismantling the North's nuclear and missile programmes in return for sanctions relief.
The issue is key for Moon, who is facing declining support in his final year in office. Moon staked his legacy on improving relations with North Korea and helped set up historic meetings between Kim and then U.S. President Donald Trump in 2018 and 2019.
The two Koreas, still technically at war after their 1950-53 conflict ended in a ceasefire, on Tuesday reconnected hotlines the North severed in June last year.
Both sides are discussing rebuilding their joint liaison office at the truce village of Panmunjom on the border, two sources said. Pyongyang spectacularly destroyed the previous office in its border town of Kaesong in 2020.
They are also seeking a summit between Moon and Kim, but no time frame or other details have been raised due to the coronavirus pandemic, the sources said.
North Korea has not confirmed any COVID-19 cases, but it shut borders and imposed strict prevention measures, seeing the pandemic as a matter of national survival.
"The talks are still ongoing, and COVID-19 should be the biggest factor," one source said. "A face-to-face meeting is the best, but hopefully the situation will get better."
Moon's office referred to a briefing on Tuesday by his press secretary, Park Soo-hyun, who said the issue of restoring the liaison office was to be discussed, and that the leaders have not floated plans for any summit so far.
A second source said a virtual summit could be an option depending on whether North Korea balks at a meeting in person because of COVID-19.
"If we can do that and the North has that capability, it would make a big difference, and open so many windows of opportunity, something to restart talks with the United States."
North Korea, which has not held any meetings with foreign nationals since the pandemic began, restricts outside media access, and its mission to the United Nations was not available for comment.
Moon had called for a revival of the hotlines and offered a video summit with Kim, but Pyongyang had previously responded publicly with scathing criticism, saying it had no intention of talking to Seoul.
The first source said Moon and Kim have exchanged "candid" letters on more than 10 occasions, which led to an opening of a communication channel between Seoul's intelligence authorities and Kim's sister, Kim Yo Jong.
Despite "ups and downs" in the consultations, the two sides agreed over the weekend to reactivate hotlines as a first step.
Kim's move reflected a willingness to respond to U.S. overtures for talks, as the administration of President Joe Biden vowed a practical approach including not naming an envoy for North Korean human rights issues, the source said.
"There were some visible elements, including pursuing a phased, action-for-action approach, instead of a grand bargain, and appointing a nuclear negotiator, instead of a human rights envoy," the source said. "After all, Washington has unveiled its policy and the North can't just sit idle, so inter-Korean ties came up as a starting point."
The U.S. Embassy in Seoul declined comment, referring queries to the State Department, which did not immediately respond to requests for comment.
U.S. Secretary of State Antony Blinken said in June the Biden administration was determined to appoint a North Korea human rights envoy but did not offer a timeline.
Washington supports inter-Korean engagement, and diplomacy is essential to achieving complete denuclearisation and lasting peace on the Korean peninsula, a spokesperson said on Tuesday in welcoming the opening of the hotlines.
A third source said the two Koreas only announced the hotline reopenings because little progress was made over other issues, including how the North would apologise for blowing up the liaison office.
Hit by the pandemic and last year's typhoons, North Korea faces the worst economic crisis since a famine in the 1990s that killed as many as 3 million.
However, few deaths have been reported from hunger, the first source said, helped by Chinese aid and the release of military and emergency reserves.
North Korea is expected to resume trade with China as early as August, involving cargo train services, after scrapping plans to do so in April due chiefly to concerns over more contagious COVID-19 variants, the source said.
Beijing's foreign ministry did not immediately respond to a request for comment, and calls to the Chinese Embassy in Seoul were unanswered.
Data protection: European Commission launches process for adoption of adequacy decision for the Republic of Korea
The Commission has launched the process towards adoption of the adequacy decision for the transfer of personal data to the Republic of Korea. It will cover transfers of personal data to the Republic of Korea's commercial operators as well as public authorities. If adopted, this decision would provide Europeans with strong protections of their personal data when it is transferred to the Republic of Korea. At the same time, it would complement the EU-Republic of Korea Free Trade Agreement (FTA) and boost cooperation between the EU and the Republic of Korea as leading digital powers.
The trade agreement has led to a considerable rise in bilateral trade of goods and services. Ensuring the free flow of personal data to the Republic of Korea through an adequacy decision based on a high level of data protection will support this trade relationship worth nearly €90 billion. The draft adequacy decision was published and transmitted to the European Data Protection Board (EDPB) for its opinion. In the past months, the Commission has carefully assessed the Republic of Korea's law and practices on personal data protection, including the rules on access to data by public authorities. It concludes that the Republic of Korea ensures an essentially equivalent level of protection to the one guaranteed under the General Data Protection Regulation (GDPR). The press release is available online.